AQ Presidential Profiles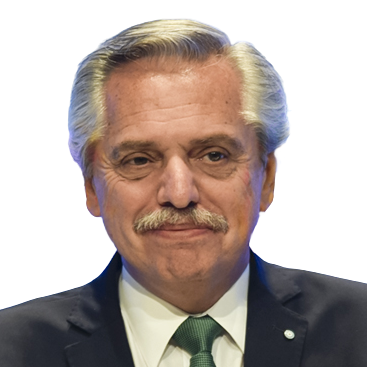 Alberto Fernández
To facilitate comparisons among these six countries, the data is color-coded: green, high performing; yellow, middle performing; red, low performing.
The CCC Index ranks 15 Latin American countries on their capacity to combat corruption. Lower numbers indicate a higher capacity. 
Updated on November 30, 2022
HOW HE GOT HERE
The surprise candidate of the 2019 campaign, Fernández was thrust into the limelight when former President Cristina Fernández de Kirchner abandoned her own presidential candidacy and decided to be his running mate instead. A former cabinet chief for her husband, Néstor Kirchner, Alberto Fernández stayed on in that position during her first term for seven months before resigning. He had criticized Kirchner's presidency, calling her second term a "bad government," but the two joined forces in 2019 for pragmatic purposes. Fernández had only run for public office once before and served in the Buenos Aires legislature from 2000 to 2003.
HIS TOP PRIORITIES
Fernández has tried to navigate a difficult economy while confronting tensions within his Peronist coalition, including pointed criticism from Vice President Kirchner. Rising poverty and inflation contributed to a setback for the Peronists in the 2021 legislative elections, and complicated negotiations for a debt restructuring with the International Monetary Fund. Fernández has sought cordial relations with the United States while also deepening ties with Russia and China during state visits to both countries in 2022, joining China's Belt and Road Initiative and welcoming Chinese investment in a nuclear power plant, railways and lithium mining.
HOW HE HANDLES THE ECONOMY
Fernández has been unable to tame one of the world's highest rates of inflation, fueled by large budget deficits and other structural imbalances that have plagued Argentina for many years. As the economy deteriorated, Fernández turned in August to Sergio Massa to lead a "superministry" covering the ministries of economy, productive development and agriculture. Massa has since been able to pass some limited austerity measures to try to tame prices. In November, he launched a voluntary 120-day program to control the prices of certain food products and other staples. Currency restrictions remain in place, as well as subsidies for energy and transport and public programs.
WHO SUPPORTS HIM
Fernández doesn't have a base of his own. Rather, he benefits from Kirchner's loyal following of working-class voters in greater Buenos Aires. Kirchner survived an assassination attempt on September 1, which worsened already high levels of political polarization. Following the November 2021 legislative elections, Fernández's leftist Frente de Todos coalition lost its majority in the Senate, making the coalition's prospects in the October 2023 general elections uncertain.
WHO OPPOSES HIM
Former President Mauricio Macri's liberal-conservative coalition Juntos por el Cambio is the main opposition to Fernández. Support for Fernández diminished significantly after the first few months of the pandemic, and then slid further as inflation increased.
IDEOLOGY CONTINUUM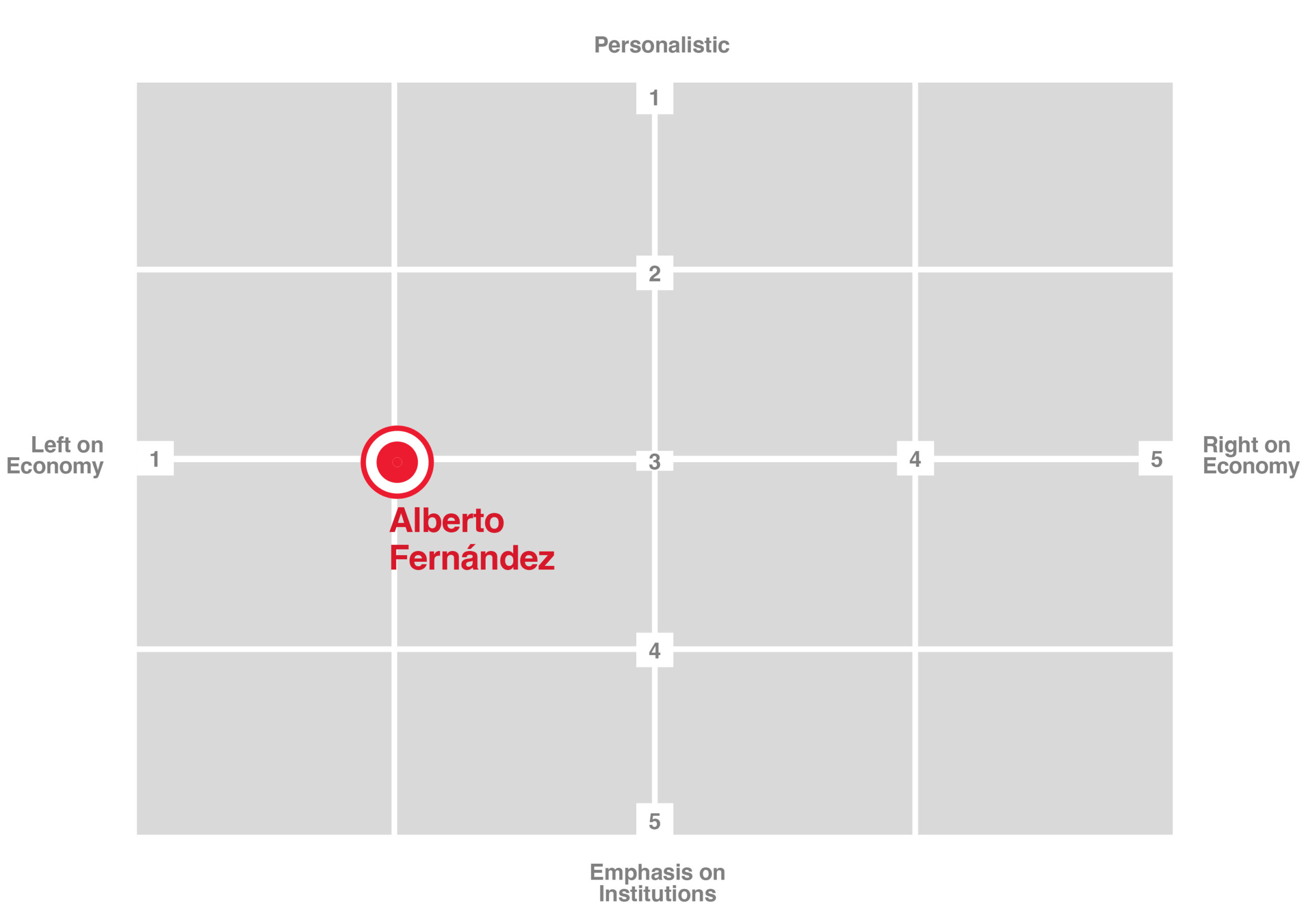 Interactive charts by Lagom Data. Sources: Approval rating: Management & Fit (October); GDP projection: Bloomberg (September); 12-month inflation rate: Instituto Nacional de Estadística y Censo (October); Unemployment rate: Instituto Nacional de Estadística y Censo (Q2 2022); Labor informality: International Labor Organization (Q1 2022); Education spending: Economic Commission for Latin America and the Caribbean (2022); Homicide rate: InSight Crime (2020); Capacity to Combat Corruption Index: AS/COA and Control Risks (2022)
Tags:
Alberto Fernández
,
AQ Presidential Profiles
,
Argentina