AQ Presidential Profiles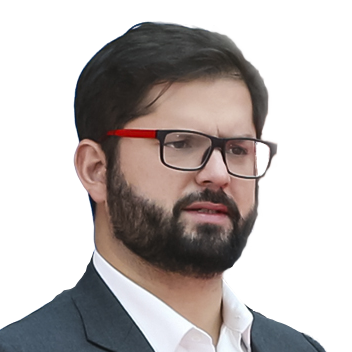 Gabriel Boric
To facilitate comparisons among these six countries, the data is color-coded: green, high performing; yellow, middle performing; red, low performing.
The CCC Index ranks 15 Latin American countries on their capacity to combat corruption. Lower numbers indicate a higher capacity.
Updated on December 8, 2022
HOW HE GOT HERE
Chile's youngest-ever president at 36, Boric came to national prominence as a leader in 2011 student protests, demanding free university education for all and the end of for-profit higher education. He served two terms in Chile's lower house of Congress from 2013 to 2021. After moving more toward the political center, he prevailed over far-right former congressman José Antonio Kast in a 2021 presidential runoff.
HIS TOP PRIORITIES
Boric's election came two years after widespread protests over inequality, and he has promised to expand social services and address climate change. Security concerns have increasingly taken over his agenda: Crime is on the rise, and homicides increased almost 30% year-on-year in the first half of 2022. A conflict in the south between security forces and Indigenous Mapuche communities has escalated, and Boric has declared states of emergency to address the violence. In a September 4 referendum, 62% of voters rejected a proposed new Constitution that would have replaced the current Pinochet-era document. Boric had backed the constitutional process from the start, and he has urged political parties to reach an agreement to start drafting a new Constitution. In November, Boric introduced a bill to reform Chile's pension system.
HOW HE HANDLES THE ECONOMY
Although Boric stated on the campaign trail that, "If Chile was the cradle of neoliberalism, it will also be its grave," he has not yet strayed far from Chile's free market framework. Investors welcomed Boric's appointment of Mario Marcel as his finance minister as a sign of continuity and a commitment to fiscal responsibility. Tax reform is part of Boric's ambitious agenda, and in July his administration introduced a bill that increases mining royalties and taxes on the wealthy. Amid soaring inflation, Boric enacted a law in late May that raised the minimum wage and included assistance for small to medium businesses to help cover the wage hike.
WHO SUPPORTS HIM
Boric's base skews younger and more educated, and favors change within Chile's political system. He has a history of negotiating with politicians from across the aisle, winning him support from some centrist voters. Boric enjoyed a 50% approval rating when he entered office, but this has since diminished. Some observers point to his young administration's relative inexperience in government and struggles to address crime and inflation as reasons for this diminished support. In a post-referendum cabinet shuffle, Boric brought in more moderate establishment figures from the center-left.
WHO OPPOSES HIM
Boric faces opposition from both the left and right. He is among the more moderate members of his coalition, and he has drawn criticism from the far left as he has moved closer to the center. Chile's right wing fears his more transformative plans. The lower house of Congress is divided and the right controls half of the Senate, and it may prove challenging for Boric to gain congressional support for his initiatives throughout the remainder of his term.
IDEOLOGY CONTINUUM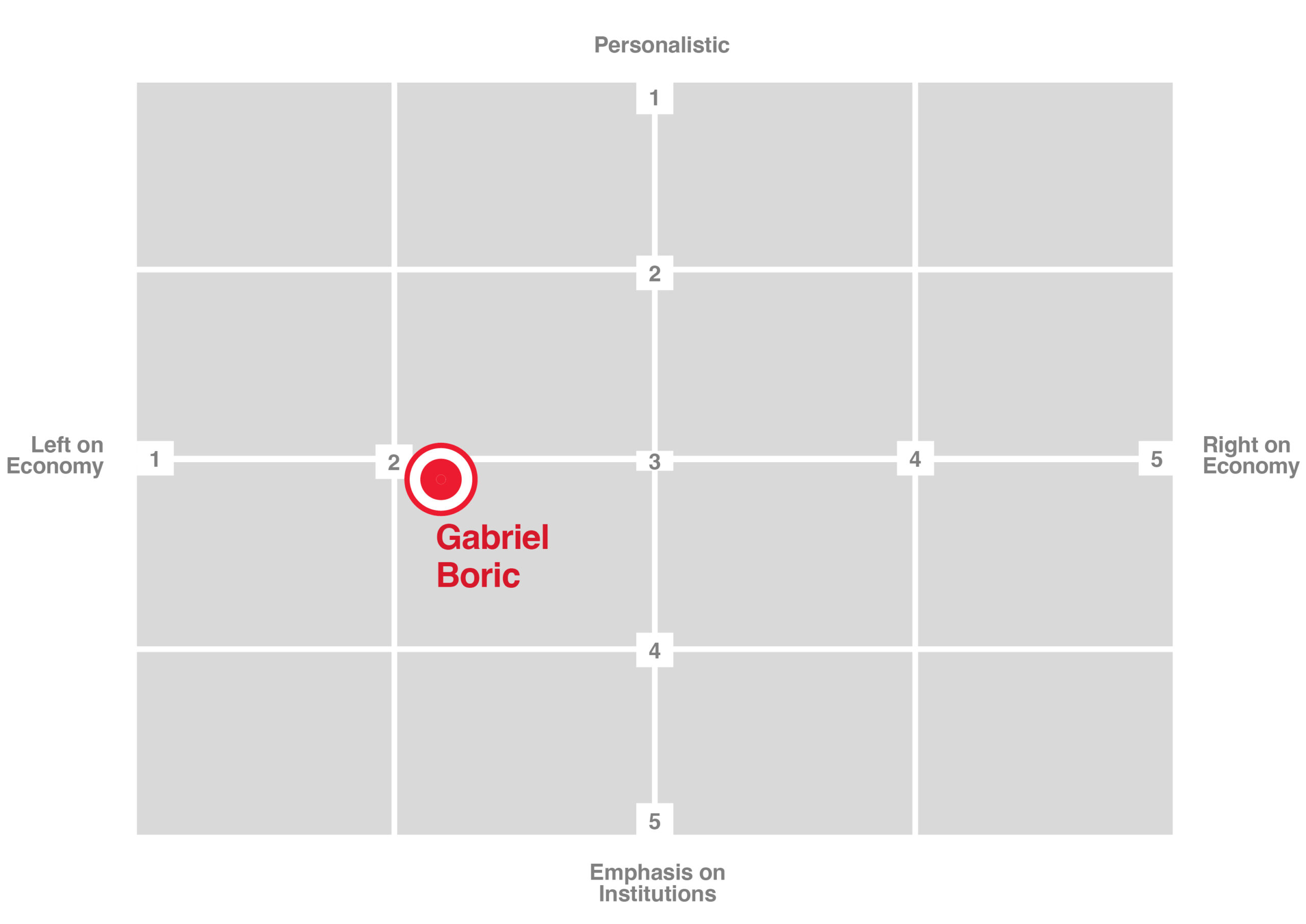 Interactive charts by Lagom Data. Sources: Approval rating: Cadem Plaza Pública (December); GDP projection: Bloomberg (September); 12-month inflation rate: Instituto Nacional de Estadísticas (November); Unemployment rate: Instituto Nacional de Estadísticas (October); Labor informality: International Labor Organization (Q2 2022); Education spending: Economic Commission for Latin America and the Caribbean (2022); Homicide rate: InSight Crime (2021); Capacity to Combat Corruption Index: AS/COA and Control Risks (2022)
Tags:
AQ Presidential Profiles
,
Chile
,
Gabriel Boric