AQ Presidential Profiles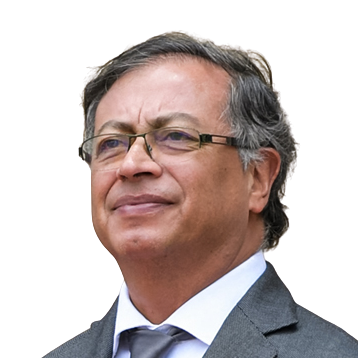 Gustavo Petro
To facilitate comparisons among these six countries, the data is color-coded: green, high performing; yellow, middle performing; red, low performing.
The CCC Index ranks 15 Latin American countries on their capacity to combat corruption. Lower numbers indicate a higher capacity.
Updated on December 8, 2022
HOW HE GOT HERE
In June 2022, Petro was elected Colombia's first left-wing president, with 50.4% of the votes. He had lost a previous election in 2018, receiving 41% of the votes in the runoff. Petro is an economist by training and a former M-19 guerrilla who later promoted the group's disarmament. He was the mayor of Bogotá from 2012 to 2015, and has served two terms in the lower house of Congress and one in the Senate.
HIS TOP PRIORITIES
Petro's stated goals are to achieve peace with armed groups, redistribute wealth and make Colombia's energy model greener. In November, Congress approved his tax reform and peace talks resumed between the government and the ELN, Colombia's largest remaining armed group. Petro has called for "total peace", a term he uses to describe his intention of negotiating with all of Colombia's armed groups–guerrillas, paramilitaries and cartels. He also reopened the border with Venezuela, a crucial step in reestablishing relations between the neighbor countries, which were broken off in 2019. Petro said during the campaign he plans to implement land reform, something that was part of the final peace accord with the FARC in 2016. He has plans to create an Equality Ministry, to be run by Vice President Francia Márquez, who has played a diplomatic role since the two came into office by visiting regional peers Brazil, Argentina, Chile and Bolivia.
HOW HE HANDLES THE ECONOMY
Petro is a leftist, but he appointed as economy minister José Antonio Ocampo, who has more centrist views. They sent the tax reform bill to Congress on their first day in office. The bill would increase the amount paid by the richest Colombians and introduce taxes on exports on oil, coal and gold. Petro is against fracking and had said in the campaign he is in favor of halting new oil exploration in an effort to eventually wean the country off of extractive industries and transition away from fossil fuels. Ocampo is in line with Petro's objective of making the Colombian economy greener but thinks differently on how to go about it. He has said that he is in favor of stopping new oil exploration, but not gas, which he hopes could keep the economy afloat while the country transitions to clean energy sources. In mid-September Petro announced that the government would reduce subsidies for gas, which will increase fuel prices.
WHO SUPPORTS HIM
Petro enjoyed strong popular support early in his administration, but his approval rating slipped to 46% three months into his term. In Congress, he has achieved through negotiations support from about two-thirds of the legislature, although that support is not unconditional. The young, politically active electorate in universities and big cities make up much of Petro's base. Several artists have also voiced support for him. His proposed redistributive social policies appeal to Colombia's lower-income communities.
WHO OPPOSES HIM
The business sector and other traditionally conservative sectors of Colombian society have been skeptical of Petro's agenda. Colombia's security forces, which were highly influential over the past 20 years, have also expressed doubts. The formal opposition includes Álvaro Uribe's Centro Democrático and the Liga de Gobernantes Anticorrupción, the party led by Rodolfo Hernández, who lost the presidential runoff to Petro.
IDEOLOGY CONTINUUM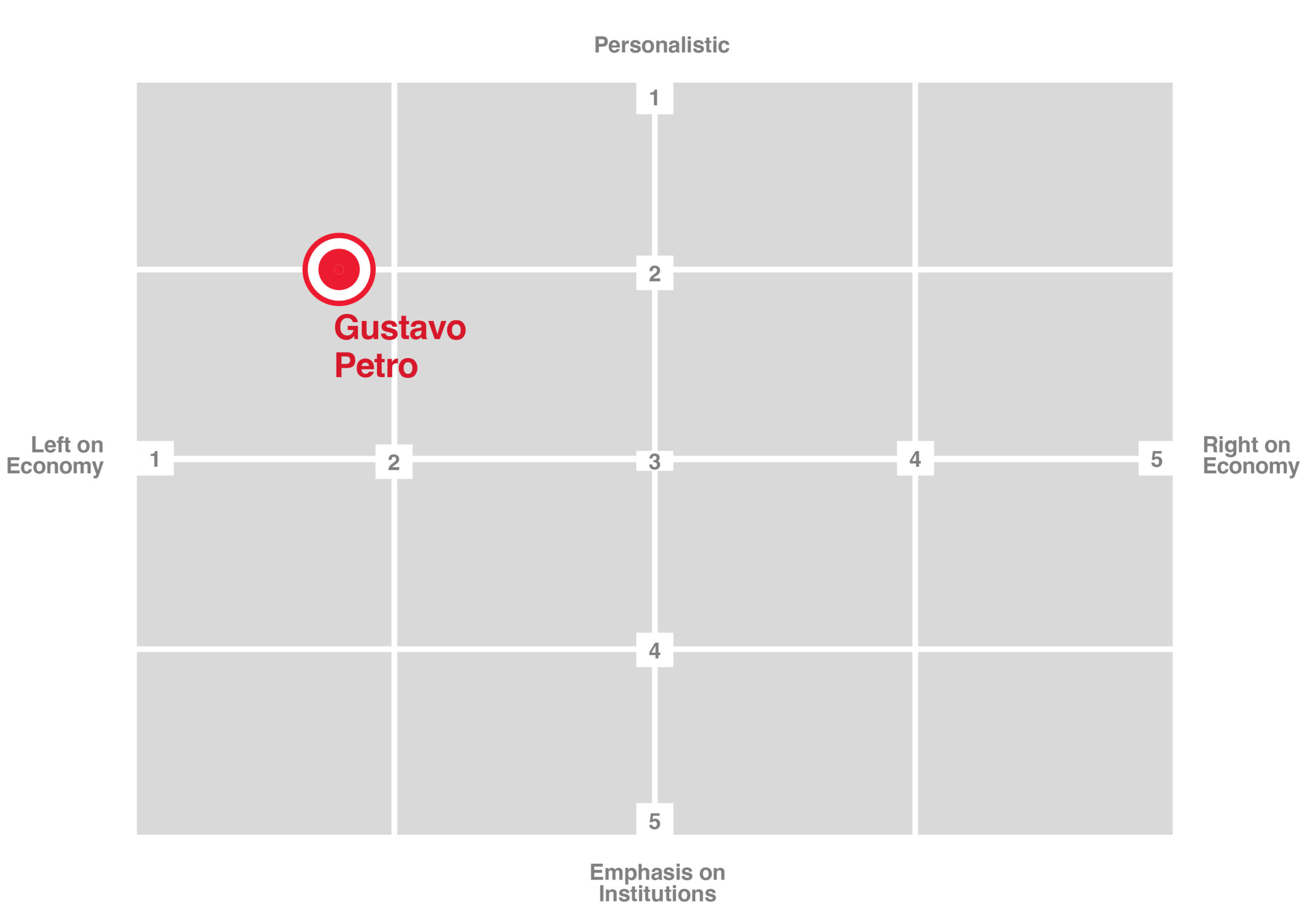 Interactive charts by Lagom Data. Sources: Approval rating: Invamer (November); GDP projection: Bloomberg (September); 12-month inflation rate: Departamento Administrativo Nacional de Estadísticas (November); Unemployment rate: Departamento Administrativo Nacional de Estadísticas (October); Informal employment rate: International Labor Organization (Q2 2022); Education spending: Economic Commission for Latin America and the Caribbean (2022); Homicide rate: InSight Crime (2021); Capacity to Combat Corruption Index: AS/COA and Control Risks (2022)
Tags:
AQ Presidential Profiles
,
Colombia
,
Gustavo Petro