AQ Presidential Profiles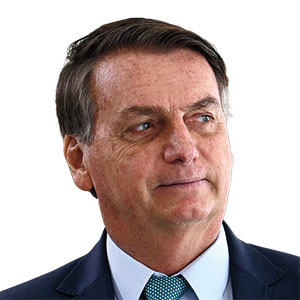 Jair Bolsonaro
To facilitate comparisons among these six countries, the data is color-coded: green, high performing; yellow, middle performing; red, low performing.
The CCC Index ranks 15 Latin American countries on their capacity to combat corruption. Lower numbers indicate a higher capacity.
Updated on November 30, 2022
HOW HE GOT HERE
A peripheral figure in Congress for three decades, Bolsonaro emerged as a national political contender after Brazil collapsed into recession and scandal in the mid-2010s. The former army captain rode an anti-establishment wave to the presidency in 2018 after former President Luiz Inácio Lula da Silva (2003-2011) was barred from running on charges of corruption that have since been overturned or dropped. Despite controversy over his policies, he has maintained a loyal following and become the face of a national conservative movement. Bolsonaro lost the second round of the presidential election on October 30, receiving 49.1% of valid votes compared to Lula's 50.9%, and will remain in office until January 1, 2023.
HIS TOP PRIORITIES
Bolsonaro focuses on cultural issues dear to Brazilian conservatives, including gender, LGBTQ issues and gun rights. He has also focused on cutting red tape and loosing regulations, especially on the environment. This has contributed to a sharp increase in deforestation in the Brazilian Amazon—in June, fire activity hit a 15-year record. Isolated on the world stage after Donald Trump's loss in 2020, Bolsonaro often looks to right-wing figures in other countries, such as Hungary's Viktor Orbán.
HOW HE HANDLES THE ECONOMY
Initial hopes for major pro-business reforms under Bolsonaro's tenure have been largely frustrated. Agribusiness has been favored, at the cost of international criticism on deforestation. Economic growth was weak even prior to the pandemic. Even though unemployment is currently at a seven-year low and inflation may have peaked, the estimated number of Brazilians living in hunger has risen by 14 million since 2020. Bolsonaro has repeatedly intervened in state-run oil company Petrobras to push gasoline prices lower, and also passed a temporary increase in welfare payments, contributing to worries about Brazil's fiscal accounts in 2023 and beyond.
WHO SUPPORTS HIM
Bolsonaro has a loyal base including evangelical Christians and those who blame the Workers' Party for Brazil's enduring economic and political problems. In the legislature, Bolsonaro has backing from the "centrão," an assortment of political parties that traditionally supported governments regardless of ideological positions. He also has the support of elements of the police forces and the military.
WHO OPPOSES HIM
Bolsonaro's handling of the pandemic, when Brazil had one of the world's highest per-capita death rates, continues to be a negative factor for many voters. His constant attacks against other institutions including the Supreme Court have also worried many who value democratic stability. Poorer voters, in particular, give Bolsonaro low marks after an extended period of high unemployment, misery and public health issues.
IDEOLOGY CONTINUUM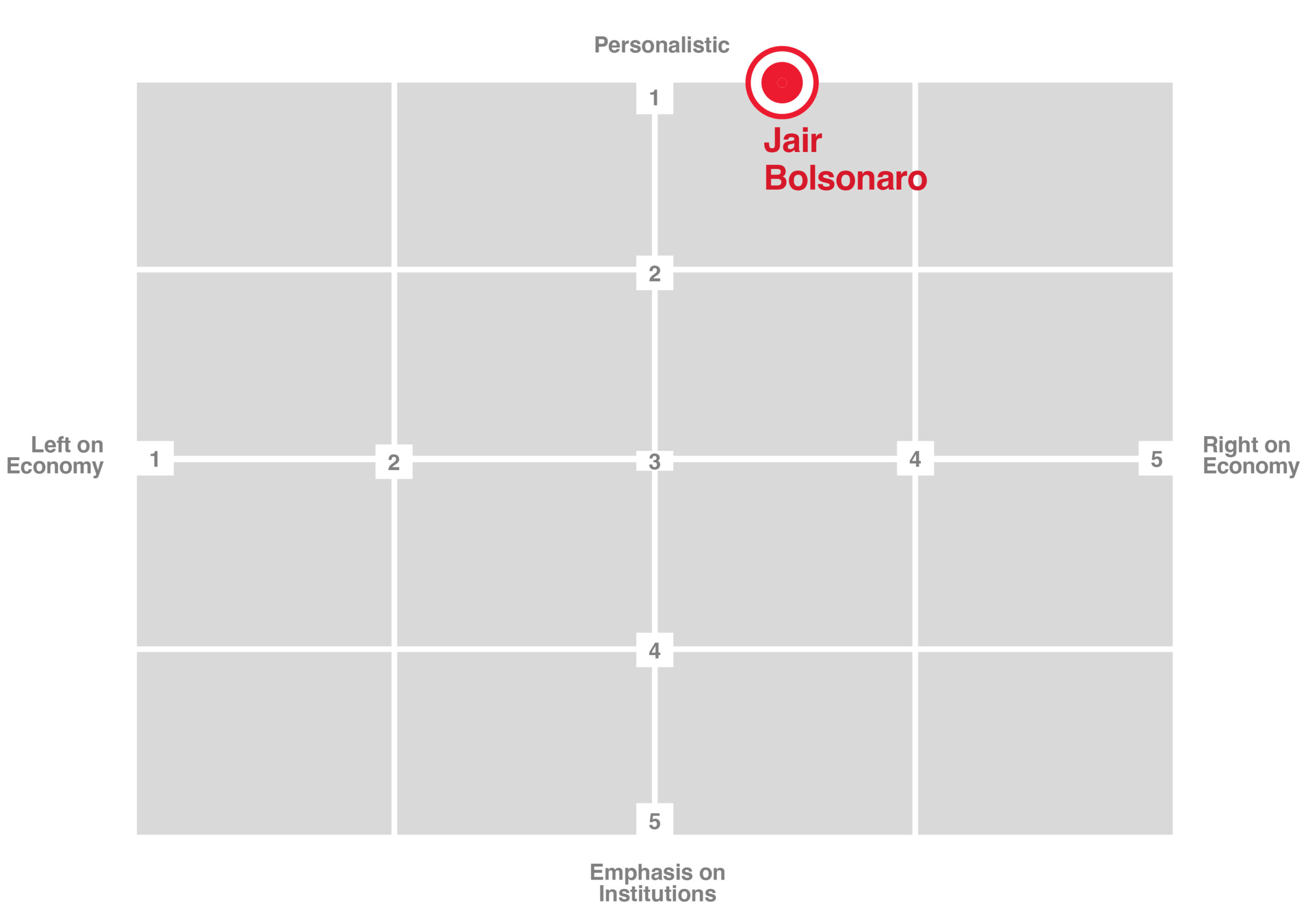 Interactive charts by Lagom Data. Sources: Approval rating: PoderData (October); GDP projection: Bloomberg (September); 12-month inflation rate: Instituto Brasileiro de Geografia e Estatística (October); Unemployment rate: Instituto Brasileiro de Geografia e Estatística (October); Labor informality: International Labor Organization (Q2 2022); Education spending: Economic Commission for Latin America and the Caribbean (2022); Homicide rate: InSight Crime (2021); Capacity to Combat Corruption Index: AS/COA and Control Risks (2022)
Tags:
AQ Presidential Profiles
,
Brazil
,
Jair Bolsonaro