AQ Presidential Profiles
Nicolás Maduro
To facilitate comparisons among these six countries, the data is color-coded: green, high performing; yellow, middle performing; red, low performing.
The CCC Index ranks 15 Latin American countries on their capacity to combat corruption. Lower numbers indicate a higher capacity.
Updated on December 8, 2022
HOW HE GOT HERE
Maduro got his start in politics as a transit workers' union leader and a national legislator from 1998 to 2006. He was foreign affairs minister, then vice president under President Hugo Chávez, who stated that Maduro should be elected to replace him. When Chávez died in 2013, Maduro became interim president and then, in unscheduled elections, won the presidency by a margin of 1.5%. Maduro was reelected in 2018 in an election that many in the opposition boycotted. After widespread accusations of fraud, numerous Latin American nations and the U.S., among others, did not recognize the election's results.
HIS TOP PRIORITIES
Maduro faces crises of violence and hunger, severe inflation and crippling international sanctions, which have caused 7.1 million people to leave the country since 2015, according to the UN. A September 2021 survey found that 77% of Venezuela's 28 million residents were living in extreme poverty. Maduro has focused on boosting oil production, which is slowly beginning to increase as U.S. and other international sanctions ease, partly in response to global supply issues. He has concentrated power by dismantling the independence of the legislature and judiciary and cracking down on dissent and political opposition with arrests and intimidation.
HOW HE HANDLES THE ECONOMY
The economy is showing a few signs of improvement from the still devastating, years-long humanitarian crisis that resulted in acute shortages of basic goods such as food and medicine. To work around strict sanctions, Maduro has strengthened economic ties with China, Cuba, Iran, Russia and Turkey. He recently adopted a more orthodox posture toward the economy, cutting pensions and other social programs, reducing the deficit, eliminating import taxes and price controls, and allowing de facto dollarization to end hyperinflation—though high, inflation was slowing by mid-2022. This laissez-faire strategy has encouraged growth, some new business creation and limited improvement in quality of life. Some social programs, like the CLAP food initiative, remain intact, but they are exposed to corruption. Now, Maduro is attempting to slowly liberalize the oil sector and roll back dollarization by taxing dollar transactions.
WHO SUPPORTS HIM
Maduro has cultivated the loyalty of key constituents, the most important of which are the armed forces and the security agencies, which he has deployed to crush dissent. He has also placed loyalists at the head of major unions and other institutions. Public sector employees have generally been reluctant to strike or support the opposition for fear of retaliation. However, a major public education worker strike in 2022 led to the largest demonstrations in years and convinced the Maduro administration to promise to boost some public sector wages.
WHO OPPOSES HIM
Venezuela's opposition wields very little power in the wake of Maduro's purges of the bureaucracy, legislature and judiciary. Former National Assembly President Juan Guaidó declared he was assuming the role of interim president of the country in 2019, but has since lost influence as the opposition has fractured. In October, Venezuela's main opposition parties announced they would shift from their former strategy of boycotting elections and participate in the 2024 elections. The Maduro government and the opposition resumed negotiations in Mexico City in late November. The parties signed an agreement requesting that Venezuelan state funds held abroad be unfrozen and transferred to a U.N.-administered humanitarian program. 
IDEOLOGY CONTINUUM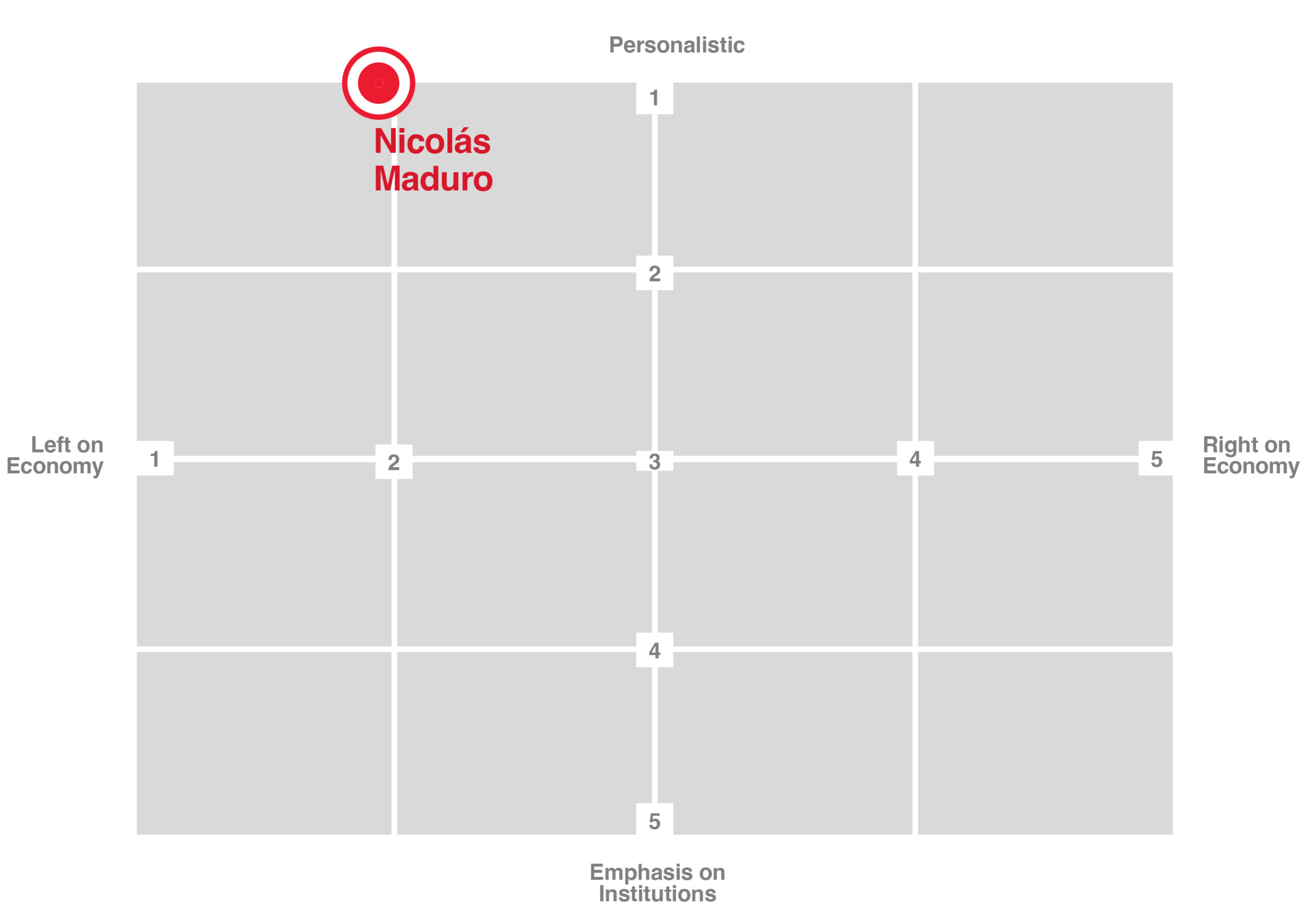 Interactive charts by Lagom Data. Sources: Approval rating: CID-Gallup (October); GDP projection: Bloomberg (September); 12-month inflation rate: Observatorio Venezolano de Finanzas (November); Homicide rate: InSight Crime (2021); Capacity to Combat Corruption Index: AS/COA and Control Risks (2022)
Tags:
AQ Presidential Profiles
,
Nicolas Maduro
,
Venezuela