By: Christian Gómez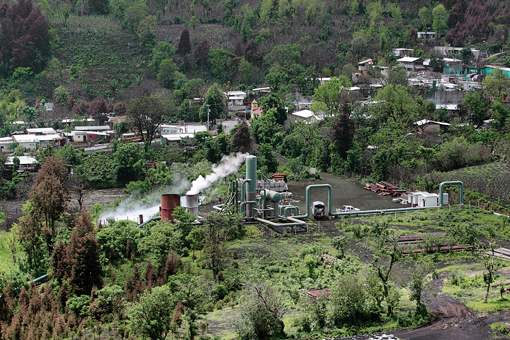 Volcano power: A geothermal power plant in San Vicente Pacaya, Guatemala. Photo: Daniel Leclair/Reuters
Geothermal energy relies on the heat within the earth to generate electricity. It is a clean, renewable energy source with minimal environmental impact. And unlike sources such as wind and solar that generate power intermittently, geothermal plants provide power nearly all the time.
Latin America contains vast potential for geothermal energy, mostly in the Andes-—estimated at 35.5GW by the International Renewable Energy Agency. Yet much of this potential has been unrealized due to the high initial cost of exploration and lack of tax incentives.
But some governments have started to move forward. Argentina aims to meet 8 percent of the country's energy needs with geothermal energy by 2016, and has implemented a feed-in tariff for geothermal plants. This tariff scheme grants long-term contracts and sets pricing based on costs of production to reduce risk.
Similarly, Chile, with a potential 16GW of geothermal capacity, has implemented an ambitious renewable energy target that aims to generate 20 percent of electricity from renewable sources by 2020. Peru, which is sitting on 3GW of geothermal potential, has not yet exploited this capacity; but foreign firms such as Australia's Hot Rock Ltd are currently exploring development of the resource.
Read about solar energy.
Read about wind energy.
Christian Gómez is director of energy at the Council of the Americas. Follow him on Twitter at @cgomezenergy.