Reading Time:
3
minutes
This article is adapted from AQ's special report on millennials in politics
Four years after seeing a tsunami of falsehoods related to the presidential election, Brazil enters the 2022 campaign season much better equipped. The country has more professional fact-checkers. Social media platforms have built war rooms. Influencers are engaged in the battle against "fake news," and fantastic tools have been developed to combat Portuguese-language misinformation and disinformation.
As always, candidates, parties and supporters will work hard to push narratives capable of undermining their rivals, even if they include misleading or incorrect data. But it's clear that Brazilians, including the authorities, are much more alert and ready to combat those lies.
In 2018, the vast majority of the population fully believed the content of videos, photos and texts shared by friends and family members. Only a few Brazilians, mainly in the large cities, knew about the work of fact-checkers, and very few citizens had the ability to somehow assess the veracity of pieces of content using databases and online tools.
On August 16, when the 2022 campaign officially starts, Brazil will have six certified fact-checking organizations in full operation: Lupa, Estadão Verifica, Aos Fatos, UOL Confere, AFP and Reuters. The expression "fake news" has become popular and is understood even in tiny rural communities. In the last four years, Brazilians learned that they should doubt the content they see online and can spot it much better than before.
Unfortunately, the federal government hasn't been part of this effort. President Jair Bolsonaro has instead repeated false claims about the integrity of Brazil's voting system, the Superior Electoral Court (TSE) and other subjects.
From last October's special report on the battle over fake news:
Nevertheless, Brazil is in good shape to face this year's election. Social media platforms did a lot of work in the last four years. Pushed by the TSE, which created an Anti-Disinformation Committee, 11 major tech companies presented concrete plans to fight electoral mis- and disinformation in Brazil in 2022. They revamped and adjusted their public policies, hired more people and increased their investments in product development. The group is obviously trying to look good (or better than they did in 2018), but their effort has been noticed and will still have an impact in the long run.
Authorities entered 2022 clearly aware of the damage that mis- and disinformation can do and the risk faced by democracy itself. The Supreme Court, for example, has banned channels and profiles disseminating lies about the voting machines and has requested platforms remove false content about different candidates. Supreme Court Minister Alexandre de Moraes, who is also president of the TSE for the entirety of the campaign, has openly said candidates can lose the right to run for a public office if their campaigns disseminate false narratives.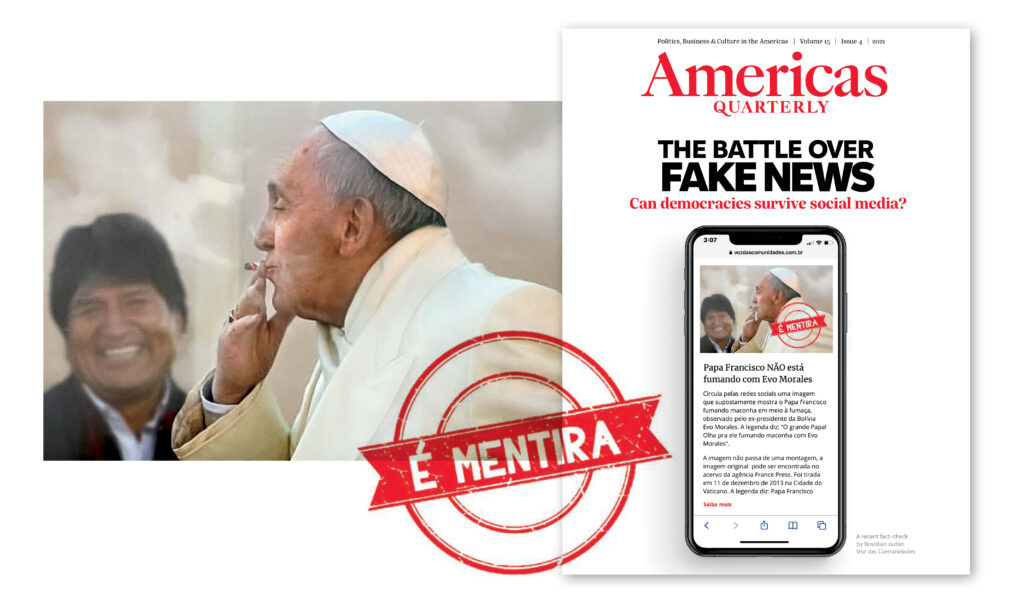 It's also great to see that, differently from 2018, hundreds of digital influencers seem ready to fight mis- and disinformation. A group of 30 online celebrities went to the TSE on August 4 to understand how voting machines work and how they can teach their followers to identify misleading content. Those 30 influencers can reach 10 million people with a few clicks and will be promoting data-based content as much as possible.
New tools are also available—and in Portuguese! On one platform, a bot is ready to point out the minute and second of a video that might contain a falsehood about the electoral system. Less overt, but still important, measures include a speech-to-text transcription program that has just been released in Portuguese for journalists to use freely. This tool should free journalists up to spend more time detecting and, consequently, fighting election-related "fake news." The creators estimate that in 2018, journalists would spend 50 hours transcribing their own interviews with candidates and other important figures. In 2022, they should spend only eight hours.
For all these reasons, it's possible to be optimistic. Disinformation is now on the stage, and many Brazilians are ready to fight it. The pending issue on the table for this year is hate speech, which will likely present our next set of lessons.
—
Tardáguila is senior program director at the International Center for Journalists and founder of Lupa, a Brazilian fact-checking agency
Tags:
2022 elections
,
Brazil
,
misinformation