By: Andreina Seijas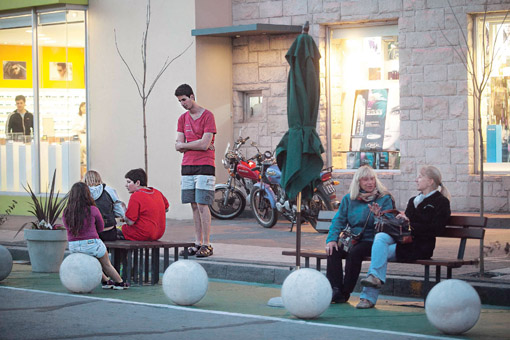 Public spaces, American-Canadian journalist and activist Jane Jacobs once said, "are a city's most vital organs."1 But that idea was often ignored in Latin America's booming cities. From the 1960s through the 1980s, megalopolises like Caracas and Brasília focused on giant construction projects such as roads and buildings—which urban planners at the time considered more essential to urban life than plazas and pedestrian corridors.
The region has been reaping the results ever since. Besides poor pedestrian infrastructure, Latin America also has one of the highest levels of violence in the world, which has accelerated the loss of free, safe public spaces and the emergence of shopping malls and gated communities.
Yet there were always dissenters from the prevailing urban theories. A group of Latin American mayors—led by Curitiba Mayor Jaime Lerner and Bogotá Mayor Enrique Peñalosa—fought to recover public space in their cities. In 1972, Lerner created Rua XV de Novembro, the first major pedestrian street in Brazil; and in 2000, Peñalosa enacted the "day without cars," an annual event during which cyclists and pedestrians take to streets that are temporarily free of Bogotá's more than 1.5 million cars.
Many of these efforts have run up against political, economic and social obstacles—and have often fallen short of the goal of making more comprehensive and game-changing shifts to the urban landscape. But a new generation of urban visionaries in the region has adopted the ideas of the famed Danish architect Jan Gehl.
Gehl believes that individuals—rather than buildings or cars—must be at the center of city planning. In 1962, he embarked on a plan to transform Copenhagen's public spaces by reducing parking and traffic in the city center and by creating more sidewalks, bike lanes and public squares. Since then, his pedestrian-centric model has been replicated in places like New York City—and is now about to be tested in Mar del Plata, Argentina.
Argentina's seventh-largest city will be the first urban center in Latin America to implement the Danish architect's ideas, in collaboration with the Inter-American Development Bank's Emerging and Sustainable Cities Initiative. In January 2013, specialists from Gehl Architects and a multidisciplinary team of local experts began collecting data on pedestrian flows. They discovered that 75 percent of the traffic on Calle Güemes—a busy shopping thoroughfare—was on foot. (The remainder was auto-based.)
Based on that initial research and on-site interviews with citizens, city planners initiated a pilot project to completely transform the street. One block of Güemes now boasts wider sidewalks, improved pedestrian crossings, more bicycle parking and spaces for outdoor seating—all of which are intended to invite citizens to drive even less and walk more. After conducting follow-up surveys and interviews, the pilot project will be expanded to the rest of the street.
The popularity of such moves has persuaded other Latin American mayors to think more creatively about public space. Across the region, there has been a shift from traditional urban planning toward a people-centered vision of public squares, urban parks, libraries, and galleries.
It may take a while to get there, but Jacobs' "vital" public spaces could eventually be the norm for future generations of urban dwellers across the Americas. 
1 Jane Jacobs (1961) The Death and Life of Great American Cities. (New York: Random House).
Read about governance and energy efficiency.
Andreina Seijas is a contributing blogger to AQ Online. Her Twitter account is @AndreinaSeijas.
Photo: Courtesy of Municipality of Mar de Plata