Reading Time:
3
minutes

The Captain of Industry | The Musician | The Entrepreneur
The Educator | The Oil Expert | The Politician | The Economist
The Humanitarian | The Rights Advocate | The Foreign Leader
---
This article is adapted from Americas Quarterly's print issue on Venezuela after Maduro. | Leer en español
A near-empty parking lot greets Mónica Kräuter as she arrives for work at Simón Bolívar University (USB). Not long ago, she could hardly find a spot. Now, about 25 cars occupy a space built for 150, a daily reminder of the rapid decline under President Nicolás Maduro of Venezuela's once-vaunted education system.
"I lived through this school's golden ages," Kräuter, 55, told AQ. "It's extremely painful for me to see it in these conditions."
Once counted among Latin America's top research institutions, Venezuela's public universities are now literally crumbling. Classrooms are left unlit, paint chips off walls, libraries are outdated and bathrooms don't work.
Government meddling, fears over safety and salaries worth barely $10 a month have driven out hundreds of teachers — and thousands of their students. The USB faculty is now 25 percent smaller than it was five years ago; a 2015 poll showed that 80 percent of students at Caracas' four main universities had plans to emigrate.
That the education system is still functioning at all — or that schools like USB and the Central Venezuelan University can still crack top 50 lists of the region's best universities — is a testament to those, like Kräuter, who remain.
"We need to keep the students coming and the government away by showing them we won't give up," Kräuter said.
Kräuter has taught chemistry at USB for the past 20 years. Her advocacy for Venezuelan education took on a public bearing in 2014, after she published a study on the tear gas security forces were using on protesters then marching in the streets of Caracas. She received dozens of threatening phone calls and visits from security forces as a result of her findings, which showed that the gas in question could be fatal.
Her son, at the time a student at USB, left school in 2016 due to concerns about his safety. But despite the risks she takes by staying behind, Kräuter sees the role of teachers as essential in keeping Venezuela from slipping further into disarray — and to providing the foundations for an eventual recovery.
"Keeping universities alive depends on us," Kräuter said. "They'll be the main drivers of change, as they are after any dictatorship falls."
According to Kräuter and other professors who spoke to AQ, rebuilding the education system after Maduro will first mean re-establishing institutional control over universities that the government has done its best to coopt.
Early in 2000, President Hugo Chávez began a program of "Bolivarian" universities designed to churn out socialist professionals. There are now at least 26 such schools, which receive more than half the budget allotted for higher education. The system succeeded in increasing university enrollment, which rose nearly 300 percent between 2000 and 2014.
But officials at the country's 10 largest independent universities say there is now little or nothing left for research, which is essential to attracting and retaining high-caliber professors. In 2017, for instance, the USB received only enough funding to cover only 10.5 percent of its needs, according to the school's dean. Much of that went to cover wages.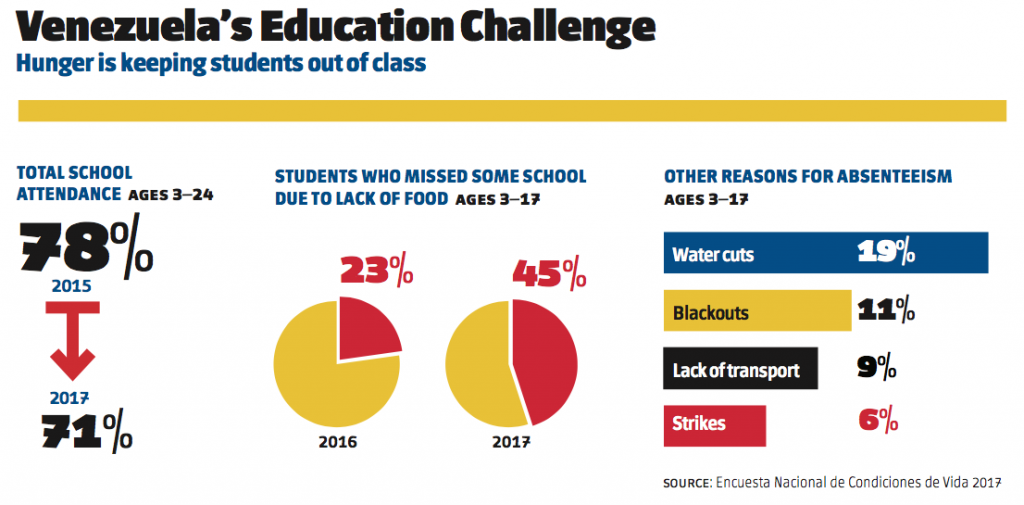 According to Kräuter, the government's squeeze on independent universities follows a historical pattern. "For any authoritarian regime, knowledge is a threat," she said.
The National University Council, a government body, is a case in point. The council now has the final word on 20 to 50 percent of admissions, and hasn't approved the creation of new programs since 2010.
The university system is only one aspect of Venezuela's deteriorating system. Freshmen are increasingly less prepared to handle college courses, Kräuter said, as elementary and high schools suffer the same belt tightening and brain drain affecting colleges.
In response, Juan Carlos Rubertiello, a philosophy professor at Carabobo University, suggested adding a year after high school to help balance out students' studies before starting college — once political and economic conditions allow.
At its core, restoring Venezuelan education depends on the same thing as most other sectors of society — the ability to earn a decent living.
"We all know being a professor isn't lucrative anywhere in the world," Kräuter said. "But it can't be humiliating either."
—
Krygier is a special correspondent for the Washington Post in Caracas.
Zúñiga is a freelance journalist based in Caracas.