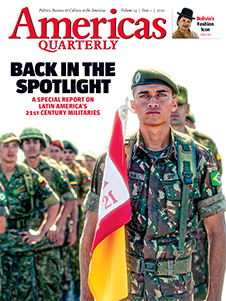 Special Report
In many countries, soldiers are again playing a prominent role in politics, security and the economy. Is this a restoration – or something entirely new?
By FRANK O. MORA and BRIAN FONSECA
They're back – but militaries have evolved since dark chapters of the past, write two leading specialists.
By BRENDAN O'BOYLE
A wave of political turmoil in the second half of 2019 put regional militaries in the spotlight, raising questions about their role and evolution on human rights.
By BRIAN WINTER
Brazil's military still plays a major role in Bolsonaro's government. But after a wave of firings and public disputes, some say the relationship is in trouble.
A snapshot of the military in 10 countries.
By FABIANA SOFIA PERERA
The transformation of the armed forces has direct implications for the country's crisis – and a possible transition.
By ADMIRAL CRAIG S. FALLER
Common threats – and opportunities – call for greater collaboration, writes the commander of U.S. Southern Command.
By ANDREI SERBIN-PONT
The former president tried to bring the armed forces out of the shadow of the last dictatorship. Will his successor reverse course?
By FELIPE AGÜERO
A wave of abuses suggests some soldiers never really adapted to democracy.
By CECILIA TORNAGHI
An interview with Brazilian Navy Lieutenant Commander Marcia Braga.
By EMILIE SWEIGART
A lieutenant colonel in exile speaks out about the fear and corruption in Maduro's barracks.
By ROBERTO SIMON
The false notion that the armed forces are inherently cleaner is dangerous to democracy in Latin America.
By SUSAN SEGAL
Lessons from three decades observing the region's militaries.
Departments
Five designers pushing their industry to new and better heights.
By ROBERTO SIMON and EMILIE SWEIGART
The slippery slope of decentralization.
By THÉO MANZALI DE SÁ-KAYE
An interview with Innova Funding CEO and founder María Laura Cuya.
By KEYLA GRINBERG
Did Brazil's Dom Pedro II see Frederick Douglass at the Centennial Exposition in Philadelphia.
Cultura
By SEBASTIÁN ZUBIETA
Award-winning sounds from two generations at the Latin Grammys.
By PIA FUENTEALBA
A review of Patricio Guzmán's latest documentary.
By AIMÉ IGLESIAS and DIANA FLATTO
A look at the new New York Museum of Modern Art's Latin American debut.
By OLIVER BALCH
The Liberator's legacy is alive and well – and constantly changing – in modern Latin America.