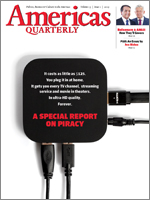 Special Report
Piracy and counterfeiting make life miserable for the region's creative workers. They deserve better.
By JONATHAN FRANKLIN
A little black box spells mayhem for the entertainment industry. Smuggled from China, it makes stealing content as easy as flipping a switch.
By XIMENA ENRÍQUEZ
Sometimes governments act to stop piracy. Sometimes they don't. Here are two stories that show very different outcomes.
By EMILIE SWEIGART
A look at what the region's governments are doing - and not doing - to stem piracy.
By BEN MILLER
From books to medicine, piracy affects more than just entertainment.
By RAQUEL CEBALLOS MOLANO
How Colombia fought to protect indigenous knowledge.
By EDSON LUIZ VISMONA
For a safer Latin America, we should stop romanticizing piracy.
AQ's correspondents hit pirate-filled markets in five Latin American cities to ask consumers whether they buy knock-offs.
AQ profiles five Latin Americans who have come up with solutions to problems from air pollution to safety risks for Brazil's black filmmakers.
Illicit tobacco costs Latin America and Canada $4.6 billion every year.
Features
By JOE BIDEN
The case for greater engagement between Latin America and the U.S.
A New Year for Brazil and Mexico
By BRIAN WINTER
Olavo de Carvalho might be the most important voice in Brazil's incoming government. And he doesn't even live there.
By MANUELA ANDREONI
After Marielle Franco's assassination, new voices sprung up in the black community. Renata Souza says entering politics was the right answer.
By BRENDAN O'BOYLE
The supporters, the opposition and the priorities.
By BENJAMIN RUSSELL
An interview with historian Lorenzo Meyer on the defining moments of López Obrador's career.
By BENJAMIN RUSSELL
The supporters, the opposition and the priorities.
Cultura
By BEN MILLER
Alfonso Cuarón's latest release offers a sublime portrait of family life in 1970s Mexico.
By SEBASTIÁN ZUBIETA
Our list of warming winter sounds.
By ROBERTO SIMON
A group of foreign policy planners offer their views of global diplomacy in The Road Ahead.
By ALEJANDRA OLIVA
A review of Valeria Luiselli's Lost Children Archive.
Departments
By RYAN MUSTO
A Cold War treaty has kept peaceful collaboration alive.
By BRENDAN O'BOYLE
An interview with Carlos Dada, Salvadoran journalist, founder and director of El Faro.