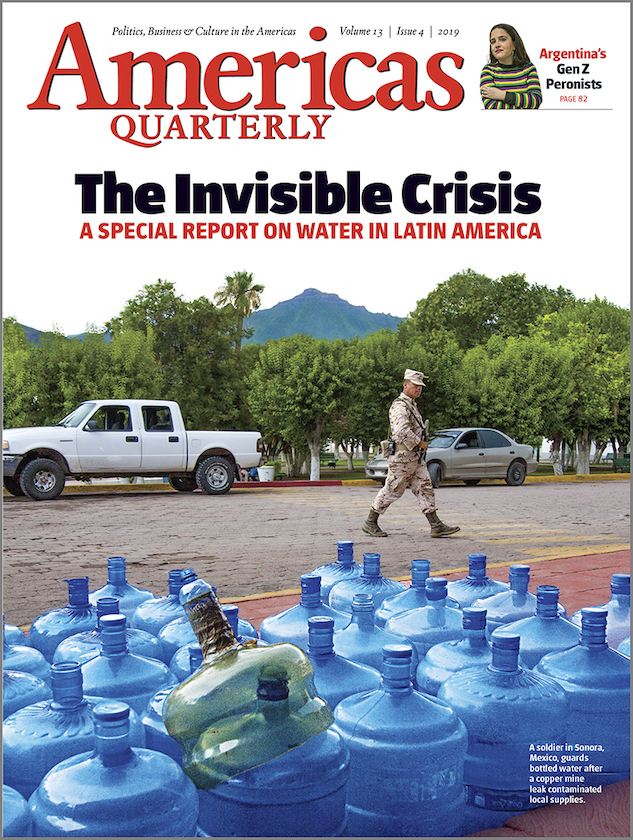 Special Report
Droughts and other water-related challenges pose a rising threat to millions of Latin Americans. But some governments and companies are pointing the way forward.
By SETH KUGEL
Inside the dramatic turnaround that made Colombia's second city a model for water management.
By SIMEON TEGEL
To prevent a crisis in the future, Latin America's largest desert city is looking to the past.
By EMILIE SWEIGART and BEN MILLER
A close look at where Latin America's water crisis is playing out, and how governments are responding.
By CECILIA TORNAGHI
When a 250-year drought hit São Paulo, established rivals moved from competition to collaboration.
By LUCIA HE
Climate change is making water scarce in wine country – putting an Argentine staple at risk.
By BENJAMIN RUSSELL
What happens when water just doesn't get there? A tale of illegal taps and pipe-truck kidnappings.
By JOSÉ GRAZIANO DA SILVA
The former chief of the UN Food and Agriculture Organization on how agribusiness can preserve vital resources.
By EMILY PETSKO
The country's science-based approach shows fishing can be environmentally sustainable.
By DAVID ROCKEFELLER JR.
It's not too late for the region to take action on climate change and its toll on water.
By BRENDAN O'BOYLE
AQ 
looks at four rivers and one infamous bay that underscore Latin America's water crisis.
By 
BEN MILLER
 and 
CECILIA TORNAGHI
Latin America is turning to new technologies to address multple water crises.
Features
Five regional figures using humor to speak truth to power.
By DEMIAN BIO
Social media savvy and outspoken, Argentina's youngest voters are making Peronism cool again.
Cultura
By SEBASTIÁN ZUBIETA
Two musical acts pushing the boundaries of traditional Latin American sound.
By CECILIA TORNAGHI
A new film goes behind the scenes of Brazil's politically charged youth movement.
By ALAN GRABINSKY
Author Ilan Stavans takes a journey through Jewish Latin America.
By BENJAMIN RUSSELL
A work for young adults by Juan Pablo Villalobos on the triumphs and trials of Central American migration to the U.S.
Departments
By ROBERTO SIMON and EMILIE SWEIGART
How Latin America can punish corruption without killing companies.
By MARCELO LARRAQUY
José López Rega's story shows how ordinary people sometimes gain outsized influence – and political power.
By FERNANDA URIEGAS
An interview with Saula García, co-founder of 
Symplifica
. 
(Available online Oct. 29)