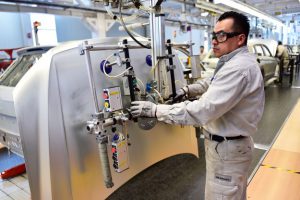 Reading Time:
3
minutes
The not-yet-ratified USMCA has already impacted Mexican institutions, beyond the economy.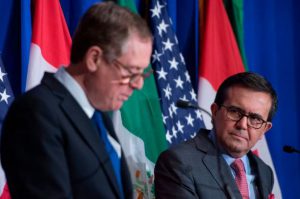 Following Tuesday's events, it is not an exaggeration to say that the North American Free Trade Agreement (NAFTA) is on life support, and it is unclear whether the patient will even survive into the coming year. Though the advance writing was flashing brightly on the wall, the three lead NAFTA negotiators put paid to the … Read more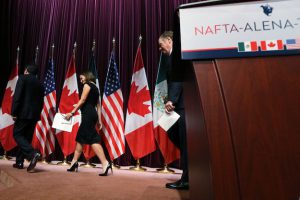 When the North American Free Trade Agreement (NAFTA) was originally negotiated in 1994, four out of five of the largest U.S. companies built automobiles. Google, Facebook and Amazon hadn't been born. E-commerce, as such, didn't exist. That's part of why NAFTA renegotiations are more than just a political football: they are imperative for the region … Read more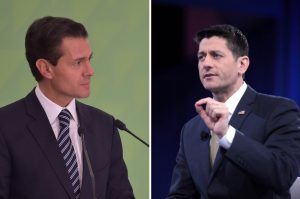 While tweets and speeches may continue to cause consternation in Mexico and Canada, the existential threat to NAFTA seems to have passed. President Donald Trump is now talking about giving "renegotiation a good, strong shot" rather than rescinding the free trade agreement entirely. On the docket will be intellectual property, labor rights, e-commerce, rules of … Read more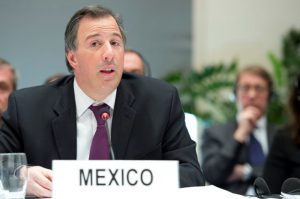 It's fair that Mexican officials would fret over U.S. President Donald Trump's threats to walk away from the North American Free Trade Agreement (NAFTA) – 80 percent of Mexican goods are currently exported to the U.S., and any change to the 23-year-old deal will surely be economically and politically disruptive. But other potential changes in … Read more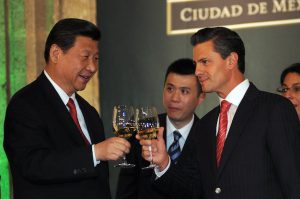 Much is made of the perils of ending NAFTA for Mexico, and rightly so. The 23-year-old agreement has helped the nation not only boost trade but also transform its economy, moving from a commodity to an advanced manufacturing exporter. With 80 percent of its exports headed north, even the threat of change has hurt Mexico's … Read more
Two decades ago, the leaders of Canada, Mexico and the United States forged an agreement that transformed North America from just a geographical expression to the world's most formidable economic entity. The North American Free Trade Agreement (NAFTA) eliminated most of the trade and investment barriers that had segmented the continent. Within a decade, trade … Read more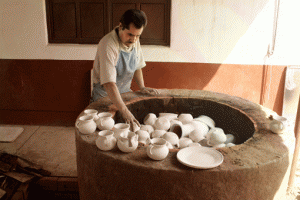 Uriel Arroyo is a ceramics producer from Capula, a small community in Michoacán, Mexico, whose family-run business used a centuries-old method to craft clay table- and cookware. Arroyo, like roughly 10,000 artisanal ceramacists across Mexico, used lead-oxide glaze to finish his pieces. Now, with the help of nongovernmental organizations (NGOs) and Mexican public agencies, Arroyo … Read more
Fifteen years after its passage by a closely divided Congress, the North American Free Trade Agreement (NAFTA) provides an important lens through which to consider United States trade policy, U.S. politics and some of the effects of globalization. With a new president taking office next year, it is vitally important to draw the right lessons … Read more
Politicians who argue for restricting immigration cast newcomers as an invasion of foreign settlers. Their rhetoric misses a simple fact. Many of the people who cross the border to work in U.S. farms and factories aren't looking for a new home. Many just want to work. Most new immigrants are deeply attached to their families, … Read more
Reading Time:
2
minutes
The  North American Free Trade Agreement (NAFTA) created an intentionally unequal system for the entry of Canadian and Mexican professionals to the U.S. while flatly rejecting calls by some for including broader migration in the pact. Taking such migration off the table was in deference to U.S. Congressional opposition and that body's jealously guarded plenary power over immigration—as well as to the expectation of popular furor over its inclusion.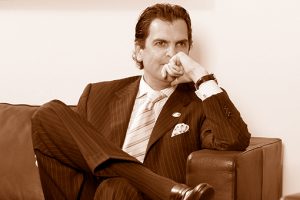 I want to congratulate the American people for an election campaign that was not only historic but reassuring to the rest of the world. The primary season was particularly reassuring: the fact that two of the candidates for the Democratic Party nomination were a woman and a man of Mexican-American descent, with the eventual winner … Read more
Reading Time:
< 1
minute
I hesitate to write to the new U.S. administration about Latin America because I know that natural realities mean that Latin America will not be a priority for any administration despite the high-minded talk from the candidates.
Reading Time:
< 1
minute
Mr. President-elect, on behalf of the many Nicaraguan citizens who believe in democracy, we hope your entrance to the White House will open a new era of fruitful relationships between the United States and Latin America. After many years of abandonment and disregard toward Latin America, I am sure this will be welcomed in the region. It will be particularly welcomed in Nicaragua, a country torn by dictatorship and war for most of the twentieth century.