By: Alana Tummino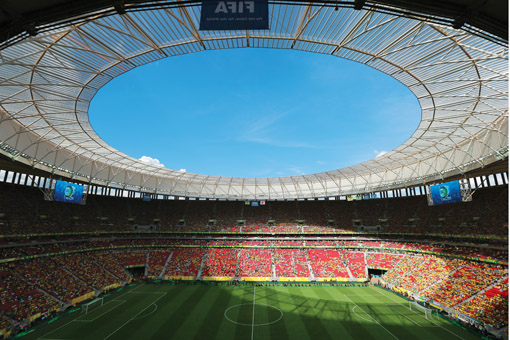 Consumers are regularly bombarded with products like LED lights, solar panels and hybrid vehicles that promise to reduce their users' carbon footprint and save money—not to mention help them feel eco-friendly. While those are all important at the individual level, the real impact—both on the environment and in terms of savings—comes when cities test and adopt these and other new innovations.
Take the case of Brazilian cities preparing for the 2014 World Cup. While delays in new stadium construction often make the headlines, much of the media has missed what may be the most important story: once the retrofitting is complete, Brazil's sports complexes (including the new ones) will be among the most energy-efficient in the world. New solar panels will reduce stadiums' reliance on traditional grid-supplied energy and also provide solar energy to surrounding areas.
In one case, the Estádio Governador Magalhães Pinto, or Mineirão stadium, unveiled its array of rooftop solar panels in time for last year's FIFA Confederations Cup on June 17. The $16.1 million investment, financed by KfW, the German government-owned development bank, together with CEMIG, a Brazilian power company, provides 1.4MW of electricity to the local energy grid surrounding the stadium, but not the stadium itself.
Getting an even larger makeover has been the Estádio Nacional de Brasília Mané Garrincha, which will likely reach LEED Platinum certification and become the first net-zero-energy stadium in the world. Its 2.5MW-peak solar array will power almost half of the stadium with solar energy, for an annual savings of around 7 million reais ($3.78 million). Maracanã stadium in Rio de Janeiro and the Pituaçu Stadium in Salvador will also have rooftop solar panels, and the Pernambuco stadium in Recife will have solar heating for changing rooms, toilets and kitchens.
Farther north, Toronto—capitalizing on cold lake temperatures rather than the sunny warmth of Brazil—has been a leader in developing a cleaner and energy-efficient alternative to air conditioning. Developed by Enwave Energy Corporation, Toronto's innovative water cooling system relies on Lake Ontario's 4 degrees Celsius (39 degrees Farenheit) water to air condition 29 million square feet (2.7 million square meters) of high-rise building space—or 51 buildings—in the city center. The solution reduces CO2 emissions by 87,000 tons and energy consumption by 90 percent, compared to conventional air conditioning. The system will ultimately save 128 million kilowatt-hours annually in electricity.
The program's success has led to replication in other large cities. New York City, for example, hopes to take advantage of its cold-water harbor and the rivers that feed it. Deep-water source cooling requires about one-tenth the average energy needed for conventional cooling systems. It's fully renewable, and does not use any refrigerants that deplete the ozone layer.
At the same time, in New York City, schools, hospitals, universities, and even the Empire State Building are being retrofitted. With a $550 million investment, the Empire State Building will be upgraded by refurbishing over 6,000 windows, installing insulation and 100 percent LED lighting, and adding 30 percent more efficient elevators, making it the largest retrofitting project in the world. The building makeover aims to cut energy costs by $4.4 million per year, reduce CO2 emissions by 105,000 metric tons over 15 years, and reduce energy consumption by up to 38 percent. But this is just the start; 75 percent of the city's greenhouse gas emissions come from energy use in buildings. 
Read about public space.
Read about governance.
Alana Tummino is senior editor of Americas Quarterly, managing editor of AQ Online and director of policy at Americas Society and Council of the Americas.
Photo: Matthew Ashton/AMA/Corbis