Reading Time:
3
minutes
This article is adapted from AQ's special report on supply chains
The president in Miguel Ángel Asturias's novel Mr. President rarely appears in person. His regime is despotic, his power is boundless, but the man himself is a mystery. We know him by his works: show trials, police roundups, surveillance reports and despairing conversations in prison cells across Asturias's native Guatemala City. Torture is par for the course. Without any knowledge of the president's habits, politics, or inner life, we see him most vividly in his citizens' nightmares.
Asturias finished the novel in 1933 but was prevented from publishing it until 1946 by the dictatorship of Jorge Ubico, whom he feared would identify his own regime with the president's. But in fact, the novel's president was modeled on Manuel Estrada Cabrera, whose rule ended in 1920.
Unfortunately, Estrada Cabrera's authoritarian style long outlived his regime. By the time an English translation of Asturias's book was published in 1963, the United States-backed overthrow of Jacobo Árbenz's social democracy had delivered Guatemala into new nightmares, eerily similar to the old. The rightist dictatorships of Carlos Castillo Armas and Miguel Ydígoras Fuentes resembled the president's reign of terror as nearly as Estrada Cabrera's did. With continued U.S. support, even more repressive regimes would follow.
Perhaps understandably, the book's portrait of life under dictatorship has resonated more with Latin Americans over the decades than with readers in the United States. Overshadowed in the U.S. by the Latin American literary "boom" of the 1960s, the novel was effusively received by Spanish-language critics after its republication in Argentina in 1948.
Mr. President owes its longevity in part to the way it skirts specific detail. It is primarily a novel of atmosphere—the atmosphere of Guatemala's bleak 20th century. Centered on the fall from grace of Miguel Angel Face, the president's closest confidant, the narrative unfolds in an elegant series of repetitions and tragic symmetries. Miguel Angel Face stages the kidnapping of a prominent general's daughter to help her father flee into exile. He becomes smitten with the daughter, and—against the backdrop of a purge overseen by the regime's enforcer, the nameless Judge Advocate—he falls from the president's favor, into ruin.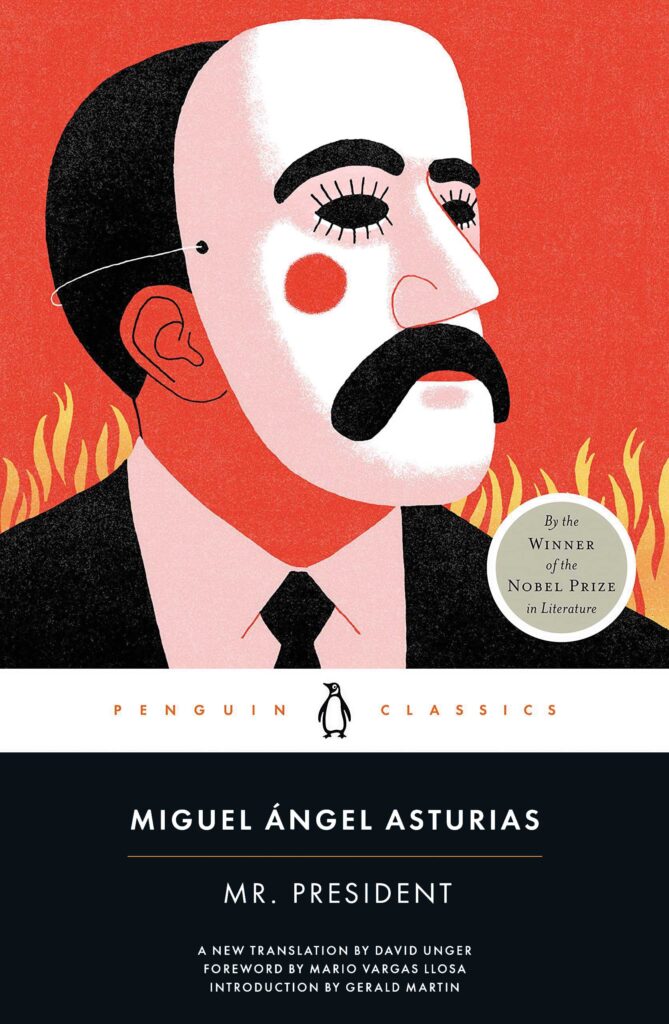 Mr. President

by Miguel Ángel Asturias
Translated by David Unger
Penguin Classics
Paperback
320 pages
The plot is less an end in itself, however, than a vehicle for lyrical depiction of a people under psychological siege. We begin in the company of beggars who witness the murder of an officer. Asturias follows the beggars from the streets into a prison, where they are herded by the police. In the epilogue, an anonymous student, fresh from prison himself, watches a chain gang march the same path. If Miguel Angel Face's story risks tipping into melodrama, it is saved by the stark, surreal enormity of Asturias's penetrating vision.
A modernist triumph like Asturias's deserves a translation of similar caliber. In the preface to his new translation, David Unger purports to correct his predecessor's errors and omissions. But what he gains in narrow fidelity, Unger loses in poetry. The English text is full of mangled idioms and stilted, sometimes bizarre dialogue. A hypothetical flag is "in titters and tatters," and a prostitute is nicknamed, anachronistically, "Boombox Ears." A secret policeman exclaims to a friend, "This is my night to be happy, my night to be snappy, I'm telling you, my happy snappy night!"
Still, across the uncanny valley of Unger's translation, we catch startling glimpses of the original's brilliant imagery. That so much poetry survives this treatment is a testament to the staggering, lasting beauty of Asturias's harrowing masterwork. 
—
Caddell is a writer based in Santa Monica, California
Tags:
Asturias
,
book
,
Cultura
,
Literature
,
Mister President
,
Señor Presidente