Reading Time:
7
minutes
This article is adapted from AQ's special report on the education crisis | Leer en español
BUENOS AIRES — Three days a week, Alejo Aracena drifts through the 19th-century doors of Casa Mercado, one of the oldest buildings in the municipality of San Martín, on the outskirts of Buenos Aires.
With a shock of bleached blonde hair and a slight stoop to his walk, the teenager has a destination: past the leafy pergola, toward the end of the build­ing's interior courtyard, where a few plastic ta­bles are tucked next to a big blue sign that reads Educación.
Aracena, 14, smiles at the young women prepar­ing math exercises in ballpoint pen. He doesn't love school, he says, but this place is something differ­ent: a learning center funded by the city in an effort to help kids like him catch up and stay in school af­ter the challenges of COVID-19.
"I come here almost all the time, whether I have homework or not, because they explain things to me so that I understand them," Aracena told AQ. "Before, when school was virtual, (teachers) would send me assignments and it was up to me to figure it out."
Like many young people in Latin America, the odds were stacked against Aracena when the pan­demic shut down in-person schooling. With no In­ternet or computer at home, his mother had to use a neighbor's Wi-Fi to download assignments for him on an old cell phone. Her determination helped Ara­cena stay in school. But without individual tutors like those he's found at the study center – one of 40 set up in San Martín since February – he might still fall behind.
The center is one of several initiatives launched across Argentina this year to try to prevent long-term regression in student learning. A mix of new tools and old-fashioned persistence, the plans are wide-reaching, innovative and not especially ex­pensive to implement. As such, they may eventu­ally serve as a model for other countries across the Americas. But first they'll have to prove they can make a real difference for students like Aracena – and there, it's still too soon to tell.
"Perhaps it's what they always needed"

Paulo Gutiérrez, director of Escuela 50
In January 2021, UNESCO estimated that 52% of the world's children – 800 million students – had either not yet returned to school or had returned under precarious circumstances. Across Latin America and the Caribbean – which outpaced the rest of the world with 22.5 weeks of full school closures and 11.4 weeks of partial closures in the first year of the pandemic – absenteeism and dropout rates skyrocketed.
In Argentina, teachers, administrators and government officials are still scrambling to adjust. Schooling here was put almost entirely online in 2020. In that process, more than 1 million students lost touch with their schools, according to government estimates, though a lack of national record-keeping may hide the full scope of the problem.
In response, simply getting students back to school has become a top priority. Outdoor learning centers during the summer months focused on play as a way to reengage the youngest cohort. New learning materials, tutors, games and digital tools have been rolled out. Volunteer-based local organizations have played a crucial role, as the ranks of students looking for extra help continue to swell.
"We had school help before, but now people are almost throwing themselves at me asking for a spot," said Maria Fitte, one of the organizers of Tejiendo el Barrio, a nonprofit that operates in a low-income settlement in Buenos Aires' Chacarita neighborhood.
The need for tutors has become more urgent of late: In 2020, students were automatically given passing grades; in 2021 they had to meet expectations in order to advance.
Provincial governments, which manage education, have responded to the crisis in their own ways. Administrators in Mendoza added two hours to the school day for students with learning difficulties. In Córdoba, it was one hour. Most jurisdictions extended the school year in some form. In Santa Fe, officials staggered the end of the academic year, depending on how students fared. The province of Buenos Aires, home to almost 40% of the population, has been holding "intensification" classes on Saturdays and after school for students who have fallen behind.
"I am convinced that the only way to recoup time is with time. And that's what we're doing here," said Paulo Gutiérrez, the director of Escuela 50, a public high school in Lomas de Zamora in the province of Buenos Aires, during one of those recent Saturday sessions.
Rather than teach 20 students at a time, teachers in these sessions sit at a table with two, three or five students, working individually, Gutiérrez told AQ.
"Perhaps that's what these students always needed."
Will it work?
At a root level, school administrators have taken to the task of finding students and helping them back to the classroom—with some success.
In the city of Buenos Aires, government workers have expanded a near decade-long program scouring neighborhoods for young people who have lost touch with their schools. They knock on doors, survey families and map the needs of students: Who dropped out because they didn't have a computer? Who had to go to work to help their family? Who languished in those months of lockdown, and needs an emotional boost?
After accounting for students who moved or passed school age, city officials found 4,481 students who had abandoned school in 2020. To date, officials say that 98% have since reestablished their connection.
"We went out to the street, we went out to look for them, always with a super friendly, loving approach," Melisa Massinelli, the manager for inclusive education for the Buenos Aires city government, told AQ. "It was slow, but consistent work … the idea is that you do not lose your schooling, the idea is that you are not left behind."
The national government has since vowed to replicate this door-to-door approach under a program called Volvé a La Escuela (Return to School), which earmarked 5 billion pesos ($50 million) to bolster programs that help improve learning environments, including funds for teaching supplies, building repairs and low-cost Argentine-made laptops for high school students.
Eduardo Levy Yeyati, dean of the School of Government at Torcuato Di Tella University in Buenos Aires, said he had seen "a lot of rhetoric and a lot of good intentions."
"If you ask the provincial or district authorities what they're doing, everyone is doing something," Levy Yeyati, who directs the school's evidence-based public policy center, told AQ.
But with just a few months since schools have been fully open, and no real assessment done yet, the impact of these programs is still unclear. Even promising pilot programs have limited reach, said Levy Yeyati, who noted that getting students back into the classroom is just the start.
"I think it's impossible to recover all that has been lost," he said. "And unless we are able to achieve a greater level of targeting at the time of teaching, it's very difficult for those who are lagging behind to board the same train. They will board a few wagons behind and they will end up there permanently."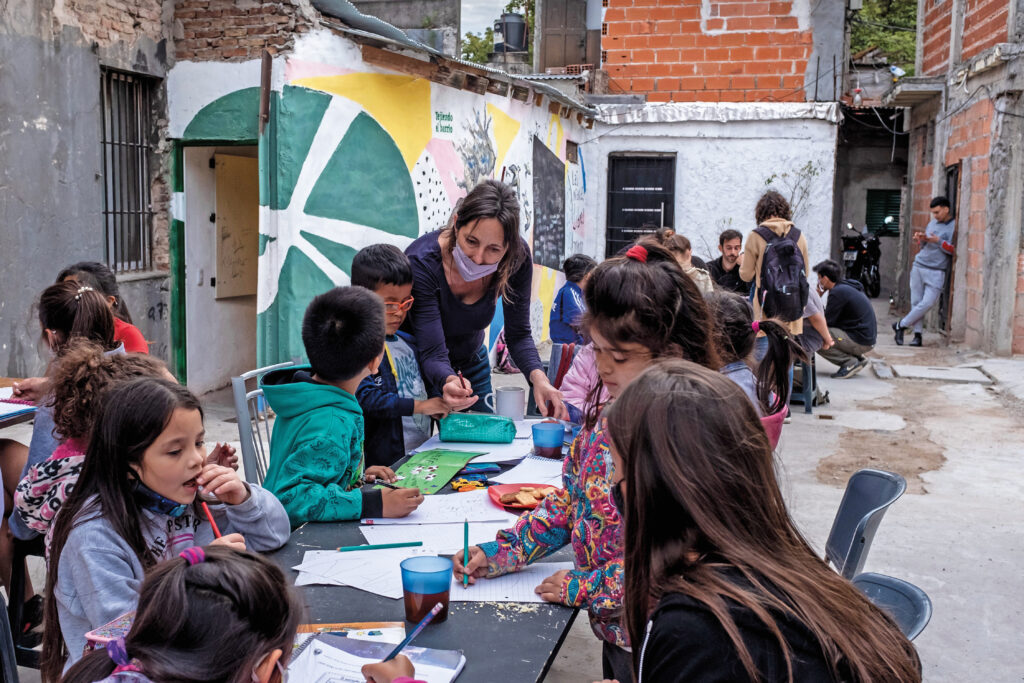 An emotional toll
Part of making sure that doesn't happen will mean taking a comprehensive approach to rebuilding education systems, experts say. That includes accounting for the pandemic's toll outside the classroom.
Alegre Sofia, 14, is trying her best to catch up after a difficult year. She's one of 120 students from Escuela 50 who has been attending extra classes after school and on Saturdays. She lost her father to leukemia in 2019, and when the country shut down during the pandemic, so did her education.
"I didn't do anything all year. Not because I didn't want to, but because I couldn't," Sofia told AQ. She's now making up classes from 2020 and those she's had trouble with in 2021; Zoom and virtual learning have been a challenge.
"I was on my own all the time at home, because my mom and my sister work. And it being my first year of high school, I needed someone's help," she said. "I don't want to repeat a year, so that's why I'm here. Plus, the teacher is very cool."
Sofia's experience points to larger issues in post-COVID education. Agustina María Corica, a Buenos Aires sociologist who studies school abandonment, noted that confinement and isolation have driven an increase in child and adolescent labor, as more children pitch in to the family economy. For many girls, that means assuming more caregiving tasks at home.
The digital divide in Latin America has also been a major factor: Access to the Internet, to a computer or even a phone that isn't shared by multiple family members varies dramatically by income level. Education in this context has become a privilege, rather than a right.
Corica suggests that these social and emotional issues should be considered when devising stay-in-school strategies. While uncertainty and instability are often part of growing up, the pandemic has eroded young people's ability to project themselves into the future, she said.
"It has to do more with emotional support or mental health than with connectivity," said Corica.
For Mariana Entenza Saavedra, director of education in San Martín, the pandemic has exacerbated a period in young people's lives that can already be difficult to navigate.
"There was a lot of loneliness," Saavedra told AQ. "There were a lot of children whose parents both died. Learning becomes even harder because that energy is being placed somewhere else."
Many of these difficulties, in San Martín and elsewhere, predated the pandemic. A report released in August by the Argentine Social Development Institute based on 2019 government data found that 31% of people between the ages of 18 and 24 had not received their high school diploma. Among the wealthiest sectors that number plunged to 12%, while it soared to 52% for the poorest sectors.
Iván Matovich, the education coordinator at the Center of Public Policy for Equality and Growth, a think tank, said there is "a temptation to refer to this moment as a crisis, but if you look back we've been talking about the education system being in crisis for decades." He prefers to describe it as a "fragile turning point" that has the potential to address long-standing needs in the education system.
"We have to be able to improve the monitoring systems to be able to identify students earlier on and adapt to their needs," Matovich told AQ.
Until that happens, it continues to fall to parents to pick up the slack. Verónica Gómez stopped working as a caregiver for the elderly and bought a blackboard during the pandemic so she could help her five children with their virtual studies.
"As mothers we have the basics, and in the pandemic we put in a super-human effort to try to help them out, but it wasn't enough," she said after dropping off her 10- and 12-year-olds at Escuela 50. Committing to extra schooling wasn't easy at first.
"Bringing them here is a sacrifice, I don't live close," she told AQ. "But their education is important. And I see the results in them. They put in the sweat, and they say to me, 'Mom, I have to finish.'"
—
Alcoba is an Argentine-Canadian journalist based in Buenos Aires. She writes extensively about the women's movement in Argentina and is interested more broadly in collective organization in Latin America.
Tags:
Argentina
,
Education
,
The COVID Generation