Reading Time:
< 1
minute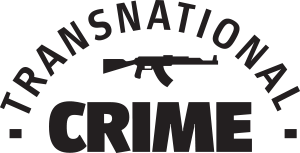 Jalisco Cartel
Cártel Jalisco Nueva Generación, or CJNG / Jalisco Cartel New Generation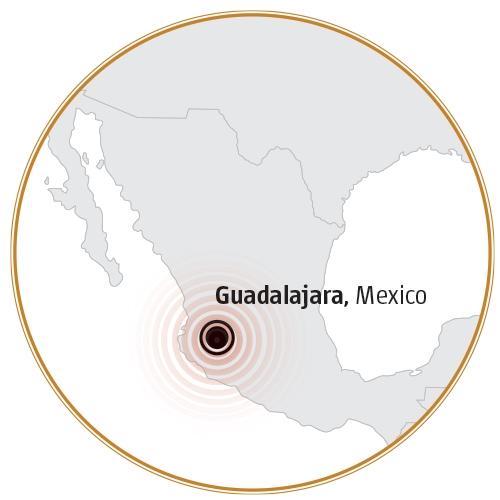 | | |
| --- | --- |
| | Credible and current figures on income and number of members aren't available |
| | $10 million DEA bounty on kingpin El Mencho |
Money Makers

Drug
Trafficking

Oil Theft
Geography: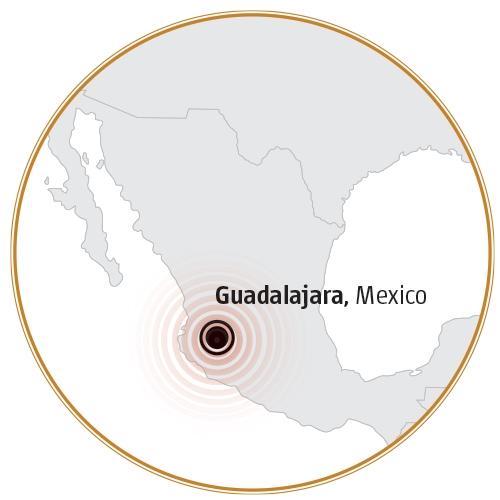 The cartel is based in Mexico's second city and Jalisco's capital, Guadalajara, where Pacific ports allow the cartel to import from Asia the chemicals needed to make synthetic drugs. The cartel in 2020 had a presence in at least 27 Mexican states, according to the Mexican government, and reportedly has customers on six continents.
Origins: The Jalisco Cartel began as a meth-producing splinter group that broke off from the Sinaloa Cartel "federation" in 2010. Once known as Mata Zetas— they promised to defeat the then-powerful Zetas cartel — CJNG has emerged as one of Mexico's two most dominant cartels amid an increasingly fragmented field of competitors.
Recent Changes: Thanks to what the U.S. Congressional Research Service described as an "aggressive growth strategy underwritten by U.S. demand for Mexican methamphetamine, heroin and fentanyl," CJNG continues to grow in reach and firepower. They have heavily invested in arms manufacturing capabilities, making them less reliant on arms trafficked from the U.S. By mid-2020, the cartel had become "the biggest criminal drug threat to the U.S.," according to The Wall Street Journal.
Structure: Led by "El Mencho," a former cop and kingpin described as the "next El Chapo," CJNG follows what InSight Crime called a "hierarchical, disciplined structure." The security analyst Alejandro Hope, however, described the cartel to The Washington Post as "more an ecosystem than it is a vertically integrated organization." The cartel tends to build alliances with smaller criminal organizations that help them gain or maintain control over territory.
Culture: The cartel is known for its violence and what Matthew Donahue, the DEA's deputy chief of operations, described to The Washington Post as a "non-value on human life." The CJNG is not shy about confrontation: They've kidnapped El Chapo's sons and attempted to assassinate Mexico City's top security official in July 2020. That attack, which followed the killing of a federal judge weeks earlier, highlighted a willingness to brazenly target public officials.
Competitors: Its most notorious enemy is the Sinaloa Cartel; CJNG also competes against local criminal groups, including the Knights Templar, Cártel de Santa Rosa de Lima, Los Viagras and Unión Tepito, among others.
Political Ties: Despite a general anti-government stance, the CJNG has still managed to infiltrate public institutions. In 2016, Jalisco's state attorney general reported that in Guadalajara, 20% of municipal police forces had been corrupted and 70% intimidated into not acting against the CJNG.
← Back