Reading Time:
3
minutes
With less than six weeks to go before Peru's presidential election, gay rights activists are fighting to put LGBT inclusion on the national agenda and find a candidate to rally behind.
It isn't easy, says Carlos Polo in Lima.
Over Valentine's Day weekend, Polo was beaten by police while kissing his boyfriend during a small demonstration called "Kisses Against Homophobia" held outside the government palace. A reporter also suffered a gash on her forehead as police forcibly broke up the crowd using batons and water cannons.
"Discrimination occurs on a daily basis," Polo told AQ. "My partner and I experience it on public transportation, in parks, at bus stops, everywhere, and on each occasion the police do nothing to protect us."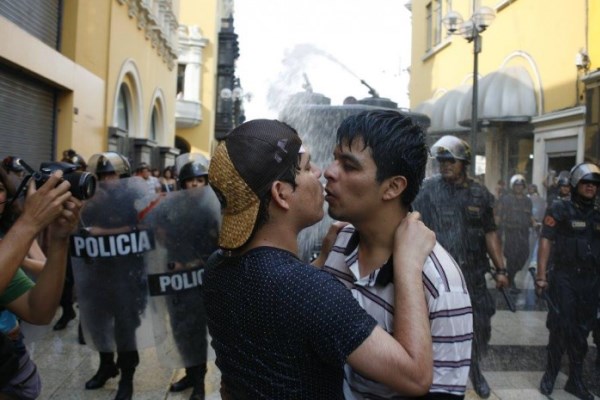 Protesters at the "Kisses Against Homophobia" demonstration in Lima.
Despite – or because of – this widespread discrimination against lesbian, gay, bisexual and transgender (LGBT) people, garnering credible support from presidential candidates has been an uphill battle. Only eight of the 19 parties expected to field a candidate in the April 10 election have LGBT-specific policies in their platforms, according to No Tengo Miedo, a Peruvian LGBT advocacy collective.
Leading presidential candidate Keiko Fujimori makes no mention of gay or transgender issues in her platform, but has tacitly expressed support for civil unions. Her nearest challenger, Julio Guzmán, openly supports civil unions for same-sex couples and laws against sexual discrimination. He also calls for including sexual orientation and gender identity in Peru's national human rights plan, which the current government excluded in 2014 amid pressure from the Catholic church and Peruvian Army.
But neither candidate spoke up in defense of Polo or other protesters who were beaten up in February. As disturbing scenes of the violence circulated on social media, only one presidential candidate raised her voice: Verónika Mendoza, a congresswoman from the Broad Left Front coalition, who retweeted one activist who was at the protest and later tweeted her support for same-sex marriage. Every other candidate was silent, according to a reporter for LGBT news site Sin Etiquetas who spoke with AQ.
The police's violent reaction toward Polo and other LGBT protesters isn't new. Officers shut down the same event five years ago in what some see as a benchmark of the lack of progress on gay rights since President Ollanta Humala took office in 2011. While he was elected with support from the LGBT community, frustration with his failure to support issues such as the legalization of gay marriage has led to widespread disaffection with his government, says Maribel Reyes, secretary general of Red Peruana TLGB, a national LGBT network.
"Political will toward transgender, lesbian, gay and bisexual populations is the same as ever: nonexistent," Reyes told AQ. "In the absence of public policies and laws [protecting LGBT people], the Peruvian government is abetting the violation of the rights of LGBT Peruvians."
LGBT Peruvians' frustration with the state has only intensified as they have watched their Latin American neighbors emerge as global leaders in the promotion of LGBT rights. Argentina legalized same-sex marriage in 2010 and Uruguay and Brazil followed suit in 2013, the same year that Colombia's Constitutional Court ruled in favor of civil unions. Mexico's Supreme Court last June ruled state marriage bans unconstitutional, and then Ecuador and Chile recognized civil unions in the second half of the year.
Meanwhile in Peru, Congress shelved a civil unions bill in March 2015 with the help of legislators from Humala's leftist Peru Wins alliance. A government study published in 2015 found that 90 percent of LGBT residents of metropolitan Lima had been victims of violence, and accounts of harassment in public are common.
The government recognizes that more work needs to be done to ensure progress for LGBT Peruvians. In an email to AQ from the office of Peru's Ministry of Women and Vulnerable Populations, an official noted that the agency was working on several efforts to advocate for the LGBT population, such as incorporating LGBT issues into violence prevention curricula and starting a working group for lesbian organizations.
Many are hopeful for change. Polo, the activist, says the mere existence of debate is proof of some progress. Reyes, for her part, says she plans to keep fighting, with or without support of the next president.
"We never lose hope. It is what feeds our struggle."
—
O'Boyle is an editor for AQ
All photos courtesy of Sin Etiquetas/Renzo Salazar
Any opinions expressed in this piece do not necessarily reflect those of Americas Quarterly or its publishers.
Tags:
Elections
,
LGBT Rights
,
Peru