Reading Time:
3
minutes
Chevron has been a proud partner in Latin America for almost a century, and our commitment to the region remains strong. We operate in Argentina, Brazil, Colombia and Venezuela, and have interests in Mexico and Suriname, exploring for and producing the energy that helps countries and their major cities move forward.
We are committed to working with our partners and host governments to unlock the potential of their energy resources for the benefit of the countries' economies.
Latin American cities are growing and access to affordable energy will play a vital role in their expansion. All types of energy will be needed, and hydrocarbons will maintain an important share of the energy needs.
Fortunately, Latin America has vast energy resources and is well positioned to meet its energy needs and further economic progress. The region needs to continue fostering a business environment that attracts the large investment needed to develop these resources.
We've seen the greatest advancements in living standards in Latin America in recorded history because countries have helped develop abundant, affordable energy. Light, heat and mobility have been made available to millions of people, enabling human progress.
If the right conditions continue, Latin America's large resources will bring additional investment, continued employment and economic growth to its countries, and help meet the ever-growing global demand for affordable, reliable energy.
Economic growth, powered by the development of energy resources, is a winning scenario for everyone.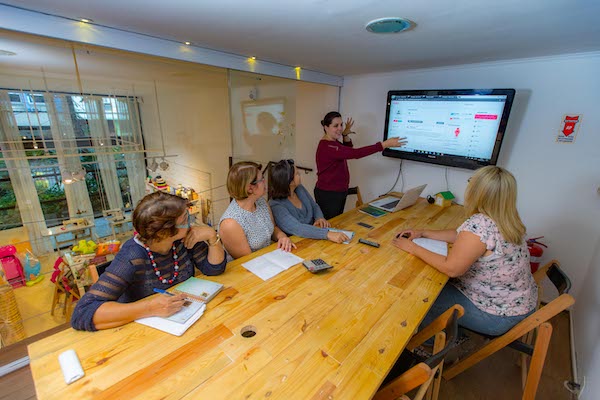 Artisans in Brazil attend a workshop on online finance management.
The energy industry creates benefits such as taxes that help fund government services, schools and health care, among others. The industry also supports the nonprofit sector, contributing to local communities by successfully implementing strategic social investment programs in both major metropolitan areas and remote, underdeveloped areas.
Over the years, Chevron has built lasting partnerships with national oil companies, international partners, local contractors and suppliers, governmental agencies, nonprofit organizations and community representatives. Our partnerships and investments are not only powering nations but strengthening the communities where we operate.
Helping communities succeed We contribute to local communities by making strategic social investments in three core areas: health, education and economic development.
Further, we believe in the role that the private sector and young entrepreneurs can play to be engines of economic growth and job creation.
In Latin America, strengthening communities through vocational training and technical education for young people and women is one of our specific social investment focus areas.
In Buenos Aires, Argentina, for example, we support a program called Entrepreneurs in Action, an initiative that provides training and support for women with small businesses that offer services such as cooking and sewing in vulnerable urban areas. The city of Rincón de los Sauces, in southern Argentina, where Chevron has significant operations, recently recognized the company for its commitment to improving the quality of life of local citizens through projects related to education and economic development.
In Brazil, Chevron has invested more than $7 million in social programs that have benefited 29,000 people over the past six years. The company currently focuses its social investments in São João da Barra in Rio de Janeiro state. The goal is to support public school students, fishing communities, and the local population with structured programs specifically designed to address issues raised by the municipality.
In partnership with Ecopetrol, Colombia's national oil company, Chevron not only provides enough natural gas to power more than 4.5 million Colombian households, but also strives to improve the quality of life for local communities by implementing initiatives that build capacity and encourage selfsufficiency. We support entrepreneurship programs that preserve the cultural heritage of the Wayúu indigenous families; fund start-up tourism initiatives; and empower local suppliers to achieve better business standards while trading their products at fair prices.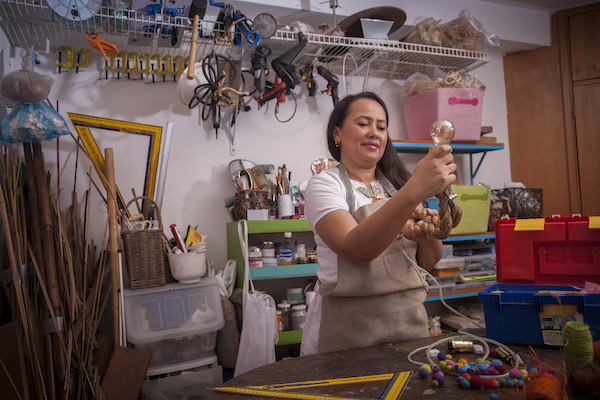 Chevron's Emprered program strengthens the skills of micro-entrepreneurs in Venezuela
In Venezuela, our Emprepred program trains participants to turn their ideas into successful businesses that support economic growth. The program is now present in five states and has reached more than 15,000 beneficiaries over the past six years. And our Dressed with Dreams program benefits underprivileged women by building competencies in sewing and pattern-making, with a job placement rate of 100 percent upon program completion.
Everywhere we work, we strive to build lasting relationships to create prosperity now and for generations to come. We are focused on the same goal — safely developing affordable energy to help spur economic growth and development and improve quality of life — around the world and in the countries and communities of Latin America