Reading Time:
4
minutes
While human progress is defined differently across the Americas and the world; we all share common dreams and aspirations to improve our living standards and for our communities to thrive. At Chevron, we are proud of our work helping to make human progress a reality for millions of people in the communities where we operate by driving economic and social development; enabling the benefits of modern life; and improving lives and powering the world forward.
We believe our business succeeds best when our local communities succeed too. Beyond energy, our partnerships and investments help improve the communities where we operate. In Latin America, Chevron works with local governments, businesses and nongovernmental organizations (NGOs) to understand local needs and together develop sustainable programs.
A critical need in Latin America is improving access to clean water, which is fundamental to meeting the United Nations Sustainable Development Goals. Unsafe water and a lack of sanitation severely impacts public health, particularly among children who are at a high risk of waterborne illnesses. To help address this challenge, we support sustainable clean drinking water projects in Argentina, Colombia and Venezuela.
Responding to Natural Disasters in Venezuela
As part of our ongoing health, education and social investment efforts supporting the Venezuelan communities in which we operate, we have strengthened existing projects and developed new initiatives around clean water access and disaster relief.
In the state of Zulia in western Venezuela, Chevron is providing high-impact clean water solutions, ensuring water is available to people in need and prioritizing those who are most affected by weather-related disasters. In our Boscán field operating region, Chevron renovated the water well that serves El Oculto, a nearby community in the Jesús Enrique Lossada Municipality. As part of this rehabilitation effort, we donated and installed all equipment and well pumps, performed the refurbishing work, and trained the local staff who will be responsible for well operations. The refurbished well now serves more than 900 people including the local clinic, high school, and adjacent farming communities. Similarly, in Anzoátegui state we rehabilitated water wells serving over 9,000 people in the communities of El Tigre.
After the 2017 and 2018 floods that affected communities in the Monagas and Independencia municipalities in Anzoátegui state, we implemented five humanitarian missions to support over 3,300 people, including 2,700 children, who were impacted. Through these missions, basic supplies such as hygiene products, non-perishable foods, mattresses and blankets were delivered. Medicines and medical equipment were also provided with the support of local medical organizations. Making water more accessible and providing relief assistance after natural disasters are two of the ways we are making a positive difference for thousands of Venezuelans.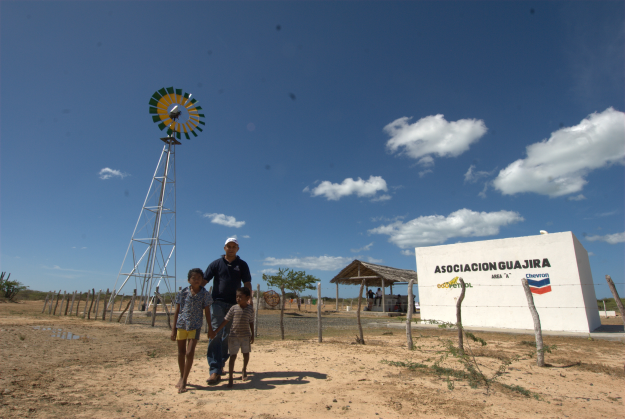 To address and improve access to water sources, Chevron has built 11 water wells benefiting more than 100,000 people in La Guajira, Colombia
Supporting the Wayúu in Colombia
Severe water shortages in La Guajira province, located in northeastern Colombia, make access to clean water a challenging task for the Wayúu indigenous people who call the region home. For many Wayúu families living in remote areas, the daily effort to bring water home is grueling and impedes many children from attending school. That's why in 2005, Chevron began developing projects to expand access to clean water sources in Wayúu communities.
To date, the company has installed and is maintaining 11 water wells strategically distributed in rural areas of the Manaure Municipality, in locations such as the Riohacha Hospital and other areas near our operating regions. In addition to deep-water wells, we have implemented water treatment systems operated through windmills, solar panels and submersible pumps. Additionally, the company has contributed to the maintenance of water ravines, which during the rainy season allow for the collection of fresh water.
Since 2012, Chevron has complemented its clean water supply efforts through tanker truck distributions with local partners to reach dispersed communities. This solution allows Chevron to deliver nearly 1.5 million liters of drinking water per year to villages and schools.
Clean water is transforming the lives of the Wayúu communities by improving the living conditions for women and children and reducing preventable diseases and malnutrition.
The refurbished well in Zulia, Venezuela now serves more than 900 people including the local clinic high school and addjacent farming communities
Helping a Growing Region in Argentina
Due in part to an annual population growth of 16 percent; the growing Rincón de los Sauces Municipality, located in Argentina's Neuquén Province, was facing developing challenges in providing reliable access to clean water. To address this issue, in 2012 Chevron, in partnership with municipal authorities, donated and supported the construction of a 500,000-cubic meter water cistern to increase the area's drinking water storage capacity.
Additionally, in 2015, Chevron funded the construction of a water pipeline to supply potable water to new residential areas in the region. A year later, we increased our investment to complete the 5.4-kilometer water pipeline. Today, our water infrastructure efforts in Rincón de los Sauces benefit over 38,000 people.
Our roots in Latin America date back to the 1920s and since then we have been an active part of our communities, contributing to the economic and social development of the region. We believe access to potable water is key to enabling human progress in Latin America. That's why we support ongoing clean water access and infrastructure projects in Argentina, Colombia and Venezuela.
Tags:
Water resources