Reading Time:
4
minutes
KINGSTOWN —When a 2009 fire devastated a hospital serving southern Saint Lucia, the eastern Caribbean nation's government had little choice but to move patients to a nearby sports stadium. When years later, the authorities sought financing to complete the reconstruction of the St. Jude facility, a $20 million loan came from an increasingly isolated ally: Taiwan.

Governed independently since 1949, when the Chinese Nationalist Party relocated amid the Chinese Civil War, Taiwan relies heavily on the Caribbean in its longstanding battle for diplomatic survival. A total of 13 countries recognize Taiwan as a sovereign state, seven of which are in the Western Hemisphere and five of which are in the Caribbean. China, which has intensified efforts toward "peaceful reunification" with a territory it regards as its own, has for decades relentlessly pressured countries around the world to switch sides.

For now, Taiwan is maintaining cooperation agreements with Saint Lucia, ranging from agricultural advisory services to a student exchange program. The Caribbean nation, along with Haiti, Belize, Saint Kitts and Nevis, and Saint Vincent and the Grenadines, has relied on Taipei's lifeline to shun the development financing that the Chinese Communist Party is showering on countries in the region ranging from Jamaica to Guyana. Around the world, Taiwan's remaining allies are Vatican City, the African nation of Eswatini, and the Pacific Islands nations of Nauru, Palau, Tuvalu and the Marshall Islands.

"Caribbean countries still see tangible benefits from continuing to support Taiwan," Wazim Mowla, associate director of the Caribbean Initiative at the Atlantic Council, told AQ, who believes alliances will unlikely shift in the short term. "But these countries are likely to see increased overtures from China if Taiwan's diplomatic support continues to dwindle. The challenge for the United States is to engage them without antagonizing China, which hasn't worked in the past."

Before the United States' 1972 rapprochement with China, Beijing's only steadfast ally in the Western hemisphere was Cuba. However, China's growing economic clout allowed it to win over most countries in the region by the early 2000s. Following the 2013 Belt and Road Initiative, a massive infrastructure financing campaign that has pumped billions of dollars into Latin America and the Caribbean, the Dominican Republic, and four Central American countries threw their lot in with Beijing. That triggered alarm among policymakers in Washington over growing Chinese influence in the Caribbean, an area sometimes described as the U.S.' "third border."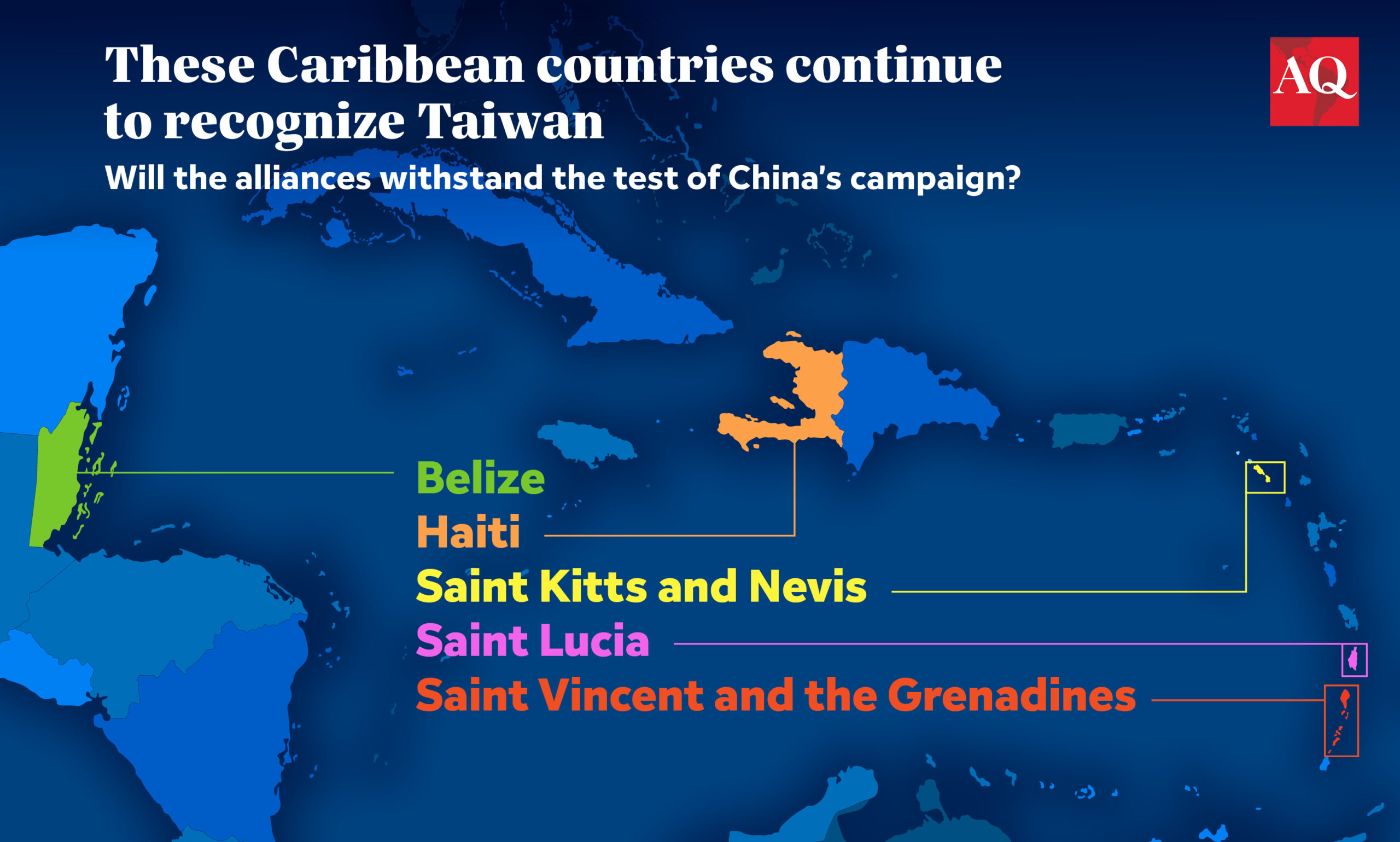 During an April visit to Belize by Taiwanese President Tsai Ing-wen, Belizean Prime Minister Johnny Briceño celebrated the nations' "shared values," including democracy and respect for international law. Speaking at the United Nations General Assembly in September, Saint Vincent and the Grenadines Prime Minister Ralph Gonsalves called for Taiwan to be "brought in from the diplomatic cold" and be allowed to join some UN agencies—a call echoed by Saint Kitts and Nevis Prime Minister Terrance Drew.

Saint Lucia recognized mainland China in 1997 but restored diplomatic ties with Taiwan a decade later. Haiti remains a steadfast ally, though its severe security crisis has left the Taiwan issue on the back burner, apart from the 2021 arrest of suspects in the murder of President Jovenel Moïse who broke into the Taiwanese embassy as they fled from authorities.  
Critical support

Taiwan has been savvy in maintaining the support of small Caribbean nations by focusing development funds on things that are important to them, such as agriculture, education and technical assistance, said Leland Lazarus, a former U.S. diplomat in the Eastern Caribbean who is now associate director of the Jack D. Gordon Institute for Public Policy at Florida International University.
"When you talk to some local government officials there, they say that the kind of aid they get from Taiwan is enough, given their small economies," he told AQ.
Saint Lucia's George Odlum stadium was completed in 2002 with financing from mainland China. But residents chafed at the Chinese contractor's decision to bring in its laborers—partly contributing to Saint Lucia's decision to shift allegiance five years later. East Asian diplomacy does not typically come up in day-to-day conversation in Saint Lucia, but Taiwan sometimes appears in local headlines. In September, Prime Minister Philip J. Pierre accused his predecessor of mishandling Taiwanese funds for the St. Jude hospital construction—an accusation that the latter quickly denied. Nonetheless, Taipei weighed in with a statement defending the transparency of the loan—an unusual move for a foreign lender that signals the importance of the relationship.
China's pressure campaign continues unabated, and every election in a Taiwan ally opens the prospect of a new administration shifting diplomatic tack. Despite chatter earlier this year of an imminent flip as the last South American country with formal relations with Taipei, the election of Santiago Peña as Paraguay's president ultimately did not lead to the abandonment of the ties. In fact, Peña expressed his support for Taiwan joining the United Nations system in September.

But in March, Honduras recognized Beijing, severing decades of ties with Taiwan. Taipei later said that the government of Xiomara Castro had asked for "billions of dollars in huge economic assistance and compared prices for assistance programmes provided by Taiwan and China." That signals that the five Caribbean nations currently satisfied with Taiwan's support may eventually consider what they could get on the other side of the aisle.
"I believe that every country eventually does have a price," said Lazarus. "If the number of countries recognizing Taiwan goes from 13 to zero—which is, of course, Beijing's goal—that will really dampen the legitimacy of Taiwan."
__
Henry is a Saint Lucian journalist and photographer currently living in St. Vincent and the Grenadines
Ellsworth is a Washington, DC-based freelance journalist with 20 years of experience covering Latin America and the Caribbean
Tags:
Caribbean
,
China
,
China and Latin America
,
Taiwan