Reading Time:
5
minutes
With an emphatic, "I swear," last weekend Otto Pérez Molina became the first former soldier to be democratically elected as president of Guatemala since the 1996 Peace Accords.
By his side was Roxana Baldetti, who was sworn in as the first woman to hold the title of vice-president in the country's history.
The inauguration, attended by 98 international missions, including 12 heads of state and Spain's Prince Felipe de Borbon, had an element of tension to it. When President Otto Pérez Molina promised to spend 55-60 percent of his government's time on security, he could not have meant within the first 24 hours of his presidency.
Events around the country threatened to overshadow Pérez Molina's big day.
The murder of congressman Valentin Leal Caal, in close proximity to the Congress building in Zone One of Guatemala City, occurred a day before the presidential handover.  Leal Caal was elected as a candidate for LIDER, headed by Manuel Baldizón, who lost to the retired general in the second round of the Guatemalan election in November.

Upon re-election, Leal Caal was reportedly in talks to switch from LIDER to Partido Patriota, Pérez Molina's party. This had resulted in a number of death threats to Leal Caal who represented Alta Verapaz, a department in the north of the country that has been in a state of siege as security forces battle the Zetas, the Mexican drug cartel.
Leal Caal was the third congressman murdered in the last eight years in Guatemala—two of those three were representatives of Alta Verapaz. His murder led to a row between Baldetti and outgoing Interior Minister Carlos Menocal with the former claiming there was a witness and the latter pleading for time for a comprehensive investigation.
"We'll teach you how to do security," Baldetti was overheard saying to Menocal, as they left the Congress building. They made their way to El Domo Polideportivo, the site for the changeover.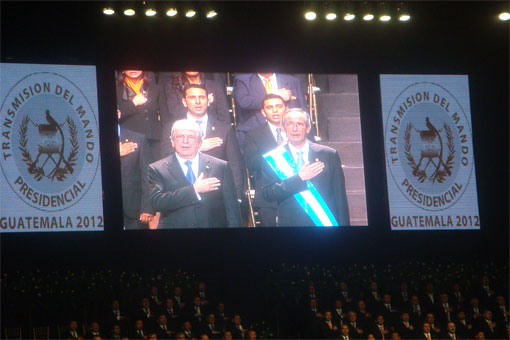 Rafael Espada and Álvaro Colom, Guatemala's former vice-president and president. (Photo courtesy of Nic Wirtz.)
Many dignitaries and the press had gathered at the national stadium, Estadio Mateo Flores, where they were delayed by an hour and a half after an urban bus was robbed just outside its gates. Elsewhere, an explosion that blew up two cars at the La Aurora airport on Friday remains under investigation and a bomb threat phoned in to the Congress building was declared a hoax.
An already heavy security presence was beefed up because of those alarms. The incoming health and education ministers were forced to walk to El Domo because their cars had not received accreditation for the reserved areas.
Over 5,000 people awaited proceedings at El Domo, a mix of invitees, foreign dignitaries, politicians, Partido Patriota supporters and press.  Catcalls and booing greeted now former President Alvaro Colom's handing over of the symbols of office. His speech was brief and the atmosphere turned uglier during his rapid exit.
"History will judge me, "said Colom. "I'm happy because there are a million more children in schools and consultations at the national hospitals have tripled."
Colom, the self-styled "President of the poor" and his deputy, Rafael Espada, will be inducted into the Central American Parliament on Thursday.
"At least (Vice-president) Espada is going back to being a doctor," said Juan Antonio Riveras, a teacher from Guatemala City. "What has Colom done in four years? We've gone backwards!"
Following the ceremonial changeover, Pérez Molina launched into a 49-minute speech that, at times, sounded like he was still on the campaign trail.
"With God's will and with the support of the people of Guatemala, the change has begun, change has come," said Pérez Molina.
The large Mayan presence was delighted to hear their new president extol the wisdom of their ancestors.  Pérez Molina used the 2012 Mayan prophecy to suggest Guatemala was on the verge of a "new era of peace."
In a far-ranging speech, the former Army Intelligence chief promised to bring security to Guatemala. The Policia Nacional Civil will be restructured and five task forces have been created to deal with extortion, kidnapping, robbery, assaults, and femicide. In the fight against narcoterrorism, Pérez Molina hoped that the United States would reconsider their 1978 embargo on military aid, installed because of human rights violations.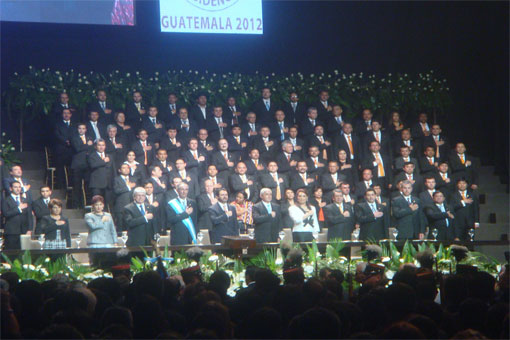 The inauguration stage on January 14, 2012. (Photo courtesy of Nic Wirtz.)
There will be a deputy minister for combating drug trafficking who will liaise with the Drug Enforcement Agency to ensure information is not leaked. In a sign of his stance on the issue, Pérez Molina called for the U.S. to bear some responsibility; given it is the largest domestic market for the consumption of drugs.
Security, along with financial reform and a zero tolerance on hunger were the three subjects Pérez Molina returned to. A tax base that currently ranks below Haiti as a percentage of income is in severe need of reform if the country wants to afford its plans for social change. With 49.8 percent child malnutrition—ranking second in the region and third worldwide—combating hunger and improving education will be the domain of vice-president Baldetti.
"During my campaign I gave my word and I will keep my word," said Pérez Molina. "I speak of a profound, structural, not cosmetic change. We must fight together for the transformation of society, to make real social change."
Throughout the speech, Pérez Molina did not mention his military past but asked Guatemalans to reconcile their differences over the Civil War. Major "Tito" as he was known when stationed in Nebaj, an area that experienced some of the worst atrocities, hoped that people could forgive its history.
"I lived through the war, suffered like all my generation and we are aware that many of the causes that gave rise to conflict are still present," said Pérez Molina. "I dream that mine is the last generation of war and the first generation of peace."
Ending his first speech as president, Pérez Molina called for civic participation and responsibility, "We will have security if we all procure it, we will have development if we all put our effort into it, we will have peace, if each one of us does their part, because Guatemala belongs to all of us."
Following the ceremony, the new president went to greet his public in the Street of Museums, before a service at the Metropolitan Cathedral.
"The change in presidency is an event full of hope for Guatemala," said Archbishop Oscar Julio Vian Morales. "They have great moral and social responsibilities and need to exercise authority with humility."
Pérez Molina had a busy day on Sunday, his first in charge. Having spoken with Mexican President Felipe Calderón and President Juan Manuel Santos of Colombia, he called on the army to help restore order by combating the drug cartels. In return, he promised new equipment in the form of planes, speedboats and ground vehicle.
Defence Minister Ulises Anzueto said, "You can be sure that the Army will work for the good of Guatemalans."
After a ceremony to honor his Commander-in-Chief of the armed forces status, Pérez Molina was present to congratulate his son, Otto Pérez Leal, who took office as Mixco's mayor.
The major move of the day was to declare a "state of calamity" of the public health service. Having visited almost 1,000 hospitals and health centers on the campaign trail, he was shocked by their lack of basic amenities such as water or electricity. With drugs and equipment at a premium, Pérez Molina said the state would last as long as necessary to bring order to an impoverished system.
At the close of a whirlwind weekend, the Policia Nacional Civil in Guatemala City captured seven men in three vehicles with $500,000 in cash. Pérez Molina had his first victory in the fight for control of Guatemala.
Nic Wirtz is a contributing blogger to AQ Online. A freelance journalist who has lived in Guatemala for the last six years, his work has been featured on the Christian Science Monitor and GlobalPost and he edits the website Vozz.