Reading Time:
5
minutes
Former president Efraín Rios Montt will stand trial for genocide and crimes against humanity, after he refused to testify in his defense during Thursday's investigation phase.
Rios Montt will remain free, on Q500000 bail ($64000) and live under house arrest until the trial date is set, which will be at least two months from now. He faces 20 to 30 years in prison per charge.
Firecrackers and cheers greeted the news outside the Palacio Justicia, where the proceedings were broadcast to a crowd that could not get into a packed courtroom. Inside, the handful of Ixil Mayans that had made the long journey to watch proceedings remained stoic, as their 29-year wait for accountability moved a step closer to ending.
A crowded courtroom on the 15th floor of the Torre de Tribunales started 30 minutes late as over 300 people packed into the Primera Corte de Alto Riesgo.
Prosecutors from the Ministerio Publico made their way through a wealth of evidence, including documents, expert analysis, military plans, witness testimonials, forensic anthropology and video in an attempt to prove their allegations.
Focusing on events within the Ixil triangle, the prosecution argued that the Maya-Ixil were deliberately targeted, although they concentrated on 267 deaths in 11 massacres they documented 72 separate incidents that resulted in death. Out of 1465 cases that occurred in Ixil, 88.7 percent of them were perpetrated against the Maya-Ixil. Of those, the removal of fetuses from pregnant women and the killing of children by repeatedly smashing them against walls stunned observers.
Guatemala's 36-year civil war has always loomed on the national psyche, partly because the 1996 Peace Accords granted a sweeping immunity to all participants. It has also never been officially called a civil war, the term "armed conflict" has been used instead. This classification returned to prominence on Thursday, as, given the military was not at war, the population could not be classified as an "enemy." The various military plans defined "internal enemies" but the civilian population remained civil, destroying the defense argument that times of national security crises called for extreme measures.
The military junta in Estatuto Fundamental Gobierno decreto ley 24-82 stated that they respected their obligations towards international human rights law. In doing so, 30 years later, Rios Montt will face crimes against humanity charges. Article 87 of the Geneva Convention states that those in charge are responsible for what goes on under them, even if they do not commit the act themselves. As Judge Flores Blanco emphatically pointed out in her summing up, the military chain-of-command started and ended with Rios Montt. In addition, articles 18 and 36 of the local penal code refer to the "author" of crimes as being equally responsible.
Ultimately, as Commander-in-Chief of the army, part of the military junta and President from March 25, 1982, to August 7, 1983, the judge found that Rios Montt had overall authority on the planning and execution of those plans, even if he was not actually present. Operacion Ixil, Operacion Sofia, Operacion Victoria 82 and Operacion Firmeza 83 all dealt with the Ixil triangle. In Victoria 82's justification, "50 percent of Ixil inhabitants are guerrilla collaborators" however, by Firmeza 83, this had jumped to "100 percent support for subversives in the Ixil triangle."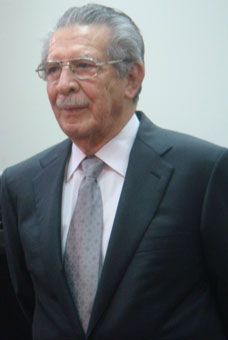 Rios Montt at the trial. (Photo: Courtesy of Nic Wirtz.)
As Rios Montt was on the distribution list for Victoria 82 and discussed the logistics, including the doubling of ammunition requirements to soldiers, Judge Flores Blanco found Rios Montt "probably participated' as an author. He also ordered a partial mobilization of the army and discussed psychological warfare plans, such as the broadcasting of propaganda in a variety of languages.
Rios Montt spoke only to confirm his identification details and appeared lucid throughout the hearing. However, he opted to exercise his constitutional right to silence during the presentation phase.
The afternoon was spent with the prosecution hammering home the various levels of his participation, human rights lawyer Danilo Vasquez claiming that Rios Montt, "Fundamentally violated the guarantees of human rights. There was an institutional culture in the army to violate human rights."
Fellow prosecutor Edgar Perez called the period of 1982-83, "A black time, a very black time in Guatemalan history. How can an army with arms, bullets, tanks, legality and the government behind it attack a defenseless people?"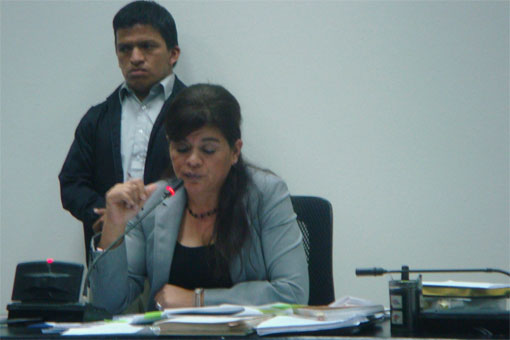 Judge Carol Patricia Flores Blanco. (Photo: Courtesy of Nic Wirtz.)
He closed by comparing events in Guatemala with those in Rwanda with the systematic murder, displacement, propaganda and psychological terror inflicted on the Tutsis.
In Rios Montt's defense, Danilo Rodriguez Galvez attempted to cast doubt on his client's role in what is widely regarded as one of the most brutal periods in Guatemala's history.
"There exists a series of interpretations of what happened," said Rodriguez. "It was not a time of peace; it was a time of conflict. The problem with this case is determining objectively the level of authority Rios Montt had."
During an hour-long summing up, Judge Flores Blanco was visibly moved by some of the 84 witness statements of murder, torture and rape she had read during the three-hour recess.
"Lamentably this case has taken 29 years to get here. Impunity constitutes a pervasive state," said Flores Blanco. "There is no justice for the victim."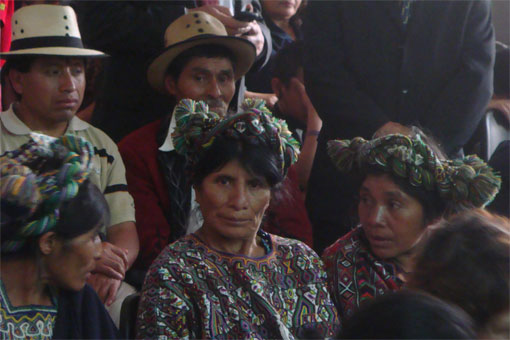 Indigenous Mayans in the crowd. (Photo: Courtesy of Nic Wirtz.)
The judge did praise Rios Montt for coming forward so quickly, once his immunity as Congressman ended earlier this month. She also rejected calls by the Ministerio Publico to hold Rios Montt in jail until the trial, saying there was no risk of flight or evidence obstruction.
A 12-hour day in sweltering heat always promised some kind of confrontation and it duly appeared right at the end, with the media and Organismo Judicial security guards trading tripod blows as Rios Montt left the court. Special Forces soldiers stepped in to restore order, batons and riot shields at the ready.
During their summing up, the defense suggested that individual commanders may have overstepped their authority or misinterpreted orders. Should this line of defense continue at trial, newly crowned President Otto Pérez Molina may face a difficult time given his role as regional commander in Nebaj during the 1980s.
*Nic Wirtz is a contributing blogger to AQ Online. A freelance journalist who has lived in Guatemala for the last six years, his work has been featured on the Christian Science Monitor and GlobalPost and he edits the website Vozz.