Reading Time:
5
minutes
The route from the international airport into downtown Rio de Janeiro along the Linha Vermelha passes through parts of the city unnoticed by the casual business traveler or tourist. Instead, a first-time visitor is likely to focus on the favelas dotting the hillsides in and around Rio, or on that first glimpse of the sea in anticipation of the beaches of Ipanema and Copacabana.
On Saturday evening, U.S. President Barack Obama (in his first trip to Rio) will be taking that same road after he lands at Galeão Air Force Base in Rio. On Sunday, some of his visits will include Rio's Christ the Redeemer statue, a speech at Cinelândia Square (moved to the municipal theater as of March 18) and a visit to the Cidade de Deus, or City of God, favela made famous in the 2002 movie. The visit to Cidade de Deus is certainly a good choice given the implementation of Governor Cabral's Pacifying Police Units (UPP) strategy in that favela.
But as the President leaves Galeão Air Force Base on Saturday night or arrives on Monday morning, he—like other visitors flying into the adjacent international airport—may unfortunately not notice the community of Maré, which sits along the Linha Vermelha leading into the city center. The wall constructed along the highway to block the view of Maré, which seemed bigger when I recently visited Rio and Maré, is a concrete reminder of the isolation of one of Rio's largest favelas. With 140,000 people living in Maré, its population is on par with that of Kansas City, KS, or Savannah, GA. But that is where the similarities—at least on the surface—end.
The youth of Maré have long faced an uphill battle in being able to move up the socioeconomic ladder, a major factor of which is a lack of education. Among Maré's 16 communities, there are just three public high schools and 16 elementary schools. Of these schools, 88 percent do not have a public library according to data from Rio Como Vamos, a Rio-based nongovernmental organization (NGO) that measures the city's quality of life. But even more worrisome, schools are sometimes closed for a month or so at a time with teachers simply not showing up for work. And shockingly, less than 0.5 percent of Maré's youth receive a university education. This compared to the 16 percent of Brazilians nationwide from the lowest income quintile that go on to post-secondary institutions—a number that is still low when compared to the 52 percent attendance rate for those from the highest quintile.
Without post-secondary education, there is little chance for Maré's youth to enjoy the widespread mobility and rising middle-class status that Brazilians increasingly enjoy.
That is where Redes de Desenvolvimento da Maré steps in. Housed in an abandoned government building in the Nova Holanda community of Maré, Redes was started 12 years ago to create opportunities for favela residents who grow up at a severe disadvantage to those in the picturesque areas of Rio. The primary focus is on education, with programs seeking to complement what is hopefully being taught in the favela's schools. Classes are geared to both administering vocational training—electricity, design, and administration—and preparing kids to pass the university entrance exams.
On a recent visit (see  pictures below), Eliana Sousa, the director of Redes, boasted that they send approximately 70 students to university every year. This is accomplished both through the classes offered and a concerted effort to provide employment opportunities at Redes for project beneficiaries. For those lucky enough to get a job at this NGO, which hires 90 percent of staff from among its project participants, they can count on flexible work schedules that are tailored to maximize studying and class time.
The talent of its staff is impressive. Walking through the building with Eliana, I met a small team of young adults that produces a free monthly newspaper, Maré de Noticias, dedicated to informing the Maré favela of local and national news along with information on basic rights. Despite the deep divisions among communities in Maré controlled by rival drug gangs, the newspaper team is able to distribute Maré de Noticias in all 16 communities—an inspiring effort to unite the people of Maré through print journalism.
One of the many impressive youths involved with Redes is Gilmar Santos, the president of Grupo Conexão G. In addition to working on the newspaper, Gilmar—discriminated against as a child for being gay—turned his negative experiences into something positive and formed his own civil society organization to advocate for LGBT (Lesbian, Gay, Bisexual, Transgender) rights. He described to me the double burden of discrimination faced when both gay and from a favela. Through workshops that aim to mitigate LGBT-directed stereotypes and his group's efforts to push for inclusive policies, Gilmar's hope is that others will not have to endure the same challenges he faced.
Watch Gilmar's Video:
This weekend, President Obama will address the "economic potential of the relationship" with Brazil. Both he and First Lady Michelle Obama also will focus on the importance of education throughout the three-country trip, with the First Lady expected to emphasize this message at a school in Santiago on March 22. One message though is that Brazil cannot reach its economic potential without broad-based access to education. The youth of Maré—like disadvantaged areas across Rio and Brazil—are the future of the Brazilian workforce that will fuel the country's economic growth.
More efforts like Redes de Desenvolvimento da Maré are needed to foster greater social inclusion. Operating in a very difficult environment—where the 15-24 year old male homicide rate in Maré was 167 per 100,000 people in 2009, placing it at number 29 among 33 areas in Rio—Redes is able to overcome adversity on a daily basis to give the favelas' youth opportunities that otherwise would simply not be available.
The President will likely zip past Maré. But surely, the youth of Maré will be lining the roofs to catch a glimpse of his motorcade and the inspiration his presidency brings to them.
*Jason Marczak is a contributing blogger to AQ Online. He is senior editor of Americas Quarterly, managing editor of AQ Online and director of policy at the Americas Society and Council of the Americas.
Pictures: Redes de Desenvolvimento da Maré (All photos taken by the author.)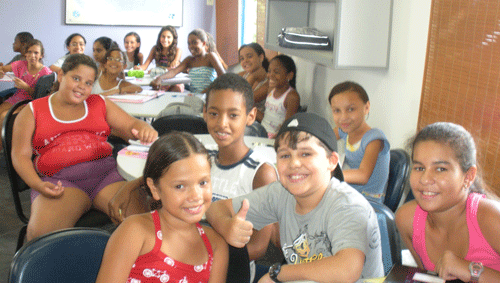 Children take a break from a Redes-administered class.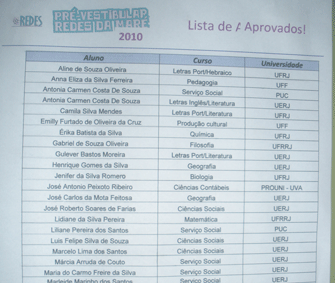 One way Redes shows the possibility of going on to post-secondary is by displaying the names and majors of students who were accepted into university.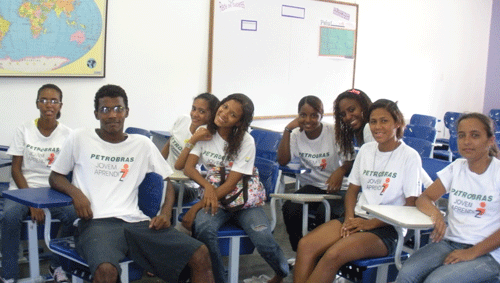 Students in a Petrobras-sponsored class learn vocational skills. They will then have the opportunity to intern with the company.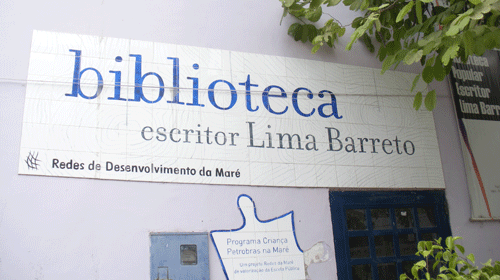 A library with sections for adults and children will open this year.