Reading Time:
4
minutes
Leer en español
This article is adapted from AQ's print issue on youth in Latin America.
It had been a particularly violent day in El Salvador when Maynor walked into a Mister Donut at 7 p.m. sharp for an interview.
When the country makes international news, it's often because of the pandillas, the gangs. That Wednesday morning in March, a shootout left six people dead in downtown San Salvador; later that evening, another nine died in a clash between police and gangsters.
For Maynor, like for most Salvadorans, it was a day like any other: He was just trying to get on with life. He'd spent all night at a hostel where he works as a janitor and caretaker for $300 a month; he's held a job since he was 14. His father, an unlicensed taxi driver, and stepmother care for five younger kids and a baby, and need his help with the bills. After his shift, he'd gone to high school. By the time he walked into the food court of a mall in Antiguo Cuscatlán, in the outskirts of San Salvador, he was tired — but right on time.
More: Sports as a reprieve from violence and crime.
Looking over the menu, he passed on the donuts for a chicken tamal, and chatted while he waited.
Between school, work and the evangelical church he attends on Saturdays and Sundays, his free time is scarce. But what he has, he devotes to his first love — soccer.
Describing his feats as star forward on his school team breaks through the reserved demeanor and brings out a brilliant smile. He has also started a team with his church friends. The bright red soccer jersey he's wearing, a knock-off of the Italian team Roma, set him back $14. But it was worth it: On the back, crisp white letters spell out his name.
With his food and an orange juice in hand, he sat down.
"Some kids don't like me, they say I'm all serious," he said, shrugging it off. "I'm just quiet. I don't mess with anyone. I hardly go out."
Maynor is not a pandillero, or gang member, but he grew up with them as neighbors and schoolmates. Being discreet, keeping vigilant, avoiding unnecessary outings are all part of a careful calculation meant to keep him out of trouble.
More: The violence of his community forces Maynor to make sacrifices. His professional future doesn't have to be one of them.
So far, he has managed to avoid crossing the gangs. Last year, rumor had it the pandilla that controlled his school was going to root out any students who happened to live in enemy territory. Maynor immediately changed schools. Stories like this spread by word of mouth, feeding the population's fear. Once it was said the gangs had forbidden women to have blonde or red hair.
Who knew where this came from? Hundreds of women dyed their hair brown anyway, Maynor said.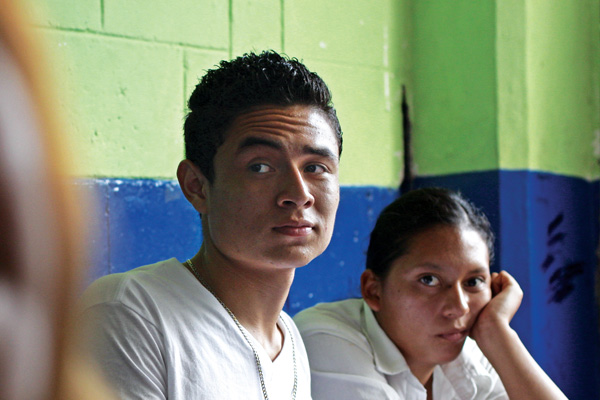 Gangs aren't his only problem. Communities like his come with a stigma. Maynor takes precautions. The address on his ID card is that of his father's ex-girlfriend, although Maynor has lived in the same house all his life. When a member of the Mara Salvatrucha was killed on his street, his father escorted him home, past the police officers who were rounding up men his age for questioning.
When pressed, he gives a one-word description of where he lives —"dangerous"— and changes the subject. This mall lies outside his neighborhood, but there are certain subjects he'd rather not broach.
Over weeks, Maynor relaxes, becomes more talkative — but the conversation still veers into dead ends. Discussing the gangs is risky. Talking about school makes him self-conscious. Maynor is 19, but still in the ninth grade. When his parents got divorced he dropped out for four years to help out his mother. Now he towers over his 15-year-old classmates, and stands out with his formal manner and his penchant for collared shirts. His future is uncertain. He'd like to become a graphic designer, he ventures, or maybe a car mechanic.

More: Stay in school, or help the family? A choice facing too many Latin American youth

"I don't know if I am going to continue to study next year," he said casually.
For now, though, he's sticking with high school — and his soccer team. Last year, when he was new, they'd been badly beaten and came in last. Now he's the team captain, and has been asked to read out loud the oath athletes recite at the beginning of the championship. He'll wear his red Roma shirt, he said, flashing his brilliant smile.
"The teacher didn't even ask — she just said I'd be the one," he said. "I am the best." 
—
Guzmán is a journalist based in El Salvador