Brazil | Colombia | Costa Rica | Mexico | Paraguay | Venezuela | Cuba
See above for a breakdown of the region's other 2018 transitions, or click here for the full list from our print edition.
---
This article has been updated
Not all transfers of power come at the ballot box. Here's a look at how 2018 could play out in one of the region's least democratic countries.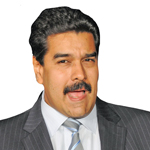 Nicolás Maduro, 55, president
United Socialist Party (PSUV)
"If anyone from the masses votes against Maduro, they're voting against themselves."
Why it's not democratic: The stifling of dissent under former President Hugo Chávez has only become more extreme under his successor. Maduro has shut down independent media, set security forces against protesters, and jailed opposition leaders on trumped-up charges. Regional elections in October were marked by polling place irregularities and last-minute rule changes that all but ensured a government victory. There is little reason to believe that presidential elections in 2018 — now set for May 20 — will be any better.
How he got here: Maduro has survived criticism abroad and falling support at home by pampering the military and keeping hold of core Chavista voters with social programs and giveaways. The creation of a Constituent Assembly in July sapped the opposition-held National Assembly of its authority. Few believe the opposition MUD coalition can offer a meaningful check on Maduro's authoritarian ambitions for now.
What he might do: Rival factions within Chavismo aren't likely to displace Maduro in 2018, but the long-term battle for control of the ruling PSUV isn't over. The air of legitimacy afforded by an electoral victory would help Maduro further empower military allies while sidelining rival figures like Diosdado Cabello. His remaining priority will be to avoid outright default; this is no small task, but unless the opposition and international community can reassert pressure on the government, Maduro will be well positioned to keep control of Venezuela for the foreseeable future.
This article was updated following the confirmation of a date for Venezuela's elections