Reading Time:
2
minutes
This article is adapted from AQ's most recent issue, "Fixing Brazil." To receive the print edition at home, subscribe here.
For the third consecutive year, Uruguay has come out on top in Americas Quarterly's Social Inclusion Index, an annual survey measuring how effectively countries in the region are able to serve their citizens – regardless of race, income level or creed.
Uruguay's achievement, its third first-place finish in the index's five years of existence, comes thanks to strong performances in factors ranging from economic growth and job generation to the protection of political and civil rights.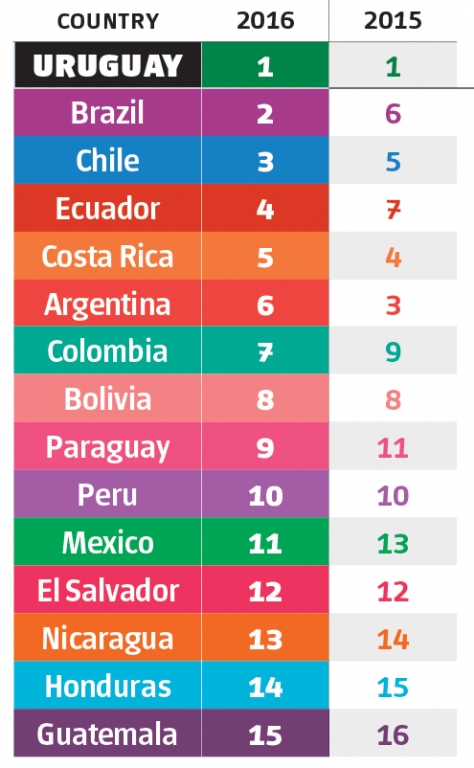 "Uruguay continues to be a model for social inclusion in Latin America," said AS/COA Vice President of Policy and Americas Quarterly Editor-in-Chief Brian Winter. "Its progress in recent years on issues including women's empowerment and marriage equality has added to its long-standing status as a champion of egalitarian values."
Meanwhile, countries in Central America's Northern Triangle remain near the bottom of the pack across the majority of the Index's 23 variables, as well as in the overall ranking (right).
Click here to view the full report, which includes a breakdown of the Index by variable, scorecards for each country, and a detailed look at what Uruguay has done to earn its status – and what the rest of the region can do to keep up.
One point of emphasis in this year's rankings was political representation of minority groups. This comprehensive chart shows how legislatures in the region break down according to gender and race, and asks how well the region's governments reflect the people they represent.
The 2016 Social Inclusion Index was sponsored by the Seattle International Foundation, and calculated in partnership with the Latin American Public Opinion Project (LAPOP) at Vanderbilt University. This year's work with LAPOP's leading statisticians and researchers has allowed AQ to more accurately reflect differences between countries and, moving forward, offer an improved way of tracking progress in the region. As a result, it is important to note that changes in this year's scores and rankings are not necessarily tantamount to immediate strides in social inclusion. See here for notes on methodology and a complete explanation of changes in this year's Index.