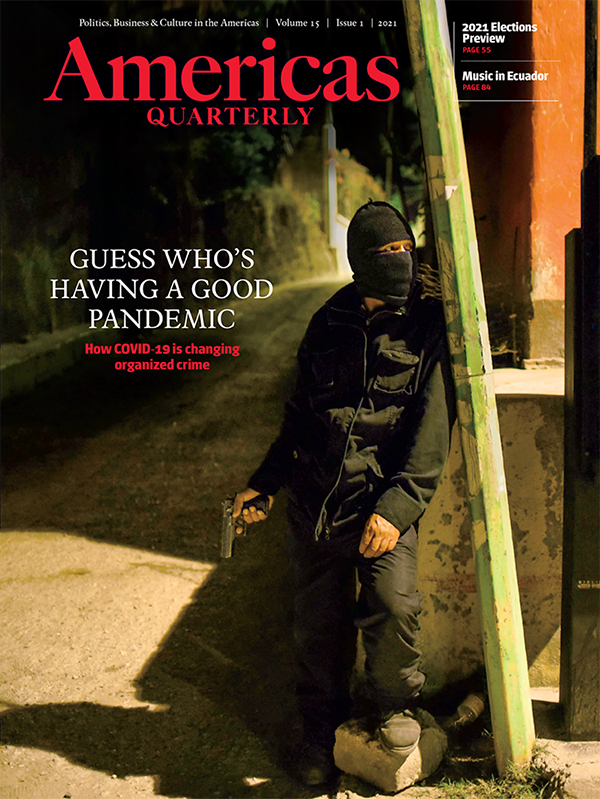 Special Report
COVID-19 has been a bonanza for organized crime. Greater international coordination could ease at least some of the damage.
By JOHN OTIS
With 97% of Latin American kids out of class, some criminal groups see a surge in recruitment.
By JOSÉ MIGUEL CRUZ and BRIAN FONSECA
An overview of the region's challenges, and what governments can do about them.
The region's criminal groups are increasingly sophisticated. AQ profiles some of the most visible.
By CECILIA TORNAGHI
If you want to fight organized crime, defund it.
By LUCÍA DAMMERT 
The rise and fall of a powerful governor allegedly shows the influence of criminal groups.
By ANDREW J. TIONGSON
Combating organized crime in the Americas requires cooperation among the hemisphere's countries.
By BRENDAN O'BOYLE
A December report could lead to some modifications of U.S. anti-drug policy, but no dramatic steps.
By ALAN VERMAUT
There is hope for combating illicit trade in 2021, but we have to act together.
Departments
A closer look at the leading candidates in this year's presidential elections.
By LEONIE RAULS
Enrique Samayoa is confronting the effects of climate change with traditional farming practices.
By SEBASTIÁN LÓPEZ BRACH
Islanders in Argentina's Paraná Delta fight to keep local traditions alive amid environmental and public health emergencies.
Cultura
By SEBASTIÁN ZUBIETA
A new collaboration has led to Ecuadorian singer Mariela Condo's first album in five years.
By CECILIA TORNAGHI
René Sampaio directs an unlikely love story inspired by the lyrics of late composer Renato Russo.
By MARIANA REINA
Pergentino José's first short story collection celebrates Zapotec culture, while underscoring the threats it faces.
By ANDREW DOWNIE
Fernando Cervantes' detailed examination of history allows for a timely reframing of Columbus' conquest.