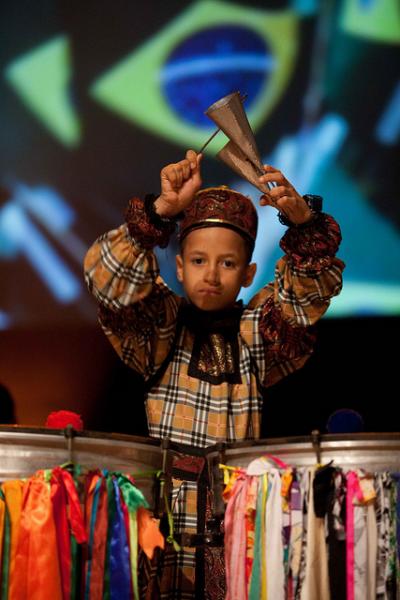 Photo: Ministério da Cultura
Latin America and the Caribbean have the largest concentration of people with African ancestry outside of the African continent. But has the inequality gap narrowed between Afro-Latinos and other races in Latin America? AQ Online—as part of its commitment to social inclusion issues—is examining the state of Afro-Latinos in our hemisphere. Our focus comes as PBS presents a four-part miniseries led by Harvard University scholar Henry Louis Gates, Jr. on how Afro-Latinos have impacted the region's history and culture over time.
This Issues in Depth page will feature experts and bloggers who will share their views on Afro-Latinos and other minorities in terms of political representation, market access and other social inclusion factors. AQ Online will continuously update this page—with interviews, blog posts and other relevant content.
On This Page:

Watch the latest episodes of Black in Latin America
Read an AQ Web Exclusive interview on Afro-Latinos with IDB senior advisor Judith Morrison
---
View the latest from Black in Latin America

Episode 4: "Mexico & Peru: A Hidden Race" (aired May 10, 2011)

Watch the full episode. See more Black in Latin America.
Episode 3: "Brazil: A Racial Paradise?" (aired May 3, 2011)
Watch the full episode. See more Black in Latin America.
Episode 2: "Cuba: The Next Revolution" (aired April 26, 2011)
Watch the full episode. See more Black in Latin America.
Episode 1: "Haiti and the Dominican Republic: An Island Divided" (aired April 19, 2011)
Watch the full episode. See more Black in Latin America.
Preview Clip for the Entire PBS Miniseries

video
---
AQ Interview: Judith Morrison on Afro Latinos in the Region
May 6, 2011
Afro Latinos continue to make significant strides in furthering their integration across the Americas. Judith Morrison, senior advisor in the social sector of the gender and diversity unit at the Inter-American Development Bank talks with AQ online about how African descendant communities are using technology to increase inclusion as well as the role of government policies.
Interview by Wilda Escarfuller
Americas Quarterly: How have attitudes among young Latin Americans of African descent have changed in the past 10 years with regard to their own African heritage?
Morrison: In the 1990s when I started working with African descendant communities in Latin America, there was no common vocabulary to describe the experience of African descendent people throughout the Western Hemisphere. Most young people who were becoming aware of their cultural identity self-identified using terminology that was based on their individual community or region. A sense of the interconnectedness of the African-descendent experience throughout the Americas is now much more common-place particularly among young people. One of the main factors for this awareness is networking technology that allows multilingual African descendant young people from around the region to share their experiences and concepts of identity.
AQ: Broadly speaking, what is the sentiment of Afro-Latinos in the region today?
Morrison: African descendants have moved from invisibility to recognition by their governments, international organizations and the media. Despite this greater recognition there are still persistent inequalities in the region and African descendants face significant gaps in almost all aspects of socio-economic life. African descendants in Latin America make up about 30 percent of the overall population, but still represent over half of the region's poor. Continued measures to advance development in regions of African descent are vital for African descendant communities, but are also important for several nations to reach their Millennium Development Goal targets.
---
May 10, 2011
From June 6-12, 2011, Washington DC will host the first annual AfroBrazilFest: an Afro-Brazilian arts and cultural heritage festival. It is co-organized by CapoeiraDC and Sambart Entertainment. AfroBrazilFest will feature displays of Brazilian music, martial arts, cuisine, dance, and culture; specific events include a capoeira demonstration and a cachaça tasting. The festival's kick-off event will be a screening of the documentary Ebony Goddess: Queen of Ilê Aiyê.
For more information, visit AfroBrazilFest's website.
---
AQ Blog: The Invisible War Against Afro-Colombians
March 16, 2011
Among the many crises competing for international attention, the ethno-territorial conflict plaguing the Afro-Colombian population on Colombia's Pacific Coast is barely making headlines. Afro-Colombians have been systematically displaced from their communities, often violently, at the hands of guerillas and neo-paramilitary groups since the mid-1990s. Yet few Colombians, let alone foreigners, are paying attention.
This comes despite the de-escalation of Colombia's three decade-long drug war. Still today armed militias are active and using terror tactics to expel Afro-Colombians from their ancestral territory. The reason is that the land is so valuable. It is considered among the richest in the world in terms of natural, exploitable resources, including oil, timber and minerals. Groups like the Fuerzas Armadas Revolucionarias de Colombia (FARC) and Ejército de Liberación Nacional (ELN), which can no longer generate enough income from drug trafficking and kidnapping, are turning to mining, both legal and illegal, along the Pacific Coast to finance weapons sales, according to President Juan Manuel Santos. With gold at near record levels, neo-paramilitary groups appear to be cashing in on this business as well.
The socioeconomic condition of the Afro-Colombian community, estimated between 4 million and 10 million strong, and a lack of political representation help to explain why this population is vulnerable to internal displacement. In fact, 78.5 percent of Afro-Colombians live below the poverty line compared to 49.2 percent of the general population, and only one out of every 50 completes a university education. Afro-Colombian representatives only hold two seats in the national chamber and none in the Senate, adding to the challenge of getting issues of inequality, exclusion and the more pressing displacement epidemic on the national agenda.