By: Christian Gómez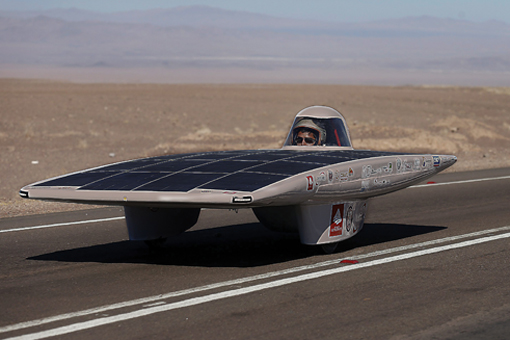 The sunny 500: A Chilean solar vehicle competes in the Solar Race Atacama 2012. Photo: Felipe Trueba/EPA/Corbis.
Solar power holds the potential to lower electricity prices and meet growing demand for electricity in Latin America. And with solar making up only less than 4 percent in 2012 of the region's electricity capacity, there's clearly plenty of room for growth.
Unlike fossil fuels, solar power offers a clean, indefinite (at least we hope) source of power that does not contribute to climate change. But despite advances in collecting and saving solar power, it's still not straightforward. One complication has been that transmission lines to connect to the grid often cross Indigenous lands. While some Indigenous populations in countries such as Chile currently welcome solar initiatives, elsewhere they have begun to raise questions about the ecological and economic impact of such lines. Another stumbling block: large government subsidies are often needed to make solar investment projects feasible.
Chile has been a regional leader in solar energy investment. Leading research company NPD Solarbuzz predicts the country will account for approximately 50 percent of regional demand by 2017. The 600-mile-long Atacama Desert in northern Chile, one of the driest regions in the world, offers the world's greatest solar potential, according to a study conducted by the University of Chile. Even though tax incentives are still under debate in the Chilean congress, large-scale foreign investment has already led to the construction of major solar farms in the Atacama Desert. At least for the indefinite future, the prospects for further development are bright.
Read about wind energy.
Read about geothermal energy.
Christian Gómez is director of energy at the Council of the Americas. Follow him on Twitter at @cgomezenergy.