Reading Time:
3
minutes
This article is adapted from AQ's special report on A (Relatively) Bullish Case for Latin America
"This, too, has come with us, then," says one of the protagonists of Alejo Carpentier's Explosion in a Cathedral, referring to the guillotine being assembled aboard a ship bound from revolutionary France to the Caribbean colony of Guadeloupe.
"Naturally," replies Victor Hugues, the novel's version of a historically real French merchant turned military man. "This, and the printing press, are the most important cargo we have, apart from the cannons."
First published in 1962 and now released in a fresh English translation by Adrian Nathan West, Explosion in a Cathedral blends historical and fantastical elements against a backdrop of revolution in the Americas and Europe. Through its protagonists, the novel explores how personal identities, beliefs and aspirations change in response to political revolution and social uprising. In rich prose adorned with magical flourishes, Explosion in a Cathedral offers an intricate view of the Caribbean in the Age of Enlightenment—touching on still-reverberating themes of discrimination and racism, corruption and power, and the pursuit of self-determination versus the influence of former colonial powers.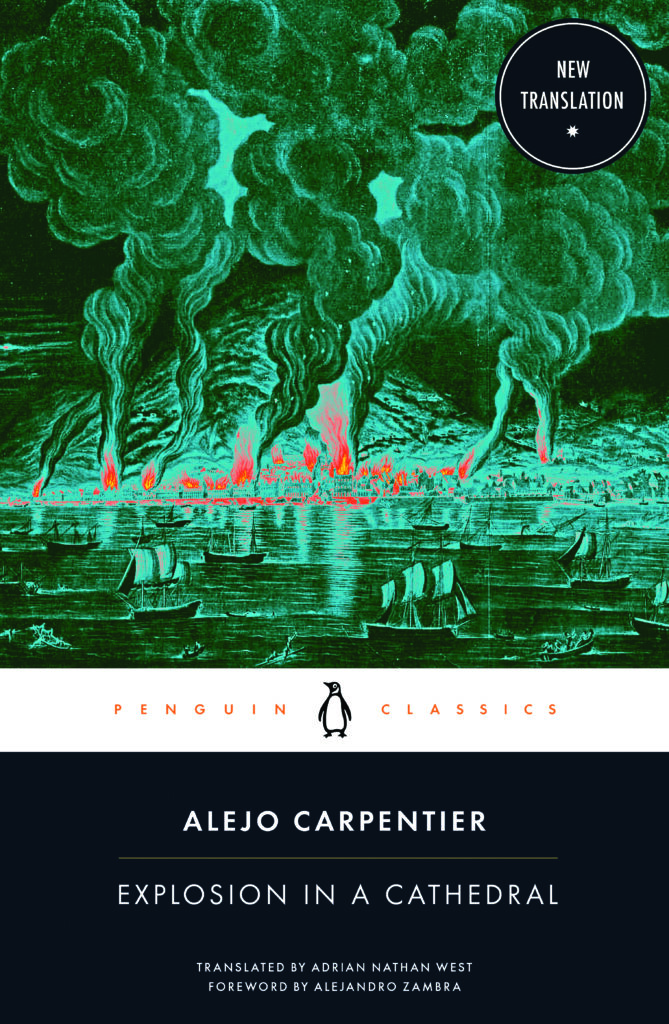 Explosion in a Cathedral

by Alejo Carpentier
Translated by Adrian Nathan West
Penguin Classics
Paperback
360 pages
At first, Victor's eloquence, intellect and charisma captivate adolescent Cuban cousins Sofia and Esteban, pulling them into his orbit. Soon enough, they are forced to flee Cuba as Spanish colonial authorities crack down on revolutionary thought on the island. Sofia remains in Santiago for safety while Esteban and Victor sail to France, where their revolutionary dreams quickly turn into disenchantment.
Victor's metamorphosis into a revolutionary leader upon the duo's return to the Caribbean leads him down a dark trail of corruption. His growing reliance on the guillotine to purge British enemies on the island of Guadeloupe unsettles Esteban. From a violence- and malaria-ridden Guyana, Victor eventually manages to escape back to Havana, where he longs to reunite with Sofia. Recently widowed and still captivated by Victor's charisma, Sofia decides to forsake her family and become Victor's mistress as he becomes a brutal tyrant.
Alejo Carpentier (1904–1980) was a Cuban writer and musicologist, and a pioneer of the literary movement known as magical realism. During his early years as a journalist, Carpentier's leftist writing contributed to the emergence of the Cuban Communist Party; voluntary exile took him to France, Haiti and Venezuela. Explosion in a Cathedral, written upon Carpentier's return to Cuba after the uprising led by Fidel Castro, draws on a favorite subject of Carpentier's: the dangers of revolution.
Today, the region continues to grapple with the legacies of colonialism, as racial and socioeconomic inequalities persist. Disparities in wealth, education, and access to basic services, for example, topped with widespread corruption and the rise of autocratic leaders, contribute to the ongoing challenges faced by these nations. And while Caribbean identity is the result of centuries of interactions between Indigenous, African, European and Asian influences, Indigenous communities and Afro-descendant populations confront heightened challenges, enduring systemic discrimination and constrained opportunities.
Ongoing struggles for autonomy and self-determination also persist, as Caribbean nations navigate political status and relationships with former colonial powers. In 2021, Barbados became a republic, ceasing to recognize Elizabeth II as monarch. And over the past decade, the CARICOM Reparations Commission has advocated for redress from former colonial powers for the historical wrongs inflicted on the Caribbean people: genocide, the transatlantic slave trade and the system of racialized chattel slavery.
The journey toward self-governance is long and winding—and it requires confronting historical legacies that continue to cast shadows, negotiating economic dependencies, and asserting cultural resilience in the face of external pressures. Explosion in a Cathedral puts a mirror up to the region's history, reflecting the enduring challenges and ongoing struggles that will continue to shape Caribbean collective identity in years to come.
—
Guevara is a policy analyst and a legislative advisor in the National Assembly of Panama.
Tags:
Cultura
,
fiction
,
Literature