Reading Time:
3
minutes
SÃO PAULO—During the first months of his third presidential term, Lula's domestic challenges—including an armed insurrection in Brasília, public infighting inside his unwieldy governing coalition and the president's tense relationships with the heads of the lower house of Congress and the central bank—suggested that he would not be able to sustain his frequent international travels and his habit of regularly seeking to engage, often in a controversial fashion, on geopolitical issues such as the war in Ukraine and the political situation in Venezuela. After all, one of the key requirements of a muscular foreign policy in Brazil has traditionally been domestic stability, which has been in short supply over the past decade.
As Lula begins his eighth month in office, however, a series of factors have significantly improved Brazil's political and economic outlook. These range from the president's decision to cede additional ministries to the powerful group of center-right parties nicknamed the "Centrão," to guarantee governability; to falling inflation (which, ironically, he partly owes to Central Bank President Roberto Campos Neto), to Finance Minister Fernando Haddad's remarkable capacity to advance both tax reform and a new fiscal framework; not to mention growing excitement among investors both at home and abroad. All this suggests Lula may enjoy, at least for now, precisely the domestic tranquility needed to emphasize foreign policy, a favorite topic.
Comparisons to Brazil of the late 2000s, when the country was briefly a top economic performer and international darling, continue to be misplaced. Even in the most optimistic scenario, growth this year will be lower than 2022, when the economy grew by 2.9%. Even combining tax reform, a new fiscal framework and ratification of the EU-Mercosur trade deal—the latter being a big "if"—growth rates in Brazil will be only half those in Asian powerhouses such as India and Indonesia. The World Bank expects Latin America to be, in economic terms, one of the world's worst performing regions until 2030. Brazil's share of global GDP is unlikely to improve significantly during Lula's term, undermining his "Brazil is back" narrative.
Just like pessimism about Brazil may have been slightly exaggerated earlier this year, the current optimism about the economy risks overlooking continued deficiencies such as stubbornly flat worker productivity and the fact that a strong performance for agribusiness masks weakness in other parts of the economy. Furthermore, as the old adage goes, "one cannot buy the Centrão, only rent it"—reflecting the vagaries of Brazil's coalitional presidentialism. Unless the economy can permanently improve, the specter of political instability will persist.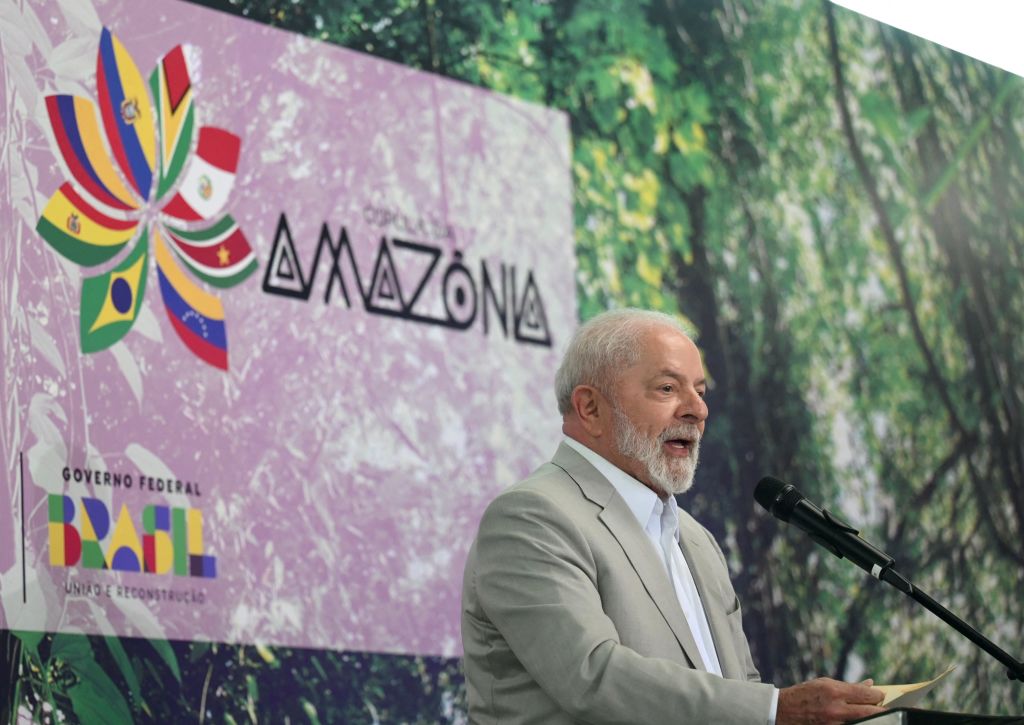 The international stage
Countries like Brazil are facing a hostile geopolitical environment, marked by the constraints imposed by the return of great power competition and multilateral institutions that struggle to offer solutions to global challenges. But there remain numerous opportunities for Lula to take the lead on the international stage. The Amazon summit in Belém on August 8-9 was a prime example: cooperation between Amazon countries in the realm of fighting deforestation has historically been scant, shaped by mutual distrust and difficulties in assuring basic border security.
Despite divergences between regional leaders—Colombia's President Gustavo Petro's call for a moratorium on new oil and gas contracts in the Amazon versus Lula's continued support for such projects—the event represented a genuine and welcome innovation in Brazilian foreign policy that would have been unthinkable during the Bolsonaro years. In the same way, Brazil's decision to lead a dialogue with the Democratic Republic of the Congo (DRC) and Indonesia, home to a significant portion of the world's rainforest, is set to strengthen Brazil's agenda-setting capacity and has the potential to substantiate its quest to become a "green superpower".
But in other areas, Lula's foreign policy will continue to create friction, such as an increasingly tense relationship with Ukraine's President Zelensky—involving mutual public accusations—or the president's willingness to vouch for the "democratic legitimacy" of the Maduro government.
Both positions, remarkably, undermined another foreign policy objective, namely the Brazilian government's desire to strengthen regional cooperation. When Chile's progressive President Gabriel Boric dared to criticize Lula's position and denounced both Caracas and Moscow, Lula behaved like a regional bully and publicly mocked Chile's president and sought to discredit the 37-year-old for his political inexperience. In the same way, Lula's overt support for Venezuela's inclusion into the BRICS grouping—paired with the Brazilian foreign ministry's attempt to block such a move behind the scenes—project an impression of internal division that hardly strengthens Brazil's role in global affairs.
All this shows that presidential diplomacy—especially in the case of a slightly overconfident third-term president who often speaks off the cuff and may not necessarily be prone to heed his advisors—is a double edged-sword. Lula's unmatched global recognition can be a unique asset to strengthen Brazil's role on the global stage. But as the past months have shown numerous times, it can also cause some damage and diminish the country's global stature.
Tags:
Brazil
,
Brazilian Foreign Relations
,
Luiz Inácio Lula da Silva