Reading Time:
6
minutes
This article is adapted from AQ's special report on millennials in politics
Only three months before winning the 1970 World Cup, Brazil's national team played a friendly match against Bangu, a lowly club from Rio. The preparations for the global tournament had not been going well and they got worse that rainy night on the edge of the city. The match ended in a 1-1 tie and the national team, popularly known as the seleção, was booed off the pitch.
Just 99 days later, team captain Carlos Alberto Torres kissed the Jules Rimet trophy in front of an ecstatic crowd at Mexico City's Estadio Azteca. Moments earlier, Torres had scored the final goal to give Brazil a thumping 4-1 win over Italy with a move that is still considered one of the greatest in World Cup history. It was Brazil's third world title in 12 years and confirmed the South American nation as the country of soccer.
Brazil's triumph in the first World Cup screened live on global television was as sensational as it was unexpected, and it has never been forgotten. Even though soccer is now a multi-billion-dollar business that demands infinitely more strength, speed and commitment from players, the 1970 team led by Pelé remains the gold standard for style. The tale of how Brazil overcame the odds is also a reminder of how soccer and politics have always been intertwined—with lessons still poignant today.
It's hard to believe now, but when the seleção boarded their flight to Mexico in May of 1970, many fans thought they were destined for disaster. In the 1966 World Cup in England, Brazil were eliminated at the group stage for the first and still the only time, prompting much soul-searching. Brazil changed coaches five times in two years as experts warned that their once brilliant brand of football had become obsolete. Injuries had plagued Pelé during two consecutive World Cups, and he became so depressed that he'd taken a two-year sabbatical from the seleção. Only after his return did Brazil begin to take international soccer seriously again.
An unexpected transformation
Pelé's return played its part, but the team's radical transformation was thanks mostly to João Saldanha, the charismatic and outspoken coach who took over in February 1969. Saldanha was an odd choice, given that the military had just imposed its most repressive laws yet since seizing power in 1964. He was a card-carrying Communist who claimed to have met Mao Zedong while working as a foreign correspondent in China, but he was also a soccer radio commentator whose sharp and earthy analysis excited fans. Saldanha was chosen in part because he could rally fans behind the national team, and he did the job superbly, guiding Brazil to six wins out of six in their qualifying campaign.
The streak was a record at the time and the prospect of more victories in Mexico was both good news and bad news for the military. Winning the World Cup might boost Brazil's image abroad and the government's image at home, but it would also make Saldanha untouchable. That was a frightening prospect for President General Emílio Garrastazu Médici, a fanatical football fan. He loved to watch his favorite team Grêmio at the Estádio Olímpico in Porto Alegre, the capital of his home state of Rio Grande do Sul, or Flamengo at the Maracanã stadium in Rio, where he would sit in the stands with a transistor radio glued to his ear.
Médici and Saldanha clashed in March 1970 after the media reported the president wanted to see his favorite player Dário included in the squad. Saldanha responded with humor: "I don't pick his cabinet and he doesn't pick the team. As you see, we understand each other very well."
Saldanha was removed not long after and historians have focused on his disagreement with Médici. But the truth was that Saldanha had become too unpredictable. He was a fabulist, a drinker and a loose cannon. In early March, he took a gun to the Flamengo training ground to threaten their coach. A few days later, he claimed Pelé had a life-threatening disease and dropped him from the upcoming friendly against Argentina. It was all too much for the establishment to bear.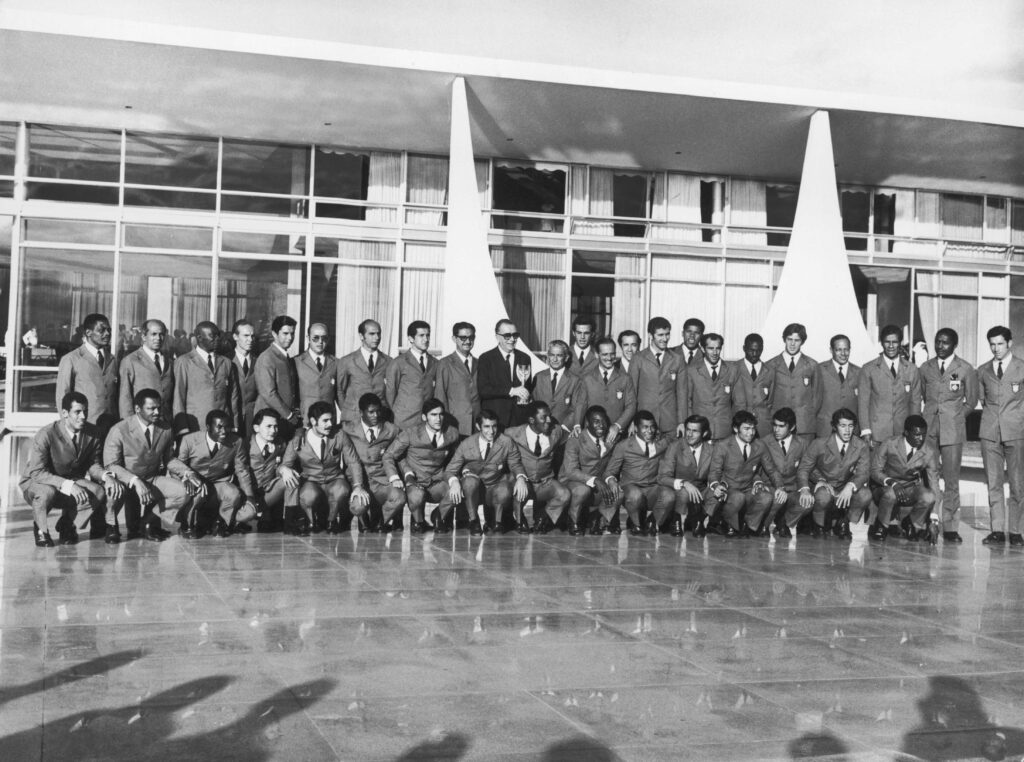 The military worried that if a Communist won the World Cup for Brazil, he would have a soapbox from which to denounce the dictatorship. The regime had also invested heavily in the World Cup campaign. Many of the backroom staff were army officers. The airwaves rang out with the nationalist song Pra Frente Brasil. Cars and windows showed pro-regime stickers declaring, "I love you, my Brazil." Saldanha's position was untenable and he was fired less than three months before the World Cup was due to start. No one ever explained exactly why, but it didn't really matter. The real question, Saldanha said, was not why he was fired, but why they gave him the job in the first place.
His position was taken by Botafogo coach Mário Zagallo. Zagallo was a fierce nationalist who had no intention of rocking the boat, but he was also an astute tactician who got Brazil playing great soccer again after the rocky period marked by the draw against Bangu. He assured Pelé he needed him in attack, shored up the midfield to handle the more physical Europeans, and found places for Brazil's most creative players, Gerson, Rivellino, Jairzinho and Tostão among them.
Once in Mexico, Brazil won all six of their games. They beat title-holder England 1-0 in an unforgettable match the players called "the final before the final" and put four goals past Czechoslovakia and Peru and three past Romania and Uruguay. Pelé was superb, Jairzinho made history as the first player to score in every round including the final, and Tostão, Gerson and Rivellino became household names the world over.
In the final, Brazil destroyed Italy 4-1 to set off incredible celebrations. Fans invaded the pitch. Pelé was paraded around the field wearing an enormous sombrero. Tostão wept uncontrollably. "It was madness," said Rivellino. "They stripped the shirt I was wearing right off my back. I fainted and had to be helped up."
In Brazil the celebrations were no less crazy. Hundreds of thousands of people took to the streets to greet their heroes when they arrived home. In Brasília, the whole squad were met at the presidential palace by Médici, who had formed a bond with the players by calling their dressing room after each game to talk over the action. Every member of the squad received a prestigious medal, cash, cars and 10,000 shares in state electricity company Light.
The victory was greeted with joy that was all the more euphoric for its timing. Brazilians had been banned from having large gatherings under the military's AI-5, a draconian decree issued in December 1968 that closed Congress, increased censorship and led to widespread arrests and torture. The victory parades were a rare chance to let off steam. "It was as if it was a release," said reserve goalkeeper Ado. "We never had any inkling it would be like that. It was madness, I didn't really understand it. I thought, does soccer really mean that much to us?"
It did, although things have changed since.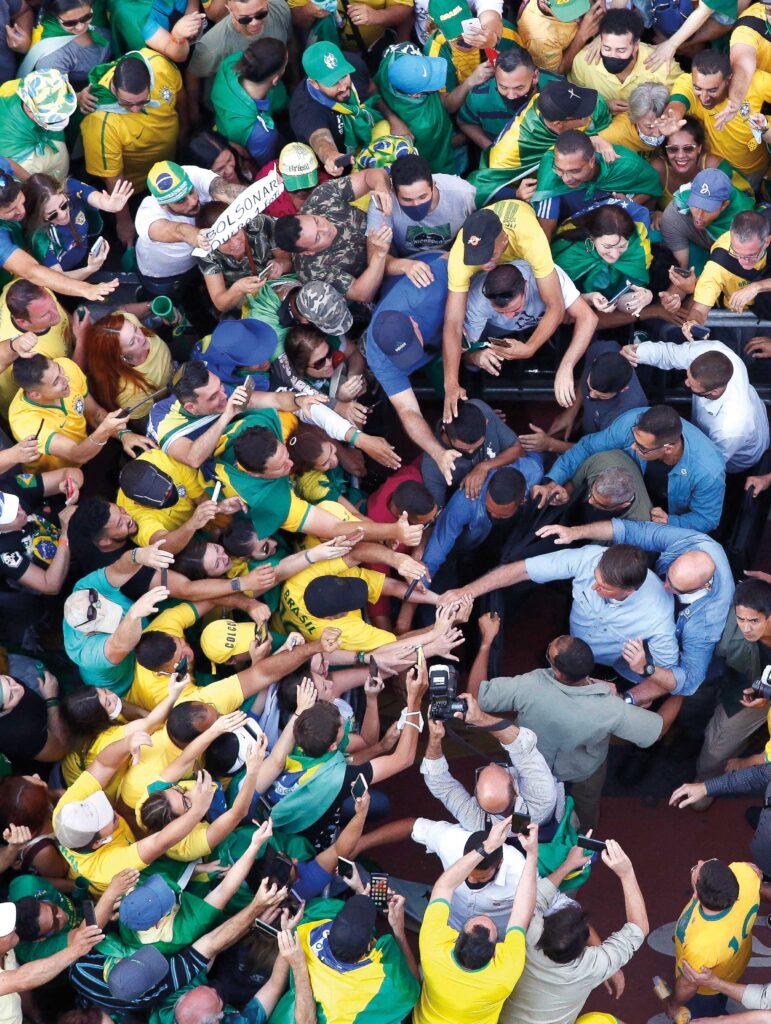 End of an era
The 1970 triumph was the end of an era for Brazilian football. It would be 24 years before they won the World Cup again and when they did, in California in 1994, it was a workman-like victory, lacking the gloss of past glories. Brazil remains the only team to have won five World Cups—they won again in 2002—but the world no longer reveres them like before. And, it's now clear, neither do Brazilians.
Today's game is ridden with corruption and mismanagement—four consecutive presidents of the Brazilian Soccer Confederation have been either removed from office or banned from football—and the local leagues are beset by violence and racism, on and off the pitch. The most promising players are sold to Europe before they're out of their teens, robbing Brazilians fans of a chance to see them in their prime and making it harder for fans to identify with the guys who will wear the yellow jersey. Walk around any Brazilian city and you're as likely to see a Real Madrid or a Manchester City shirt as a Corinthians or Palmeiras one.
Even donning the famous yellow jersey has become a questionable act, associated with the far-right nativism of President Jair Bolsonaro and his supporters. In a poll carried out earlier this year by students at São Paulo's Ibmec University, more than one in five football fans said they would not wear the yellow jersey for political reasons. This partisan fray may be why a new blue design sold out in just a matter of hours, and it is certainly why Nike no longer allows buyers to customize its Brazil jerseys with the names of major politicians.
The players themselves—almost all of whom now play for clubs in Europe—recognize the gulf that has opened between themselves and the fans.
"It's sad to see that for this generation the Brazilian national team is not important, because when I was a kid, Brazil matches were an event. The whole family was there, wearing jerseys, eating barbeque, hanging the Brazilian flag from the window," Neymar said earlier this year. "It doesn't have that same importance today."
It might be too much to ask the Neymar generation to repeat the performances of 1970, but they go to this year's tournament in Qatar as one of the favorites. If Brazil wins in December, all qualms will be laid aside, and the country will go crazy again, celebrating like only Brazilians can. Another victory—another wild, unifying catharsis—is well within their grasp.
__
Downie is the author of The Greatest Show on Earth, an oral history of the 1970 World Cup
Tags:
Brazil
,
football
,
Millennials in Politics
,
The Long View
,
World Cup