Reading Time:
3
minutes
This article is adapted from AQ's special report on the Summit of the Americas
The small selection of Brazilian literature that has been translated into English is dominated by a handful of themes. Among them: the brutality of the backlands, lust and loss amid family feuds, and the gentle—and not-so-gentle—disappointments of the idle rich.
Of course, there are exceptions, as a recent surge of interest in the pathbreaking work of Clarice Lispector reminds us. And now, with the publication of Caio Fernando Abreu's Moldy Strawberries, a lifelong fan of Clarice Lispector takes his rightful place among the outliers.
From a small town in southern Brazil, Abreu got his start as a journalist before his unapologetic bisexuality and unwavering commitment to personal, political and artistic freedom landed him in hot water with the military government then ruling the country. His very first work of fiction came off the press just as he left the country—into an exile that proved mercifully short.
Originally released in 1982, the short stories in his collection Moldy Strawberries are told from the perspective of narrators with fluid, hard-to-pin-down romantic identities, seeking affection in an unforgiving urban landscape. Aching with loneliness, his characters move in and out of bodegas, buses and cabs. They call each other on pay phones late at night to talk about nothing in particular—or rather, the most important things of all: death, the possibility of friendship in a fallen world, how to survive on the mean streets.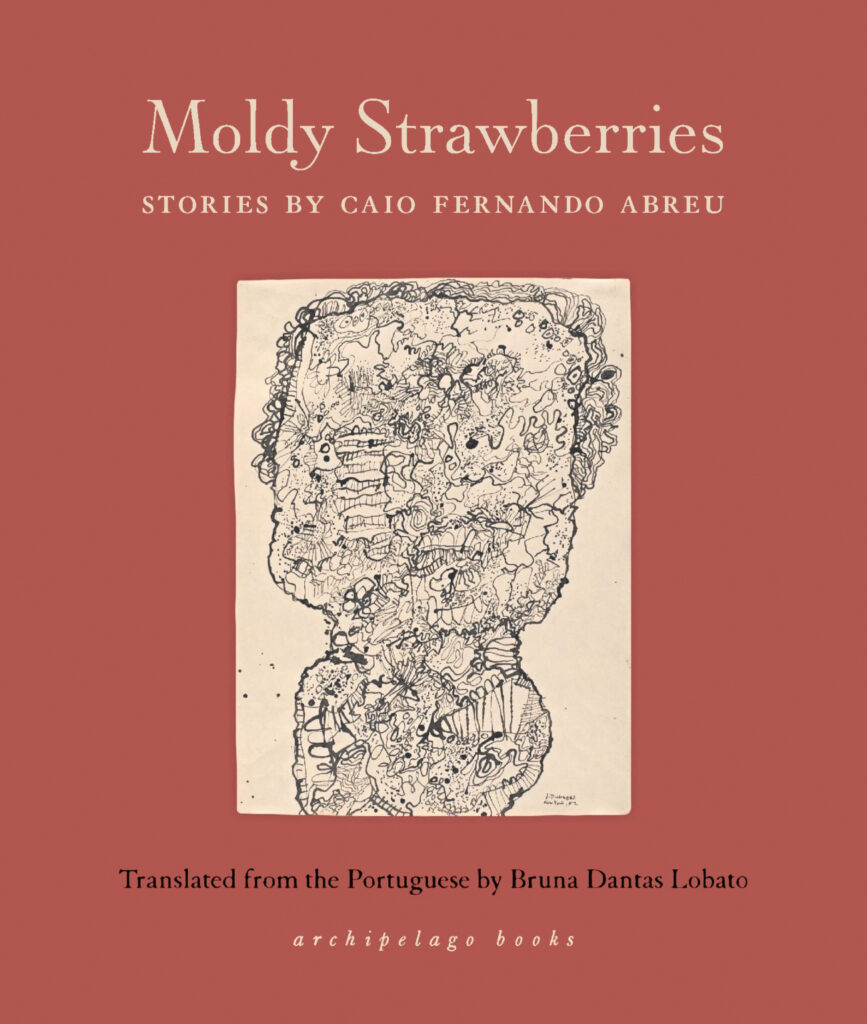 Moldy Strawberries

by Caio Fernando Abreu

Archipelago
Paperback
200 pages
"Am I annoying you?" one of his characters asks, plaintively, sensing the lack of eagerness on the other end of the line. She is indeed, but that does not prevent her from following up with another question: "Lui, do you think the world is ending?" What both she and her friend fear most, one gets the sense, is not the apocalypse, but their own loneliness—which neither drink nor company seems to ameliorate.
The book's honesty and raw, emotional truth made an outsized impression among the generation of young men and women that would soon cast their very first ballot in a presidential election, as Brazil made a slow and belated transition to democracy. Two years later, another of Abreu's works would win the prestigious Jabuti Prize, cementing his place as one of the most important literary voices in late 20th-century Brazil. Always highlighting the universality of his writing and the shared humanity of his characters, Abreu's refusal to be siloed was key in bringing attention to LGBTQ themes in a country emerging from authoritarianism. He died in 1996 at just 47, a victim of AIDS—as were many other artists of his generation.
His work found an even wider readership in the 2000s, when he was rediscovered by Brazilian millennials then entering high school and discovering social media. Perhaps Abreu's work seemed like manna from heaven to young people drenched in the cheap cynicism of the 2000s because his characters, though they are always on the move, always with longings to satisfy, are almost never mean. Though by no means immune to pessimism, what shines through above all is the unrelenting generosity of his voice. And in many ways Abreu was made for the Internet. An omnivorous reader, he was as comfortable writing about astrology as about psychoanalysis.
Though Abreu's sensibility certainly belongs to a vanished time, his themes remain as relevant as ever. Walking down dingy streets, drenched by a downpour, with a bottle of vodka in one hand and a gnawing insecurity within, his characters hope to be seen by others in a better light than they see themselves. They hope that someone, anyone, will answer the door when they knock. Don't we all? 
—
Müller is a Madrid-based writer
Tags:
Brazil
,
Caio Fernando Abreu
,
Cultura
,
fiction
,
Moldy Strawberries
,
Summit of the Americas