Jair Bolsonaro became Brazil's president on Jan. 1, 2019. Here, Americas Quarterly analyzes several aspects of his government – 10 key figures (including former Judge Sérgio Moro and Bolsonaro's three sons), the main opposition leaders, and his top policy priorities (reducing crime, overhauling education, and more).
10 Key Figures | The Opposition | Policy Priorities | Congressional Map
---
Brazilians elected a raft of new legislators in October 2018. Below, a breakdown of the support Bolsonaro commands in Congress, with the caveat that allegiances may – and likely will – shift.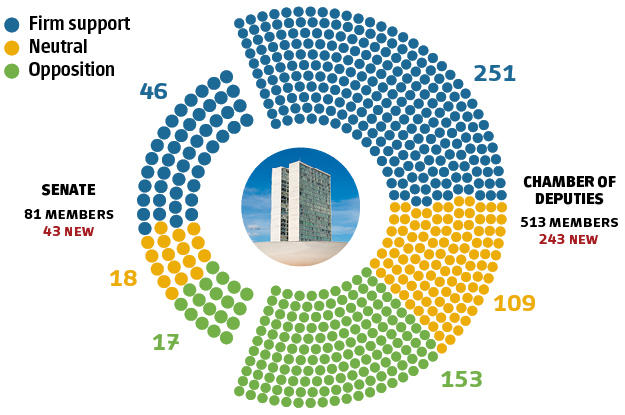 O'Boyle is a senior editor at AQ. Reporting on congress by Ximena Enríquez.
Photo Credits 10 Figures (in order): Ricardo Velez Rodriguez's Facebook Page; Mauro Pimentel/AFP/Getty; Sergio Lima/AFP/Getty; Evaristo SA/AFP/Getty; Geraldo Magela/Agencia Senado/Flickr; Leo Correa; Andres Leighton/AP; Jackson Ciceri/Istoe.com.br; Mauro Pimentel/AFP/Getty; Patricia Monteiro/Getty; Mark Kauziarich/Getty; Sergio Lima/AFP/Getty; Ueslei Marcelino/Reuters; Dida Sampaio/Estadao Conteudo/AP; Daniel Ramalho/AFP/Getty
Tags:
Brazil
,
Brazil's New President
,
Jair Bolsonaro
,
Who's Who Brazil government