Reading Time:
7
minutes
This article is adapted from AQ's latest issue on Latin America's anti-corruption movement.
MEXICO



La Estafa Maestra
What happened: Annual reports issued by Mexico's national auditor for 2013 and 2014 suggested that public universities misused or diverted millions of dollars in spending. Eleven government agencies — notably Mexico's Social Development Ministry and state oil firm Pemex — had allegedly funneled inflated and often irregular public contracts through universities in four states, leaving at least $160 million unaccounted for between 2013 and 2014.
How we found out: Researchers at Animal Político, an independent news site, and Mexicanos Contra la Corrupción y la Impunidad (MCCI), a watchdog group, worked together to investigate the audited documents. They alleged that over 100 of the companies that had secured bids either didn't exist or were incapable of carrying out the work for which they had been hired. The case became known as La Estafa Maestra or "The Master Swindle."
The fallout: Charges have only been brought against mid- and low-level officials in connection with the case and no one has been convicted, though Attorney General Alejandro Gertz Manero has said that the alleged corruption of Estafa Maestra is a top priority for his office. La Estafa Maestra, much like Odebrecht, has become a shorthand for corruption in Mexico, and has played an integral role in growing public demand for accountability from government officials.
GUATEMALA
La Línea
What happened: A network of high-profile public officials and businesspeople worked with Guatemala's tax authority (SAT) to artificially lower import taxes in exchange for a fee. Customs agents, importers and officials used a special phone line, known as La Línea, to settle commissions in exchange for lower taxes.
How we found out: La Línea was one of the cases made public by the partnership between CICIG and Guatemala's attorney general's office in 2015. The investigation intercepted thousands of calls and emails between customs officers and importers where bribes were discussed in exchange for fraudulent invoices.
The fallout: Losses related to uncollected taxes were projected at 1.8% of Guatemala's GDP. Investigations implicated then-President Otto Pérez Molina and Vice President Roxana Baldetti  — both of whom resigned and await trial. Dozens of other arrest warrants were issued for SAT officers and business owners.
Argentina
Notebooks
What happened: Óscar Centeno, a driver for former Argentine planning official Roberto Baratta, says for ten years he took detailed notes of his trips around Buenos Aires — including those in which he delivered and picked up bags of cash. His notes alleged that multiple former government officials and private citizens linked to the construction and energy sector were involved in a scheme of kickbacks for exclusive government contracts.
How we found out: An alleged domestic dispute helped bring the Notebooks case to light. According to media reports, Centeno's upset partner at the time threatened to give him up to authorities. That was when the former driver sent his notebooks to a friend, who shared the documents with newspaper La Nación in 2018.
The fallout: The bribes described in Centeno's notebooks amounted to $53 million, but investigators estimate the total could be three times higher. The notebooks have so far implicated almost 80 people, including former president and current vice presidential candidate Cristina Fernández de Kirchner (who denies wrongdoing). There have been dozens of pre-trial detention orders and 26 plea bargain agreements —  including Centeno, who is in a witness protection program.
Regional
Panama Papers
What Happened: Roughly 11.5 million internal documents leaked from Panamanian law firm Mossack Fonseca revealed hundreds of high-profile clients with 214,000 shell companies stashing funds in 21 different jurisdictions. The law office, which specialized in offshore accounts, had been opening and quickly closing what turned out to be shell companies in complex structures that facilitated tax evasion and sheltered illicit funds. The firm itself denied wrongdoing.
How we found out: In 2015, German magazine Süddeutsche Zeitung (SZ) reporter Bastian Obermayer received an anonymous message that read "Hello. This is John Doe. Interested in data?" A "yes," followed by a trove of leaked documents, revealed the law firm's financial dealings and list of clients. SZ collaborated with the International Consortium of Investigative Journalists (ICIJ), and some 400 journalists from more than 80 countries helped pore through the 2.6 terabytes of data, sparking hundreds of related investigations.
The fallout: The ICIJ estimates at least $1.2 billion had been recovered through fines and back taxes globally as of April 2019. More than 140 politicians were named in the leak, but few have been sentenced or detained. As a result, in 2017, Mossack Fonseca's founders were taken into custody in Panama in connection with the Lava Jato investigation, but later released on bail.
Brazil
Lava Jato
What happened: A web of corruption involving a group of construction and energy companies was unveiled after money launderers were arrested in 2014 and decided to talk in exchange for leniency. Alberto Youssef — who had been arrested at least nine times before for similar crimes — named as his clients multiple Petrobras executives who then named Odebrecht and others in the sector as their source of illicit income. The web has implicated politicians from several parties across the ideological spectrum, and has spawned investigations across Latin America.
How we found out: In the early hours of March 17, 2014, 400 officers from Brazil's Federal Police (PF) executed multiple warrants in 17 cities to dismantle a money laundering and tax evasion scheme. The investigation had been initiated after the Financial Activity Council detected atypical operations involving hundreds of millions of dollars. The operation was dubbed Lava Jato, or "Car Wash," after the laundromat and gas station businesses used by parts of the criminal network.
The fallout: Although the highest profile conviction, that of former President Luiz Inácio Lula da Silva, remains mired in controversy, the operation effectively dismantled several criminal networks. At the time of publication, Lava Jato had accounted for 199 convictions, over $10 billion in fines and devolution requests, nearly $778 million in frozen assets and 69 plea bargain agreements. It also critically damaged Brazil's shipbuilding industry, led to a 30% cut in Petrobras' investment budget and directly impacted the country's GDP, slashing spending on infrastructure projects for a long period.
Regional
Odebrecht
After the Odebrecht scandal broke in Brazil with the Lava Jato investigation, the company was investigated by U.S. authorities. In its plea agreement with the U.S. Department of Justice in 2016, Odebrecht disclosed it had spent $788 million since 2001 bribing government officials in 11 countries beyond Brazil: Angola, Argentina, Colombia, the Dominican Republic, Ecuador, Guatemala, Mexico, Mozambique, Panama, Peru and Venezuela.
Colombia
What happened: Odebrecht's former director in Colombia, Eleuberto Martorelli, detailed a host of illegal campaign finance contributions and bribes for contracts in his testimony to investigators. Martorelli's 2017 account implicated politicians on the eve of a presidential campaign, while the suspicious death of major witness Jorge Enrique Pizano and his son, who died of cyanide poisoning, made headlines around the world in 2018. An auditor for a government highway project, Pizano had started divulging irregularities to authorities in 2013 in testimony that implicated a subsidiary of banking conglomerate Grupo Aval.
The fallout: According to Red Anticorrupción de América Latina, Odebrecht was fined $260 million for paying an estimated $31 million in bribes in Colombia; at least 20 public officials were implicated and authorities made several high-profile detentions, including a former senator, the former campaign manager of President Juan Manuel Santos and the former CEO of a subsidiary of Grupo Aval.
Peru
What happened: Operating in the country for decades, Odebrecht disclosed in its collaboration agreement that from approximately 2005 to 2014, the company had paid $29 million dollars in bribes to secure contracts. Odebrecht executives also confessed to contributing to political campaigns for all major Peruvian political parties.
The fallout: One result of the investigation was former President Alan García's decision to commit suicide rather than submit himself to a pre-trial arrest. Three other former presidents have also been implicated, as well as opposition leader and former presidential hopeful Keiko Fujimori, who faces three years of pre-trial detention. These high-profile cases are among roughly 250 people now being investigated in relation to cases tied to Odebrecht.
Haiti
Petrofraude
What happened: A roster of scandals were uncovered within the Petrocaribe alliance, a group created in 2005 by Venezuela with a stated mission to help overcome poverty in the Caribbean. In Haiti, funds worth some $3.8 billion derived from Venezuela's oil loans were allegedly embezzled or stolen through multiple schemes, including nonexistent infrastructure projects and fraudulent oil invoices in the aftermath of the 2010 earthquake. Contracts for some 130 rebuilding projects were awarded to people with political connections and many projects remain incomplete.
How we found out: A consortium of multimedia journalists led by Connectas, a human rights NGO, reviewed 234 projects developed as part of Petrocaribe. The reporters uncovered overpriced contracts, abandoned infrastructure projects and offshore deposits in personal accounts, with Haiti as the most egregious example of malfeasance. An audit by the Haitian Senate confirmed the existence of forged contracts and millionaire deals with shell companies.
The fallout: The Haitian Senate inquiry focused the investigation on two former presidents, a sitting president and 40 others, including cabinet members and officials at state companies. A senator from the Dominican Republic has also been sanctioned by the U.S. Treasury for his involvement in suspect projects in Haiti, as well as several others across the region. Public outcry has helped push investigations, and the chant kote kòb Petrocaribe a? (Where is Petrocaribe's money?) can be heard across Haiti. In total, approximately $28 billion flowed from Venezuela to the 14 Petrocaribe countries, in a scheme one headline called "oil-for-allies."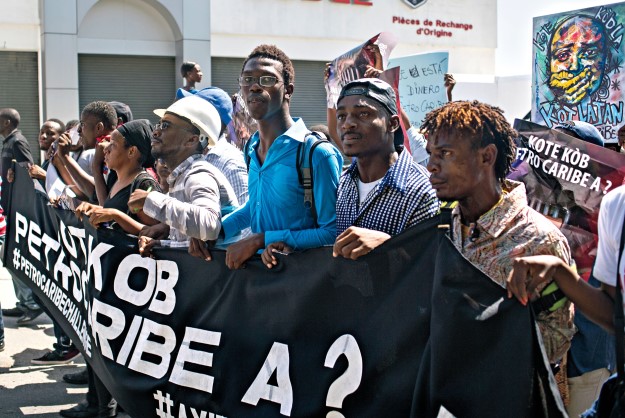 Jessica Obert/SOPA Images/Getty
Regional
FIFA Corruption Scandal
What Happened: As former U.S. Attorney General Loretta Lynch put it in 2015, "two generations of soccer officials … abused their positions of trust to acquire millions of dollars in bribes and kickbacks." The officials first charged in the scheme, mostly belonging to soccer's governing bodies in North and South America, were alleged to have taken money from sports marketing executives in exchange for broadcast and hosting rights to the World Cup and other tournaments.
How we found out: British investigative journalist Andrew Jennings first began looking into widespread corruption at FIFA in 2002 after being contacted by a whistleblower. In subsequent years, Jennings published a book and two BBC documentaries on the subject and handed documents he had obtained over to U.S. authorities, who started investigating the case in 2015.
The fallout: After the initial 47-count indictment was released in 2015, 14 current and former FIFA officials and corporate executives were arrested for racketeering and other corruption charges. According to the indictment, bribes and kickbacks they conspired to solicit and receive amounted to approximately $150 million for international tournaments. Former South American Football Confederation President Juan Ángel Napout and former Brazilian Football Confederation President José Maria Marin were sentenced to nine and four years in prison, respectively. Investigations into broader corruption are ongoing.
—
Miller is the production editor and Uriegas is an editorial intern for AQ
Tags:
Anti-Corruption Watch
,
corruption
,
corruption cases
,
Latin America corruption
,
Lava Jato