Reading Time:
4
minutes
PORT OF SPAIN — "This world still looks too much like it did when it was part of an imperialistic power," said Barbados' Prime Minister Mia Amor Mottley, at the 2022 UN Climate Change Conference (COP27) in November 2022. "The global north borrows with interest rates between one and four percent. The global south, around 14%. And then we wonder why energy partnerships are not working." The cost of financing the transition to a low carbon economy or paying for disaster recovery and adaptation is a major challenge for developing economies—especially so for island nations. Mottley, 57, has become a global leader in the fight for equitable access to the tools countries need to face climate change.
Since becoming prime minister in 2018, Mottley's speeches at the annual gathering of global leaders during the UN General Assembly have brought global attention to her outspoken style. A former manager of a jazz band who mixes Bob Marley quotes and details of financial instruments in her speeches, Mottley has collected support beyond island nations and developing economies.
She grew up between Bridgetown and Manhattan, later attending law school in London. The daughter of a Barbadian politician who also served as consul in New York, she entered politics in 1991, joining what was the opposition at the time, and becoming leader of the Barbados Labour Party in 2008.
"It's difficult to find a person [with] her background that is as grounded as she is," Peter Wickham, a Barbadian political analyst, told AQ. "I think that that is a defining aspect of her character: that she can address the United Nations and then she can go and sit among West Indians an hour later and enjoy a few beers."
At the COP27 in Egypt in 2022, Mottley's Bridgetown Initiative received the vocal support of key players such as French President Emmanuel Macron, IMF Managing Director Kristalina Georgieva, and Ngozi Okonjo-Iweala, director-general of the World Trade Organization. The plan would make trillions of dollars available to developing countries through a climate mitigation trust financed by the private sector as well as using IMF funds. It also advocates for concessional financing for climate-vulnerable countries and the temporary suspension of debt repayments in the wake of natural disasters or future pandemics.
The IMF's Georgieva praised Mottley's "unbelievable leadership and perseverance" in the creation of an instrument dubbed the Resilience and Sustainability Trust (RST) to help small island nations address climate vulnerability, prioritizing adaptation and mitigation instead of recovery.
"For us to be able to influence this space, it is absolutely critical that the solutions that are presented are practical," said Colin Young, executive director of the Caribbean Community Climate Change Centre, an intergovernmental agency for the CARICOM group of countries. "Prime Minister [Mottley's] … solutions-oriented approach is really exceptional."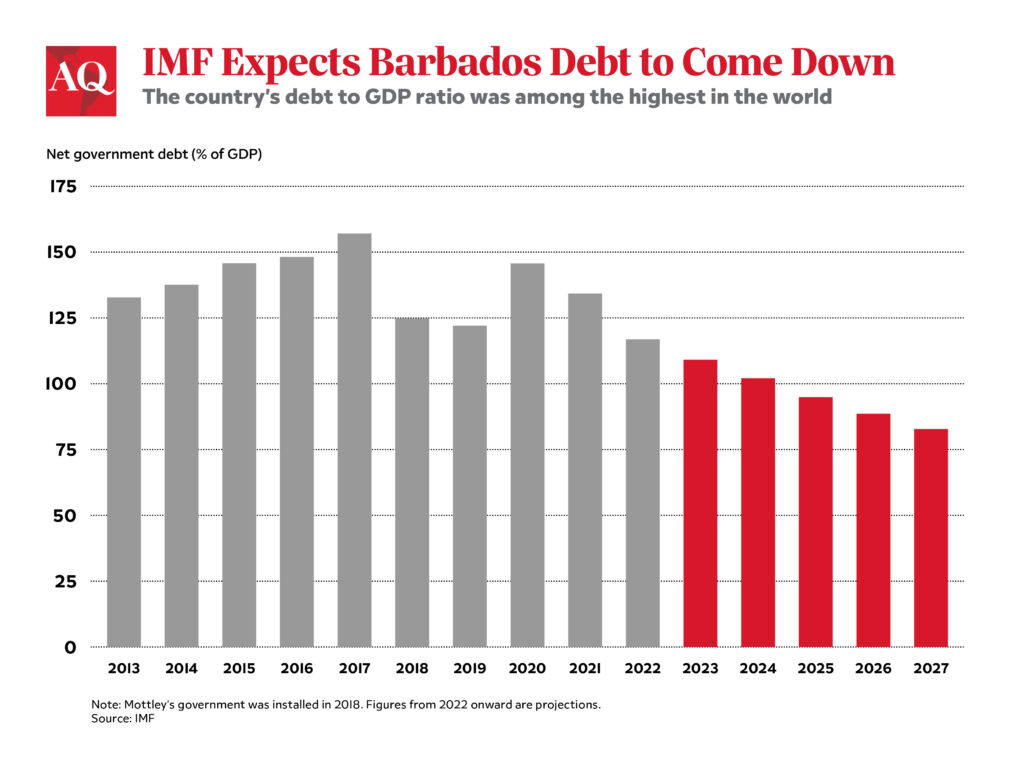 The domestic front
In November 2021, Mottley attracted international attention by leading a successful drive to remove the late Queen Elizabeth II as the country's monarch, making Barbados the world's newest republic. But the start of her premiership wasn't so royal. She became the first female prime minister in 2018 and was tasked with unglamorous issues, such as cleaning up—quite literally. Her administration had to get rid of sewage that was spilling out onto streets. Mottley also embarked on an extensive upgrade of the country's poorly maintained roads, and reached agreements with its creditors to confront one of the highest debt-to-GDP ratios in the world. Barbadians have responded at the ballot box: Currently, Mottley's party holds all 30 seats in the House of Assembly, a historic feat it achieved in both the 2018 and 2022 elections.
But the timing of the 2022 vote, a snap election called by Mottley, drew criticism in some quarters. More than 5,500 people (out of a 266,000-strong electorate) were unable to cast their vote due to COVID-19 isolation policies. Opposition parties had less than a month to prepare for election day and accused the prime minister of trying to slyly consolidate power.
Her political opponents in Barbados paint her as an "aggressive individual" who allows little room for dissent within her circle. The late Owen Arthur, a former prime minister under whom Mottley served in various cabinet positions, once called his protegée a "despot."
There are also rumblings in Barbados that the prime minister has been devoting too much attention to global issues at the expense of local concerns—such as the rising cost of living (historically among the highest in the Caribbean) and the increasing incidence of gun violence (traditionally one of the lowest in the region). In the new year, a cap on fuel taxes for consumers and stricter penalties for firearms-related offenses came into effect.
But while her government works on these domestic challenges, Mottley's international appeal has led to multiple accolades, and even talks of the potential for her to become the first woman to lead the United Nations in 2026.
"We have not been heard sufficiently," she said near the conclusion of her address at COP27. If the prime minister gets her way, that won't be true for much longer.
—
Robertson is editorial assistant at AQ
Tags:
Bridgetown Initiative
,
Caribbean
,
COP
,
Environment
,
Mia Mottley
,
UN