Reading Time:
4
minutes
This article is adapted from AQ's special report on Uruguay
Trade is the lifeblood of Uruguay's economy, and the administration of Luis Lacalle Pou is doing virtually everything within reason to position itself effectively and creatively, given regional and global realities. Nestled between South America's two largest countries, Montevideo has relied on an outward-facing strategy to compensate for its tiny internal market, first through the Common Market of the South (Mercosur), which includes Argentina, Brazil and Paraguay. Uruguay also maintains strong traditional links with Europe, and trade with the United States, especially in services, is growing. Trade with China, from a baseline of essentially nothing 20 years ago, is booming, and Beijing is hungry for more.
The good news is that Uruguay is less complicated politically or economically than its immediate neighbors. As a result, despite its own small size, it is often considered a preferred investment destination for those who seek access to Mercosur's giant internal markets without the drama that often attends to larger neighbors, although labor costs and steep rules of origin requirements have reduced its attractiveness. Politics also occasionally intervenes to disrupt the internal Mercosur trade flows on which the country relies, a reality that the recent bilateral trade agreement between Uruguay and Brazil is designed, in part, to counteract.
Recognizing that membership in Mercosur restricts the potential for a broader strategy of trade-led economic growth, Uruguay has lately been exploring opportunities farther afield. Individual trade expansion initiatives are dissuaded without the consent of all parties to the agreement, limiting Uruguay's ability to strike preferential deals, although Montevideo maintains it is legally entitled to do so. Agreements negotiated as a bloc, as Mercosur has sought to do with the European Union since the beginning of this century, depend on factors out of Montevideo's control, such as Amazon deforestation and French and Irish fears about Brazilian and Argentine agriculture.
The election of Jair Bolsonaro as president of Brazil provided Lacalle Pou with an opening to explore a new approach. Downplaying the importance of Mercosur to Brazilian development—an agreement that a previous leader once called Brazil's "destiny"—Bolsonaro sought closer trade relations with the United States and got them, sort of, at the end of the Trump administration. By pursuing such an agenda outside the confines of Mercosur, Brasília tacitly acquiesced to others for similar initiatives.
Betting on Asia
Montevideo has now made clear its own desire for a freer trade arrangement with the United States. Unfortunately, Washington has so far ignored Uruguayan entreaties, slow-walking bilateral investment discussions and refusing to discuss the possibility of a more substantial relationship, despite Uruguay's unimpeachable liberal democratic credentials, an economy that complements rather than competes with the United States, and a strategic geographic position within South America.
It would seem to be exactly the sort of nation worldwide that would attract the attention of those promoting a new vision of trade, beginning with the United States. Instead, the Biden administration is offering something called the Americas Partnership for Economic Prosperity, a nebulous vision for inclusive social development that Uruguay, among Latin America's most advanced, egalitarian societies, arguably doesn't need. Still, the program may be useful to leverage increased trade and investment with hemispheric partners, including the United States; what the nation requires, similar to all liberal democracies struggling to meet the needs of their citizens, is trade and investment-led economic growth.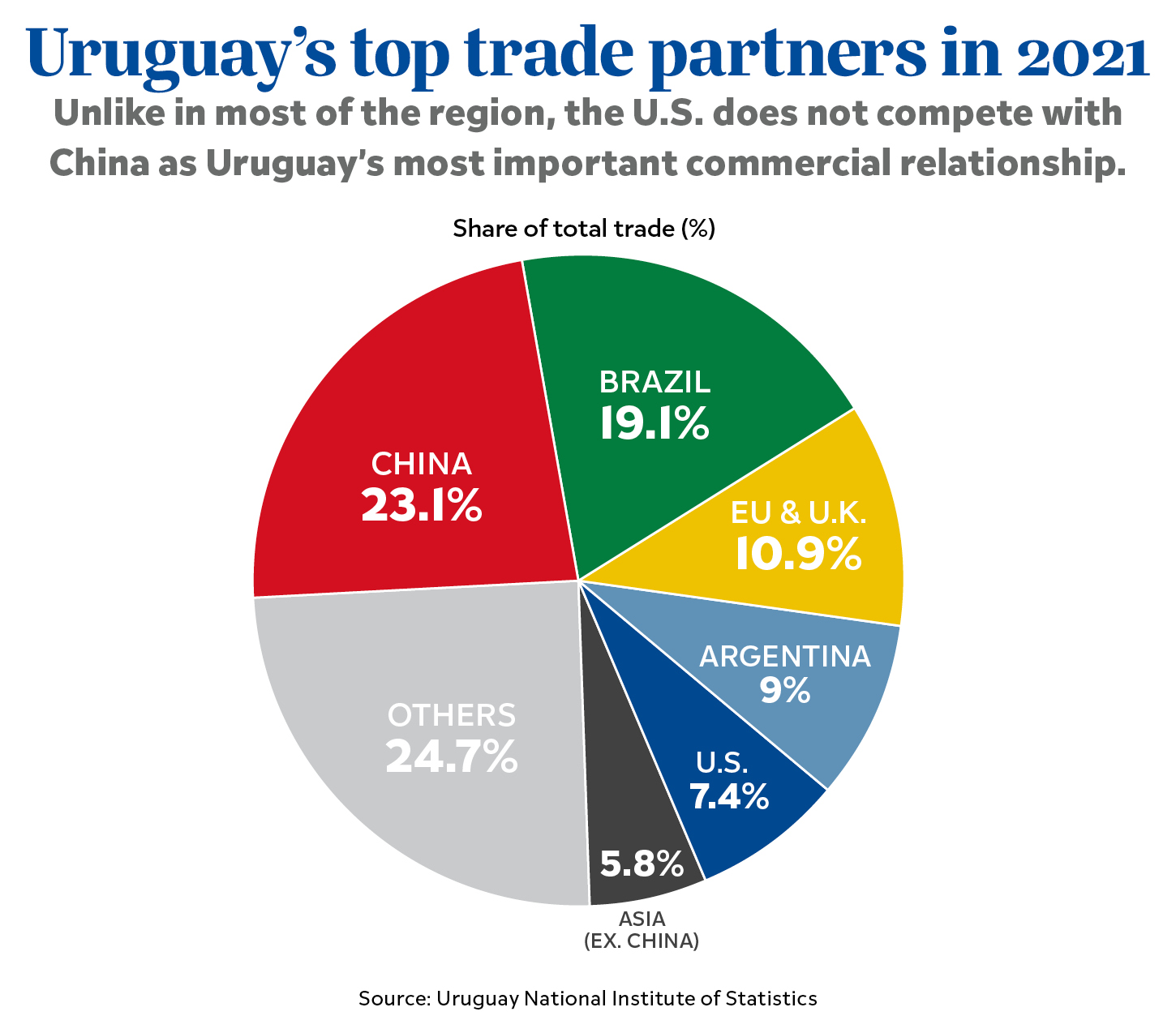 China doesn't require convincing. Beijing is already on a mission to develop economic ties with Uruguay, including negotiations underway for a bilateral free trade agreement and discussions on 5G uptake. China alternates with Brazil as Uruguay's top trade partner, and a decision to negotiate with China faces little internal opposition. It's also a relatively simple choice to make when there is only one option to consider. The reality is that many Uruguayans, if given the chance, would prefer to develop deeper ties with Washington over Beijing. But so far, Montevideo has been left at the altar, with dim prospects that concrete U.S. actions will materialize in the near term.
Meanwhile, the October 2022 election of Luiz Inácio Lula da Silva in Brazil could well put Mercosur back in the game as Brazil seeks to reestablish the centrality of Mercosur despite its drawbacks, and, accordingly, move to rein in independent trade initiatives. This would be a strategic setback for Uruguay, and a major missed opportunity for the United States.
Nonetheless, seeking to expand beyond Mercosur without breaking from the agreement, there is one very important effort underway that shows promise: Uruguay's effort to join the Comprehensive and Progressive Agreement for Trans-Pacific Partnership (CPTPP), the arrangement that coalesced out of the Trans-Pacific Partnership when the United States foolishly withdrew at the beginning of the Trump administration. By joining, Uruguay would immediately have preferential access to some of the most dynamic economies in the Asia-Pacific region, a huge area of potential trade and investment growth as companies, particularly Japanese, take advantage of Uruguay's favorable geographic position. As of December 1, 2022, Uruguay's formal request has been deposited in host nation New Zealand. The timing is critical, as it preceded by 30 days the inauguration—and potential trade complications—of the Lula administration.
Uruguay does not border the Pacific Ocean, but other non-Pacific nations, including the United Kingdom, are under consideration for CPTPP membership. There is no law or regulation requiring members to be physically located in the Pacific Basin. It's a creative and imaginative step, and Tokyo, especially, sees merit in the initiative, as do others. A push from Washington to support Uruguay's bid would be both costless and wise.
Not all internal constituencies in Uruguay are on board, but it is unclear what, if anything, would ever gain unanimous consent. Meanwhile, pursuing and debating CPTPP membership gives Uruguayans a concrete means to decide their future direction as a nation—a particularly important opportunity given national elections in 2024.
It's a fascinating gambit. Uruguay has long punched above its weight in international affairs, and the pursuit of expanded trade relations in the Asia-Pacific region sends a powerful message of a self-confident nation actively seeking unexpected opportunities wherever they may lie. Eventually, one hopes, the United States will also get around to pursuing such ties. But Uruguay cannot wait any longer, nor should it have to. The nation and its people have shown they deserve to play in the premier leagues. It's time to let them.
Tags:
Mercosur
,
The Uruguay Issue
,
Uruguay
,
Uruguay Trade