Reading Time:
4
minutes
Click here for our full coverage of Ecuador's presidential race
The rainbow colors of the Wiphala, a symbol of indigenous identity in the Andes, surround Yaku Pérez Guartambel as he attempts to make history: If elected in Ecuador's presidential election on February 7, the lawyer and environmentalist would be the country's first indigenous president.
Pérez's rise is surprising. Less than 10% of Ecuador's population identifies as indigenous, and indigenous candidates have not traditionally had success in national elections. And yet, Pérez, who has made ancestral themes and language central to his campaign, is polling among the top three contenders in a crowded field of candidates. Experts credit a broad political agenda that appeals to leftist voters who don't want to see former socialist President Rafael Correa make a comeback vis-à-vis his handpicked candidate, Andrés Arauz, who is polling first.
In an interview with AQ on Jan. 28, Pérez said he offers such voters an alternative to the "authoritarian and corrupt left" of Correa, who was sentenced to prison for eight years and is unable to return to the country without facing arrest.
"We're from the ecological left that defends the rights of people and nature and understands indigenous communities," said Pérez, a water conservation activist who in 2019 was elected prefect of Ecuador's Azuay province, a position akin to governor.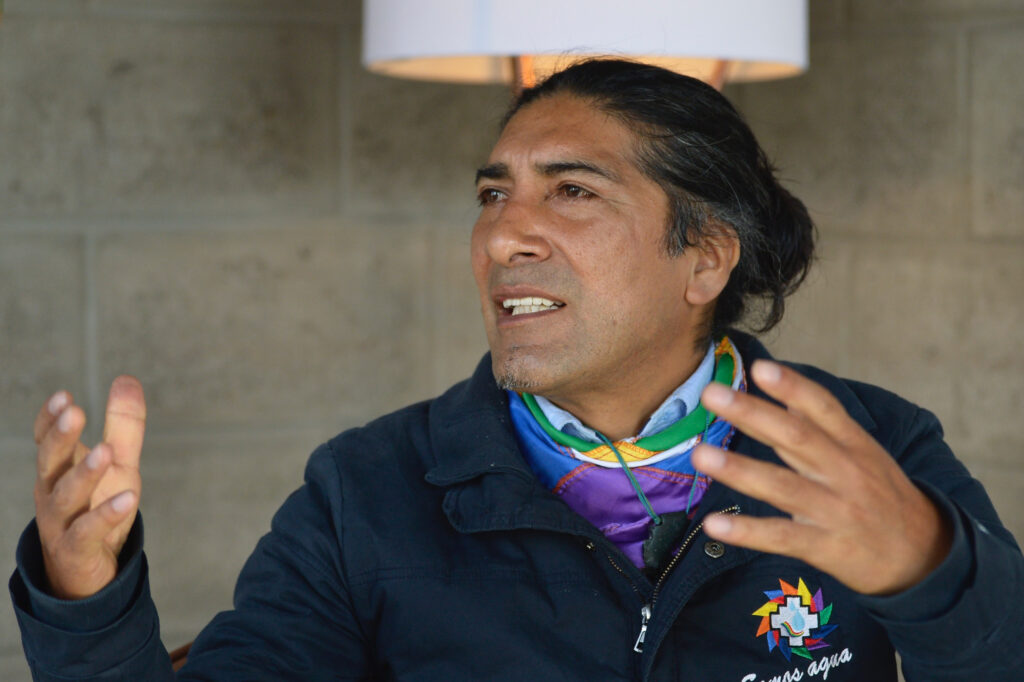 Pérez rose to prominence fighting mining projects during Correa's presidency. The fight to protect water sources is deeply personal to him: In 2017, Pérez changed his name from Carlos to Yaku, which means "water" in Kichwa. As president of the Confederation of Peoples of Kichwa Nationality from 2013 to 2019, Pérez led protests against mining projects and was arrested multiple times.
Ending mining in Ecuador's highlands is Pérez's "key agenda" and is "the one thing that's non-negotiable to him," said Manuela Picq, a professor at Amherst College and at Quito's San Francisco University, and who is also Pérez's partner.
Ecuador had enshrined the rights of the natural environment in the constitution at the beginning of Correa's decade in office. Over time, however, mining and drilling projects became a lightning rod for opposition to Correa among the left, uniting indigenous communities on the frontlines of the projects as well as urban environmentalists.
Ivan Ulchur-Rota, a journalist in Quito, says Pérez represents "another left" outside of Correa's movement, a left "that aligns itself more with environmental and indigenous values and distances itself from classical Marxism."
Still, socialist or not, Pérez will worry some investors. He has promised to review Ecuador's deal for a $6.5 billion loan from the International Monetary Fund (IMF) and to not pay any "illegitimate debt." Unlike Arauz, Correa's candidate, Pérez declined an invitation to meet with IMF officials when they were in Ecuador last September. A survey of a dozen analysts conducted by AQ ranked Pérez further to the left than Arauz.
Pérez told AQ he'll create incentives for international investors with tax benefits and by doing away with red tape.
"We will maintain dollarization, we'll follow the rule of law internally and externally, we'll respect private property, we'll honor legitimate debts," said Pérez, who would inherit an economy that contracted 9.5% in 2020, according to the IMF, and is weighed down by high unemployment and external debt is close to 60% of GDP. Falling oil prices were already squeezing the economy before the pandemic, and today's crisis will make it hard to pay for what Pérez is promising.
Pérez says fighting corruption will boost the economy, telling AQ that he wants to "depoliticize state agencies," reduce the salaries of the president and other officials, and cut the number of congressional representatives by half.
On foreign policy, Pérez has said he is open to a trade deal with the United States and has called out China's "aggressive policies around extractivism and human rights." Asked twice by AQ if he would recognize the government of Venezuela's Nicolás Maduro as legitimate, Pérez did not give a yes or no answer, but said that governments where "the population is not listened to" are "not democratic."
"You have to respect a people's sovereignty, but it is also necessary to investigate how legitimate their government is," Pérez told AQ, adding that elections in Venezuela "were not at all transparent" but that he would need to study the situation more closely.
Some see contradictions in Pérez's agenda, like the environmentalist's support for fuel subsidies for poor Ecuadorians. Pérez told AQ they would be temporary, but recent history shows just how hard it is to get rid of subsidies.
Pérez helped lead protests in October 2019 against the government after it ended such subsidies, sending gas and diesel prices soaring. The protests, organized in part by CONAIE, Ecuador's largest indigenous organization, nearly brought down President Lenín Moreno. Pérez is the candidate for CONAIE's political party, Pachakutik.
Even though Ecuador's indigenous population is small, "October 2019 showed the indigenous movement's ability to organize, not only in the streets but also in politics," said Ulchur-Rota.
This could boost Pérez's chances, but Ecuador is not Bolivia, for example, where an indigenous majority was critical to the rise of the country's first indigenous president, Evo Morales. In Ecuador, the indigenous minority "is very fragmented and this fragmentation has a clear effect on indigenous politics in Ecuador," said Diana Davila Gordillo, a political scientist at Leiden University who studies identity politics and ethnic parties in Ecuador.
The jury is still out about Perez's chances.
"He could be the surprise of this election," political analyst Sebastián Hurtado recently said on the AQ podcast.
But "Ecuador is still very polarized," said Carlos de la Torre, the director of the University of Florida's Center for Latin American Studies, who thinks voters may ultimately line up either behind Arauz or Guillermo Lasso, the conservative ex-banker polling second. "The polarization plays out between right and left."
If he can swing a victory, Pérez would likely struggle to pass the big reforms that he is promising given the country's economic crisis and the likelihood of a highly fragmented Congress. But in such a polarized political arena, Pérez's supporters think he's the man who could bring the country together.
"His narrative is one of reconciliation," said Picq, his partner, "not just among Ecuadorians but also with nature."
Tags:
Ecuador
,
Ecuador's Presidential Race 2021
,
Ecuadorian elections