Reading Time:
4
minutes
On the day that the United States reflected over the 10-year anniversary of the September 11 terrorist attacks, Guatemala went to the polls to elect its next president. The contest pitted three leading candidates against each other: Otto Pérez Molina, a former army general, of Partido Patriota (Patriotic Party, or PP); Manuel Baldizón, business tycoon, of Libertad Democrática Renovada (Renewed Democratic Freedom, or LIDER); and academic Eduardo Suger, of Compromiso, Renovación y Orden (Commitment, Renewal and Order, or CREO).
Pérez Molina had a comfortable lead in the polls in the lead-up to the election; if he had earned more than half the vote he would have made history by being the first national candidate since the 1980s to avoid a runoff vote. But, having secured only 35 percent of votes from more than 7 million tallies, he won the first round but not by enough to avoid a second round. Meeting him in the runoff, scheduled for November 6, is Baldizón, who received 23 percent of votes. Suger finished a distant third with 16 percent.
"Several sectors of the dominant [Guatemalan] forces expected Otto Pérez Molina to win in the first round to save costs," said Álvaro Velásquez, 42, professor of social sciences and political analyst at Facultad Latinoamericana de Ciencias Sociales in Guatemala City. "Now the people have spoken to contradict this. That's good news for the power of the vote."
But Pérez Molina can still make history in November; given his extensive military background and Guatemala's history under decades of military rule, he can be the first ex-soldier to be democratically elected in Guatemala. Baldizón, a successful businessman with alleged ties to narcotraffickers, hails from the northern region of Péten—a department that borders Mexico.

President Álvaro Colom praised these elections as quieter than those in 2007. In a country fraught with crime and insecurity, Colom lauded the work of the Polícia Nacional Civil (PNC), Guatemala's national police force, as well as the high quantity of citizens who showed up to vote. There were 1.3 million new voters after a huge election awareness campaign apparently proved successful. For the first time in national history, women outnumbered men in terms of turnout, totaling 50 percent of the vote. Many voting stations were unable to cope with the sheer influx of new voters, and there were reports of paper ballots running out in certain regions. Polling places like the one in Nebaj remained open well past the official 6:00pm closure time to accommodate the turnout.
The Tribunal Supremo Electoral (TSE), Guatemala's election supervision body, also experienced delays. Four hours into tabulating, only 2 percent of the vote had been counted—despite the latest electronic counting equipment being shipped in from the Dominican Republic and a computer center built in a Guatemala City luxury hotel complex. The delays led to many communities taking to the streets to protest the results of their local elections. Fearful of corruption, some residents took their anger out on polling stations and the PNC. Four people, including a policeman, were killed in political confrontations on election day.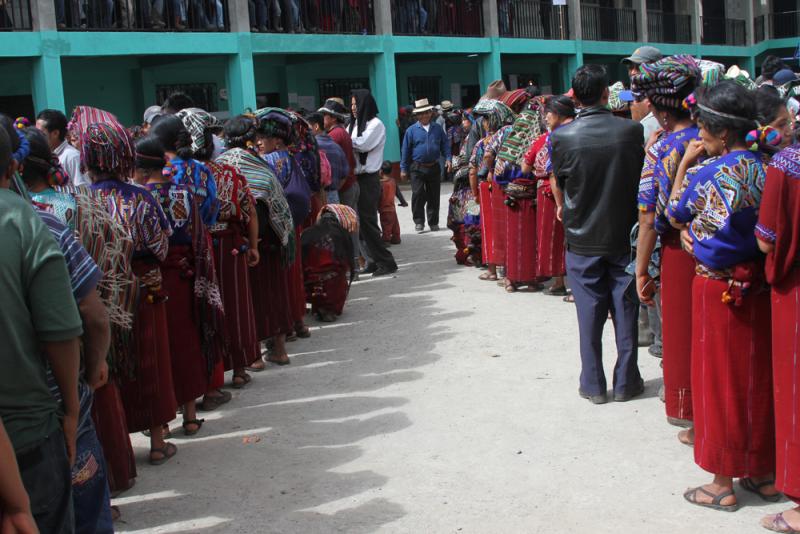 Above/below: Voters form a line to cast their ballots in the Nebaj district, September 11, 2011.
Photos: Courtesy of Kara Andrade.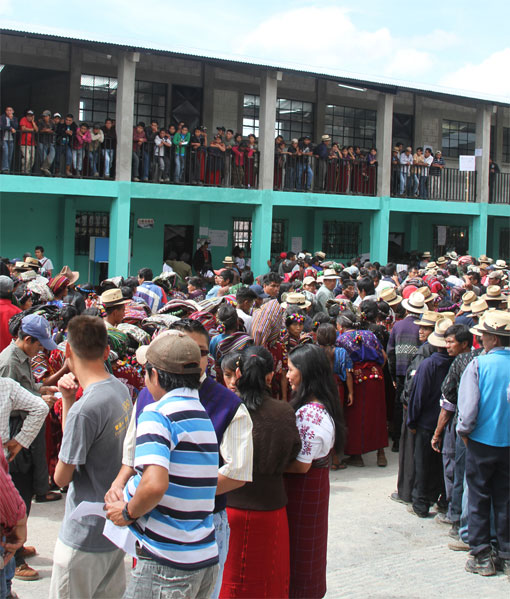 Some ballot boxes were incinerated in different parts of the country and electoral observers received complaints of votes being bought in more than 70 municipalities with payments ranging from $5 to $50. In Villa Nueva, the PNC intercepted a bus full of voters and 1,500 ballots were found in a dump. The newly-elected mayor has been implicated in the crimes. Condemned by seven of the ex-candidates, the mayor has reportedly fled to Costa Rica.
What is more concerning was that armed men reportedly intimidated voters in a number of rural villages. For example, election observers were told to leave by menacing strangers in Aguacatan, Huehuetenango. In Pueblo Nuevo Biñas, Santa Rosa, thugs armed with smoke bombs entered the polling station and snatched the ballots. Residents of Pueblo Nuevo, Suchitepéquez, blockaded the entrances to their town to ensure no electoral fraud could occur once they had voted.
Electricity problems due to the rainy season did not help the situation. Although there had been warnings that some regions would be powerless in July, the electric company assuaged these fears; still, some regions like Nebaj went dark for part of the day. In Guatemala City, a police patrol crashed into an electricity pole and left a large urban area powerless.
November's contest between Pérez Molina and Baldizón has no assured winner. "Both candidates have the opportunity to develop a good strategy to defeat the other," notes Velásquez. "The distance between the two parties is very short. I cannot say that the victory of Partido Patriota will be easy or that a victory for Baldizón is impossible."
Nic Wirtz is a guest blogger to AQ Online. He is a freelance journalist who has lived in Guatemala for the last six years. His work has been featured on the Christian Science Monitor and GlobalPost, and he is editor for the website Vozz. He works in rural communities with NGOs such as Orgánicos La Hojita and Asociación de Tejedoras de Salud de San Juan La Laguna.
Kara Andrade is a contributing blogger to AQ Online. She is a Central American-based freelance photojournalist and multimedia producer whose work has been featured in Agence France-Presse, Associated Press, the Christian Science Monitor, France24, the San Jose Mercury News, Contra Costa Times, and the Oakland Tribune.