Reading Time:
3
minutes
Brazil | Colombia | Costa Rica | Mexico | Paraguay | Venezuela | Cuba
See above for a breakdown of the region's other 2018 transitions, or click here for the full list from our print edition.
---
This article has been updated
Election date: April 1
Format: Two rounds. No candidate received more than 40 percent of votes in the first round on Feb. 4. The two leading candidates, Carlos Alvarado Quesada and Fabricio Alvarado Muñoz, will face each other in a run-off on April 1.
---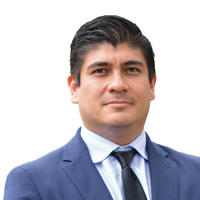 Carlos Alvarado Quesada, 38, former minister
Citizens' Action Party
"We need a government of national unity that respects differences."
How he got here: A political scientist, journalist and novelist, Alvarado Quesada served as communications director for Guillermo Solís' successful presidential campaign four years ago. That connection helped him land the role of human development minister and later labor minister, where he proved skillful at negotiating with the private sector. He earned 22 percent of the first-round vote.
Why he might win: If he can steer the national conversation away from the social issues that dominated the first round, he has a shot. Though a ruling party candidate, he presents himself as a politician of change —  a discourse he effectively used in 2014 to help Solís. Moderate voters may favor his message of unity over the divisiveness of his opponent.
Why he might lose: Alvarado Quesada's progressive social views will lose him conservative votes, especially given the culture war tenor of the election so far. He will also suffer if voters associate him with the ongoing cementazo scandal, an influence-peddling investigation touching members of the president's inner circle and all three branches of government.
Who supports him: As the closest among the candidates to a Costa Rican Justin Trudeau, Alvarado Quesada can expect support from young, urban middle-class sectors. A believer in the role of the state, he's also best positioned to attract state employees.
What he would do: Alvarado Quesada campaigned against Costa Rica joining the Pacific Alliance and some believe he would pursue protectionist economic policies. As president he says he would maintain the country's state-run oil and electricity monopolies and pursue job creation through public-private partnerships.
Ideology: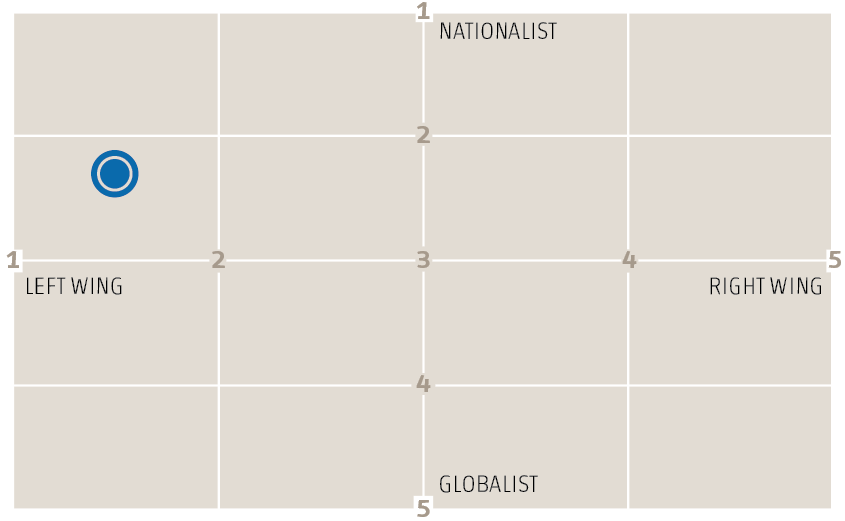 AQ asked a group of nonpartisan experts on Latin America to help us identify where each candidate stands on two spectrums: left wing versus right wing, and nationalist versus globalist. We've published the average response, with a caveat: Platforms evolve, and so do candidates. Current survey results for Costa Rica were taken after first-round voting on Feb. 4.
---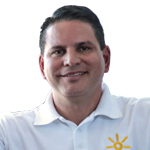 Fabricio Alvarado Muñoz, 43, former congressman
National Restoration Party
"There's nothing more progressive than defending life and family."
How he got here: Few saw his rise coming. Less than two months before the first-round vote on Feb. 4, polls showed support for Alvarado Muñoz at around three percent. But on Jan. 9, the Inter-American Court of Human Rights (IACHR) ruled that Costa Rica must recognize same-sex marriages and grant adoption rights to same-sex couples. Alvarado Muñoz, a contemporary Christian singer, promised fierce opposition to the ruling, galvanizing conservative voters and finishing first on Feb. 4 with a quarter of all votes cast.
Why he might win: Two-thirds of Costa Ricans share Alvarado Muñoz's opposition the IACHR ruling. He has also tapped into anti-establishment sentiment by equating progessive policies with an attack on traditional values by an elite political class.
Why he might lose: Noise surrounding the IACHR ruling may die down, and Alvarado Muñoz has yet to articulate a plan to tackle record-high levels of crime and an unemployment rate around 10 percent.
Who supports him: Evangelical Christian and conservative voters, and others who are frustrated with status quo politics.
What he would do: Alvarado Muñoz has so far focused on social issues and promised to pull Costa Rica from the IACHR. His economic views remain unclear, and thus, say analysts, could be malleable.
Ideology: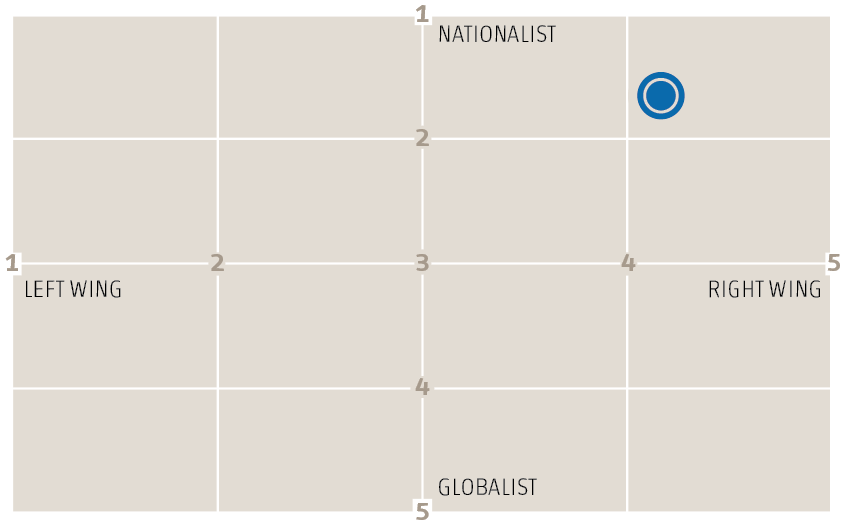 This article was updated to reflect the results of first-round voting on Feb. 4.