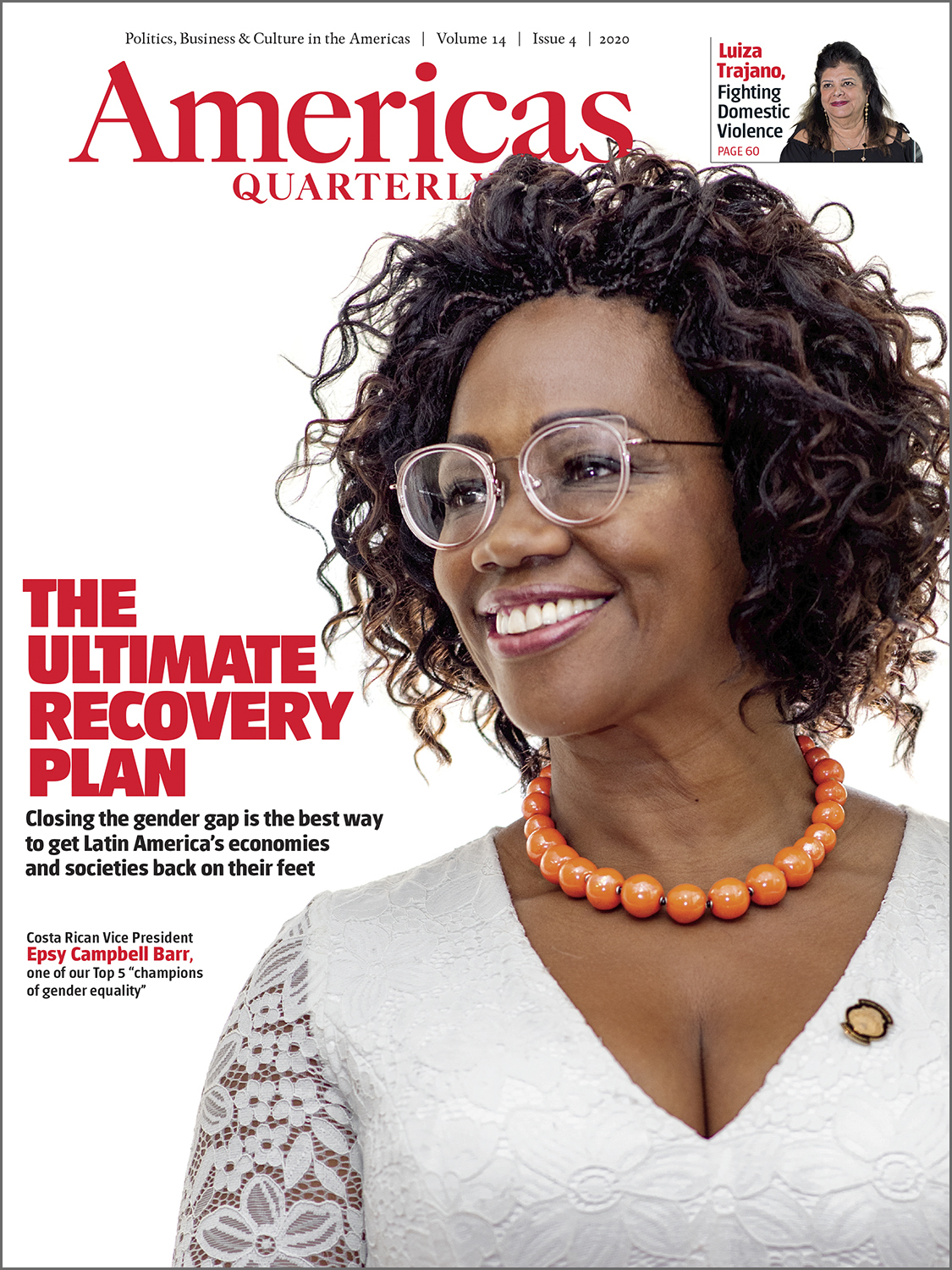 Special Report
Five ideas for how Latin America can pursue the best post-COVID recovery plan possible: equality for men and women.
By ERNESTO TORRES CANTÚ
Improving access to credit for women entrepreneurs can help Latin America recover from the pandemic.
By BRIAN WINTER 
A personal story about genius-level talent – and what it needs to fully thrive.
By MARIA-NOEL VAEZA
Building an investor ecosystem for female entrepreneurs can help close persistent funding gaps.
AQ highlights five distinguished individuals who have used their careers to help close the gender gap.
By SUSAN SEGAL 
Mentors are an asset to women in Latin America and beyond. They often find us unexpectedly.
By MARGARET ROSE GRIGSBY
Organizations can take these steps to ensure women get the visibility they need to thrive – and inspire others to follow.
By MITRA TAJ
Organizations like Laboratoria are helping working-class women join the insular world of computer programming.
By EMILIE SWEIGART
Despite some progress, the picture remains mixed, a longtime observer says.
By CECILIA TORNAGHI
One of Brazil's largest retailers has launched an audacious program to help victims – both customers and employees.
By ROSA CELORIO
Latin America has passed noteworthy laws to protect women. Implementing them has been harder.
By AMB. JEAN MANES and ADM. CRAIG S. FALLER
Women are key to making security stronger for everyone.
By HUGO ÑOPO
Men must do a greater share of household work for gender equality to become a reality.
By LEONIE RAULS and ROBERTO SIMON 
The examples of Chile and Colombia can help others in the region, but don't expect one-size-fits-all solutions.
By ISABEL CASTILLO
Two decades before fellow Salvadoran women could vote, Prudencia Ayala became the first woman to run for president in Latin America.
By JENNIFER M. PISCOPO
The region shows that if done right, quotas can dramatically boost women's numbers in Congress and beyond.
By BETILDE MUÑOZ-POGOSSIAN and FLAVIA FREIDENBERG
Women running for office still face barriers almost unimaginable to men, but innovative tools can help.
Departments
By ROBERTO SIMON and EMILIE SWEIGART
A bill in the U.S. Congress may create a special fund to support anti-corruption worldwide. What's at stake for the region?
By LEONIE RAULS
Environmental lawyer María Espinosa reflects on the impact of the pandemic and an oil spill.
Cultura
By SEBASTIÁN ZUBIETA
AQ's last playlist of 2020 features a group of Brazilian performers who met a difficult year head-on.
By CARLOS AGUILAR
In director Melina León's debut, a woman's personal tragedy speaks to the wider costs of Peru's internal conflict in the 1980s.
By JORDANA TIMERMAN
The pandemic is forcing the country's film and television industry to get (even more) creative.
By GREGORY WEEKS
A review of Jorge Castañeda's latest book, where he offers clues to what drives the U.S.-Latin America relationship.