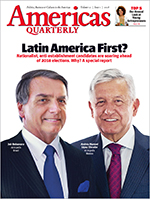 Special Report
Corruption will be the defining issue in Latin America's 2018 elections. Anti-establishment nationalists like Jair Bolsonaro and Andrés Manuel López Obrador stand to benefit – unless more moderate candidates also embrace the cause.
By BRIAN WINTER
How a retired Army captain rose from a marginal apologist for torture and dictatorship to a serious contender for Brazil's presidency.
By RODRIGO JANOT
Can Brazil's Car Wash investigation be replicated? The attorney general who prosecuted the historic corruption case reflects on its lessons.
By MARÍA AMPARO CASAR
Widespread graft has left Mexicans fearing their political system is beyond repair. María Amparo Casar discusses corruption's reach – and how to curtail it.
By JONATHAN FRANKLIN
Brazil's biggest gang has burst beyond its borders. Jonathan Franklin examines what this means for the region's already strained governments.
AQ asks Sérgio Moro, Laura Alonso, José Ugáz, and other corruption fighers and ordinary citizens what their country should do to combat corruption.
Sérgio Moro | Laura Alonso | José Ugáz | Susan Segal
An in-depth look at the leading candidates, their policy proposals – and why they might win.
Brazil | Colombia | Costa Rica | Mexico | Paraguay | Venezuela | Cuba | Full List
AQ Top 5: Young Entrepreneurs
The young people in our second annual survey stand out for their vision as well as their business savvy.
By KATE STEIKER-GINZBERG
This Mexican entrepreneur's alternative energy source is transforming farms across the country.
By HANAA' TAMEEZ
This Salvadoran social worker is sparking children's curiousity about reading - and the world.
By SOLEDAD DOMÍNGUEZ
At just 22, this Argentine is using 3D printers to revolutionize access to prostheses.
By BRENDAN O'BOYLE
To help her country rebuild after the 2010 earthquake, this young Haitian found she first had to break a glass ceiling.
By KATE STEIKER-GINZBERG
This former Wall Street banker found a new calling by working to democratize education in Brazil.
Photo Essay
By NICOLAS VILLAUME
The Quechua word takanakuy means "when the blood is boiling." Photographer Nicolas Villaume explores this high Andes ritual that is as much a conflict resolution strategy as a cultural tradition and a sport.
Cultura
By MAT YOUKEE
A review of Parguay's Los Buscadores, which explores one of the country's most baffling obsessions.
By SEBASTIÁN ZUBIETA and BENJAMIN RUSSELL
A review of Barro y fauna, the latest album by Argentina's hard-rocking trio Eruca Sativa.
By RICHARD E. FEINBERG
Richard Feinberg reviews three memoirs that look back on some of Latin America's most tumultuous chapters.
Departments
By JULIANA BARBASSA
Ana Maria wanted to refurbish her home. What she found under it changed her life – and shed light on a grim and obscured history.
By BRENDAN O'BOYLE
Celina de Sola of Glasswing International speaks to AQ about the end of TPS and what it will take to break the cycle of violence in El Salvador.
By KATE STEIKER-GINZBERG
Food critic Josimar Melo shares his ideal day of eating in Brazil's largest city.
By CARLOS MESSIAS
A wave of refugee and immigrant restaurants is changing São Paulo's food landscape for the better.
By Ben Miller and Kate Steiker-Ginzberg
GDP forecasts suggest Latin America's long awaited economic recovery is taking hold – except in Venezuela.