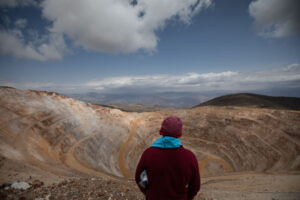 A regional roundup on how a fragile consensus around mining and oil exploration seems to be fraying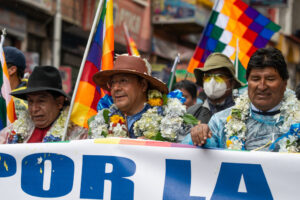 Once hegemonic, the ruling party is now merely dominant. Here's what that means for the country's politics.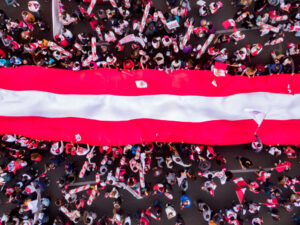 Deep ideological divisions among voters have been the norm across the region for decades, not the exception.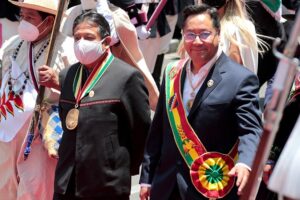 After years of crisis and acrimony, Luis Arce's government disappoints those hoping for a fresh start.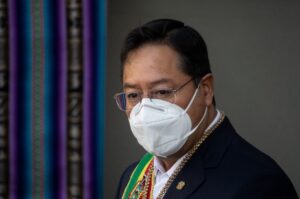 The arrest of his predecessor on terrorism charges is the latest step by Arce's government to set off alarms.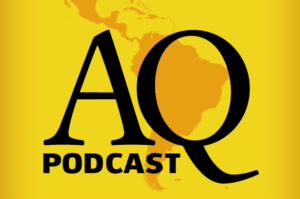 An update from La Paz on a story that provokes fiery passions but little nuance.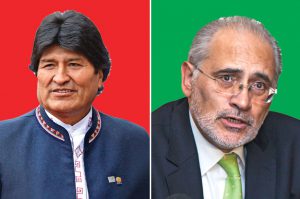 In his controversial push for a fourth term, Evo Morales faces another former president.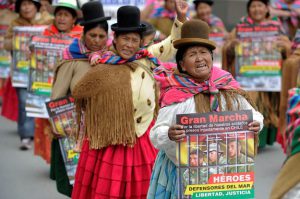 LA PAZ – When Bolivian and Chilean border officials gather on July 25 – their first meeting in six years – they will have a seemingly simple agenda: to restore functional relations along their border without regular resort to courts, threats or name-calling. It won't be easy. The 528-mile border has been a source of … Read more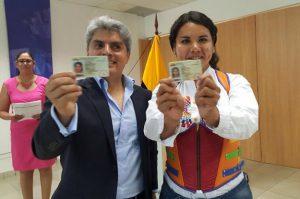 Lesbian, gay, bisexual, and transgender (LGBT) advocacy groups expressed disappointment this week after comments by Pope Francis were released showing the Catholic leader's unease over the growing social acceptance of transgender rights. During a private meeting last week, the pope said the idea of teaching schoolchildren they can choose their gender was "terrible" and that … Read more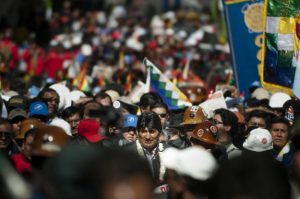 An estimated 3,000 climate activists will arrive in the Bolivian town of Tiquipaya this weekend for the World People's Conference on Climate Change and Defense of Life. Also in attendance: Some 3,000 police officers, tasked with "securing" the conference in a sign of the increasingly troubled relationship between Bolivia's President Evo Morales and the indigenous and … Read more
Oscar Montes, alcalde de Tarija, la capital del departamento de Tarija en Bolivia, habla con AQ Online sobre sus esfuerzos para reinventar la alcaldía e incrementar el crecimiento económico de la ciudad. Montes, el alcalde con el mayor número de años con este cargo en Bolivia, describe sus iniciativas innovadores para involucrar todo el pueblo … Read more
Nearly two years later, a new video and WikiLeaks cable are again calling into question the circumstances around the death of Eduardo Rózsa. The Bolivian citizen of Hungarian descent, along with four others, was killed during an April 2009 raid by Bolivian counterterrorist forces in Santa Cruz for their alleged involvement in a terrorist group … Read more
Evo Morales won a popular mandate. That is the simplest way to describe the results of Bolivia's recent presidential election. But celebrating Morales' triumph—a landslide 63 percent victory and a ten-point improvement from 2005—should not obscure the obstacles he will face during his second term. These obstacles, both political and economic, will require deft handling … Read more
More than 100,000 Bolivians work as sweatshop laborers in Brazil's largest city. Like the immigrants that came before, it's the first rung on the ladder. Yola Usnayo, born to a poor family in the Bolivian capital of La Paz, dreams of becoming a hairdresser. The 25-year-old mother puts in 17-hour days as a seamstress at … Read more
One of the most important steps you can take, Mr. President-elect, is to support the movement toward inclusion that is breaking down centuries of discrimination toward indigenous peoples around our region. My own experience, as the first indigenous woman to be named minister of justice in Bolivia, offers an insight into how much has changed—as well as how much still needs to be changed. In my country, a minority of Bolivians—many schooled in foreign universities—have traditionally pursued a Western model of governance.