Reading Time:
4
minutes
Leer en español | Ler em português
SÃO PAULO — When Luiz Inácio Lula da Silva took office on New Year's Day, one of his trickiest problems was what to do about Brazil's military. Many members of the 350,000-strong force not only supported Jair Bolsonaro in the 2022 election but flirted with numerous plots to overturn the result. They stood by for a suspiciously long time when rioters stormed Brazil's presidential palace, Congress, and Supreme Court in a failed insurrection attempt on January 8. Two weeks later, Lula fired the head of the Army.
Faced with the specter of permanent instability, Lula reacted as he often has throughout his storied career: By showering potential adversaries with money. When he unveiled his government's landmark four-year, $75 billion "PAC" infrastructure program this month, a whopping $10 billion was earmarked for defense projects, including a nuclear submarine and next-generation Air Force jets. Lula has taken a similar approach to managing the powerful Centrão bloc in Congress, spending $2.4 billion in July alone on emendas parlamentares, legislators' pet projects, an amount Estado de S.Paulo said was a new monthly record for any government.
Cynical? Perhaps. But everything seems to be working, at least for now. Lula's approval rating stands at 60%, up nine points from April, according to a recent Quaest poll. A similar percentage of Brazilians expect the economy to continue improving in the next year. Economists tend to agree, with an average forecast of 2.2% growth for this year–not great, but still triple their expectations when the year began. Meanwhile, Brazil's democracy, which seemed so fragile just six months ago, prompting dire warnings from many observers, including this author, may now be enjoying its best moment of institutional stability since street protests in 2013 plunged the country into its long crisis. Lula's generosity with the purse strings has helped, but it's not the entire story.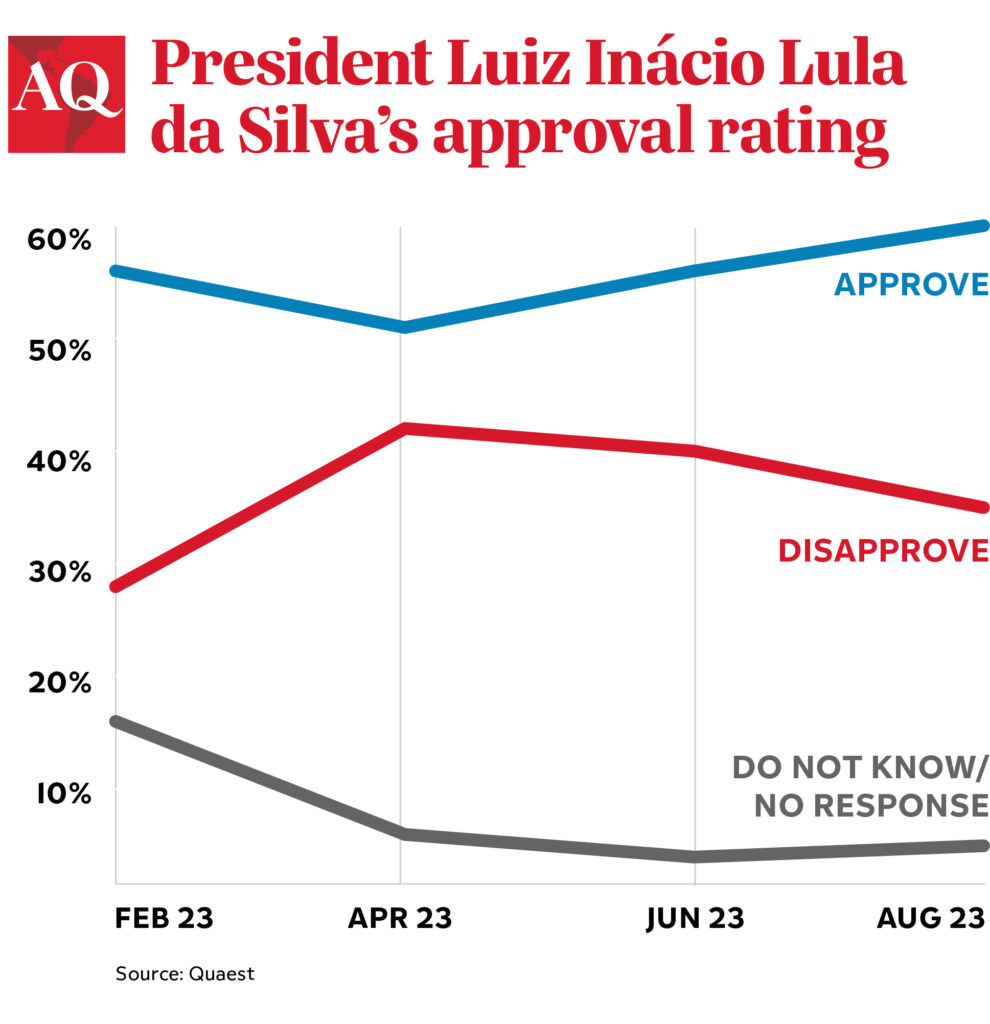 Bolsonaro's abrupt fall from grace has been a major factor. After barely losing last October with 49% of the vote, some expected him to lead a strong opposition in a country that remains much more conservative than during Lula's first presidency 20 years ago. But several scandals, especially Bolsonaro's alleged plot to illegally sell jewelry gifted by foreign governments and pocket the cash, have left the former president and his movement stunned into near silence. Bolsonaro, who denies wrongdoing, has already been disqualified from running for office again until 2030 because of a separate case. According to allies, Bolsonaro believes he and his family can still avoid jail if they refrain from attacking Brazil's courts and other institutions. His criticism of Lula has been infrequent and muted, at least by his standards. Many believe his imprisonment is imminent anyway.
With the right and its powerful social media machine relatively subdued, a funny thing has happened: Brazilian politics seems almost normal again. The Brazil I first knew 20 years ago was a country where most everyday people didn't pay much attention to politics; in contrast to, say, Argentina or Colombia, they were much more likely to discuss soccer or novelas. I spent several days recently in São Paulo, where Lula's Workers' Party has historically struggled to win elections, and while nobody I spoke to was thrilled with the current situation, few seemed particularly aggrieved. Polling bears this out: Even Evangelical Christians, the bedrock of Bolsonaro's base, now approve of Lula's government by a small margin. Given the option, about a third of Brazilians describe his performance as neither good nor bad but regular, which can be translated as either "OK" or "meh."
A similar dynamic has taken hold in the business world, thanks in part to some good luck. A truly fantastic harvest, and a favorable external context, gave Brazil's economy a nice bicycle push just as Lula was taking office. Annual inflation has slowed from 10% a year ago to about 4% today, thanks largely to a hawkish central bank Lula has spent much of his presidency maligning. The market has been positively surprised so far by Finance Minister Fernando Haddad. A key indicator of business confidence remains at the subdued levels of recent years, but the acute concern we heard at the beginning of the year has receded. And this month, the central bank began cutting interest rates. "Bottom line, I don't see a lot of worry about President Lula right now in the market," Ernesto Revilla, Citi's chief economist for Latin America, said this month on the Americas Quarterly Podcast.
Finally, Lula himself has just felt… solid. One can agree or disagree with his policies, and especially on foreign affairs, some worry he is leading Brazil in the wrong direction. But he has succeeded in projecting a certain institutional calm, dialoguing with different parts of government and society in a way no Brazilian president has since, well, Lula. The unexpectedly fast decline in Amazon deforestation, down 43% so far in 2023, and the partial approval of a "historic" tax reform are the kinds of complex achievements that only happen with careful coordination; people who know how to govern.
If we were too alarmist in January, are we too complacent now? Keeping in mind the eerie–and not at all coincidental–parallels between Brazil and the United States in recent years, let's note that Joe Biden also enjoyed healthy support for about six months, and now here we are, with Donald Trump within reach of a comeback. Lula himself was still in prison and considered finished in politics only four years ago, showing how quickly the winds can change in Brasilia. China's recent economic troubles are worth watching closely. With so much money changing hands with the Centrão and others, some worry a new corruption scandal would be like kryptonite for Lula given his prior record.
But for now at least, it sure feels like the Brazil of old: Stable, not spectacular, growing only 1% or 2%. Could be better, could be worse. Kinda meh. After the nonstop tumult of recent years, for many Brazilians, it's enough. For now.
Tags:
Brazil
,
Luiz Inácio Lula da Silva