Reading Time:
4
minutes
After more than two months of social unrest, many Colombians remain frustrated. Thousands took part in a national strike on July 20, Independence Day, just weeks after a poll found that 84% of Colombians thought their country was heading in the wrong direction.
Meanwhile, there's a sense that politicians on the right and left, with an eye on the 2022 general election, are exploiting the unrest and deepening polarization. But a large chunk of the electorate appears unsatisfied with either political extreme, and if the election were today, half of voters would not vote or would cast a blank ballot, according to a June 22 poll by the National Center for Consultancy (CNC). Some experts see an opening for centrist alternatives.
"It's too early to make electoral predictions, but people are looking for common ground," said Maria Victoría Llorente, the executive director of the Ideas for Peace Foundation.
Those looking for consensus may include Colombia's youth. A national survey of young people in the first weeks of the protests found an electoral preference for the center: 41% would vote for a candidate from the center, 25% for the left, and 5% for the right.
"I interpret this result as forceful rejection of polarization in our country," said Alejandro Cheyne, president of the University of Rosario and director of the survey, in an interview with La Silla Vacía.
An opening for centrists is unexpected. When protests first broke out at the end of April, the leftist opposition leader Gustavo Petro, the runner-up in the 2018 presidential election and a likely contender in next year's race, seemed to benefit from the unrest. A CNC poll from May 15 found that if the election were held that day, Petro would have 25% of the vote, 19 percentage points ahead of any other candidate. Amid the dire economic situation, says consultant Laura Gil, some Colombians "have stopped being afraid of Petro," a controversial former guerrilla.
However, as social unrest has continued and more violence has occurred, public opinion has turned slightly against Petro, who polls show is associated with the protests. Though he remains the frontrunner for 2022, Petro's popularity has dropped four points since May. When a senator from his party unexpectedly lost a vote to a key leadership role in Colombia's Senate on July 20, some saw it as a sign of weakness for Petro and his allies.
President Iván Duque, of the right-wing Democratic Center party, has also seen his popularity suffer as he approaches the final year in office (due to term limits). His approval rating fell below 20% in May. Meanwhile, he lacks the support in Congress to pass meaningful reforms and is weak within his own party, where some accuse him of not responding to the protests with a hard enough hand. He intends to present an anti-vandalism bill before Congress in an apparent effort to please his base, though critics worry it would criminalize protests.
According to recent polling, Duque's popularity slightly rebounded from 18% in May to 23% in June – a sign he may have hit bottom.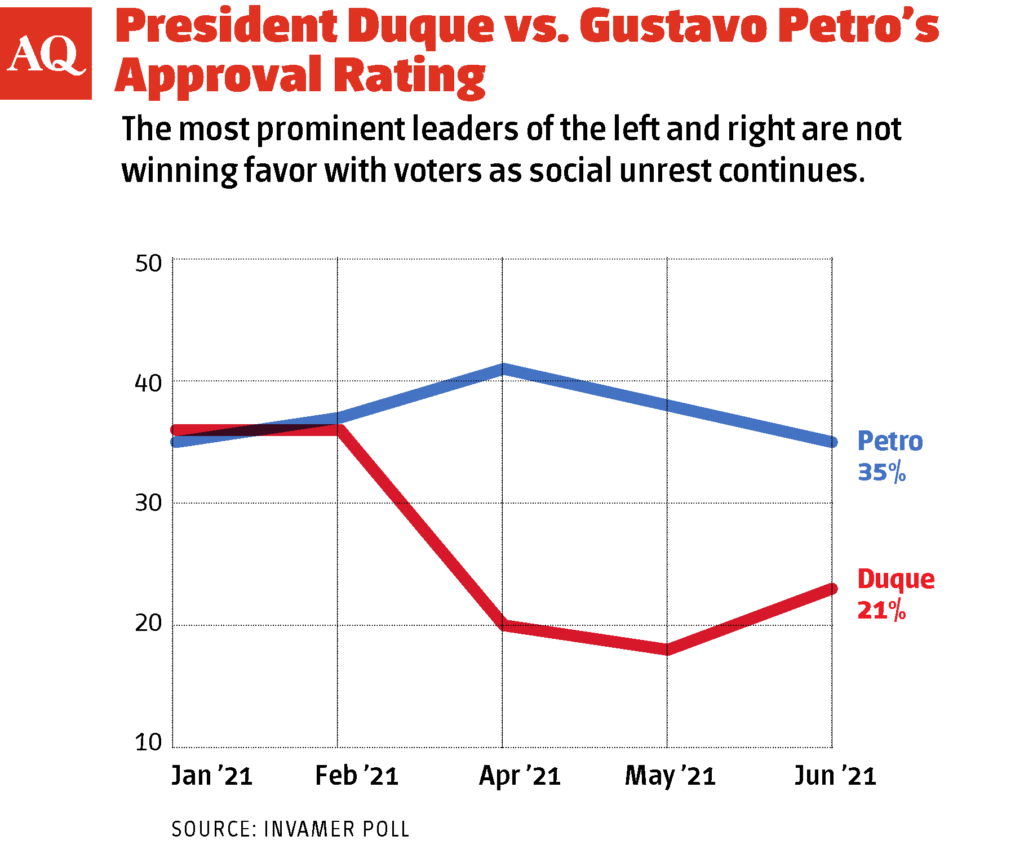 Still, it's not clear that leaders like Duque and Petro are hearing calls for unity and compromise.
"What makes a dialogue so difficult right now is that the country is stepping into an electoral year," said Gwen Burnyeat, a political anthropologist at Oxford University.
The result is little progress on the policy and economic issues that are driving much of the unrest. The pandemic's economic toll has been immense, with 40% of Colombians now living in poverty. Congress reconvened on July 20 to try again to pass a tax reform that would cover the fiscal gap and finance economic recovery programs. But for the opposition, making concessions to a weak government with an election around the corner would be a sort of "electoral death," said Elizabeth Dickinson, a Bogotá-based senior analyst at Crisis Group. Rather, the left is incentivized to keep Colombians dissatisfied with the current government.
"No one wants to take the first step because they don't know how public opinion will eventually fall," Dickinson said.
However, while there may be an opening ahead of 2022, the center appears divided – at least for now. A "Coalition of Hope" consisting of center-left figures plans to have a primary to choose a candidate next year, and contenders include Sergio Fajardo, a former governor who trailed Petro by less than 1.4% in the 2018 election, and Senator Juan Manuel Galán. Fajardo and Galán were polling second and third in the June Semana-CNC poll, respectively, at 6% and 5%. Alejandro Gaviria, the president of Los Andes University, is being recruited by members of the Coalition of Hope. On the center right, a few names are in the mix, including former Bogotá Mayor Enrique Peñalosa and two former finance ministers, Juan Carlos Echeverry and Mauricio Cárdenas.
It may be too early to consider what kind of candidate can unite the center. But ultimately, many voters are not necessarily looking for something radical, said Mariana Ardila, an attorney at Women's Link Worldwide based in Bogotá.
"Colombians just want someone who understands the problem of deep inequality."
Tags:
Colombia
,
Elections
,
protests