Reading Time:
4
minutes
Correction appended below.
The most prominent right-wing politician in Latin America, Brazil's President Jair Bolsonaro, just lost reelection. Maps circulating on social media show a red-tinted continent, with left-wing leaders in charge from Mexico to Argentina.
But that's only part of the story. Victorious in recent local elections, powerful in many legislatures—including Brazil's—and a strong contender in several upcoming national elections, it would be a mistake to think that the Latin American right is out of the running.
On the contrary, right-of-center movements see opportunity in the current political landscape—and one group of especially outspoken conservatives is using international collaboration as an opportunity to expand their influence over right-wing politics at the national level.
One prominent venue for right-wing collaboration is a series of gatherings organized under the heading of CPAC—international offshoots of the Conservative Political Action Conference, an annual conclave of the U.S. conservative movement since 1974.
Chile's José Antonio Kast, Jair Bolsonaro's son Eduardo (a member of Brazil's lower house), and possible Argentine presidential candidate Javier Milei met at CPAC Brazil, where a photo of the three men together made the rounds on social media. Now, Bolsonaro and Milei will attend another conference, set for November 18–19 in Mexico City, in collaboration with a Mexican organization, the Movimiento Viva México.
Former Donald Trump campaign adviser Steve Bannon, recently convicted on charges of contempt of the U.S. Congress, is scheduled to make an appearance, according to the latest program on the CPAC Mexico website at press time. Representatives of conservative politics in Peru, Guatemala, Mexico and more will also attend the latest gathering of what might be called Latin America's "CPAC right."
Differences and similarities
There are some internal differences within the ranks of the announced speakers at the Mexico City conference. Javier Milei, for example, is a libertarian who believes in a minimal state and rarely talks about faith—while for Mexico's Eduardo Verástegui, religion is a top issue.
But what the CPAC right shares is a commitment to conservative stances on cultural topics—such as issues of gender, sexuality and abortion—and, for the most part, an emphatic rejection of all compromise with the left. Despite a diversity of left-wing movements in Latin America, many in the CPAC right consider leftism to be synonymous with the perils of communism, or at least with contemporary authoritarianism in Venezuela and Cuba.
The CPAC right doesn't represent the full sweep of right-of-center politics in Latin America. There are many right-wing movements, figures and parties in the region that don't share their focus on culture war and unrelenting opposition to the left, whether due to a difference of principle, a greater degree of pragmatism—or simply the fear that ideology could get in the way of pork-barrel politics.
By meeting to share lessons and broadcast their solidarity, Latin America's CPAC right is seeking an advantage in the battle for dominance within conservative politics in their home countries.
Participants often frame their gatherings as a response to international coordination by the region's left. Left-of-center leaders in the region have met in the past in a range of formal and informal settings, but most conspicuous for the right is the much-maligned Foro de São Paulo, a set of meetings that in past years brought together left-wing figures from former Brazilian President Dilma Rousseff to Venezuela's Nicolás Maduro.
"For us it's very important to meet, to discuss and to get to know what the radical left is doing in the different countries in Latin America," Kast said on stage with Eduardo Bolsonaro and Javier Milei at CPAC Brazil. "The instability they generated in Chile they have been installing in other countries."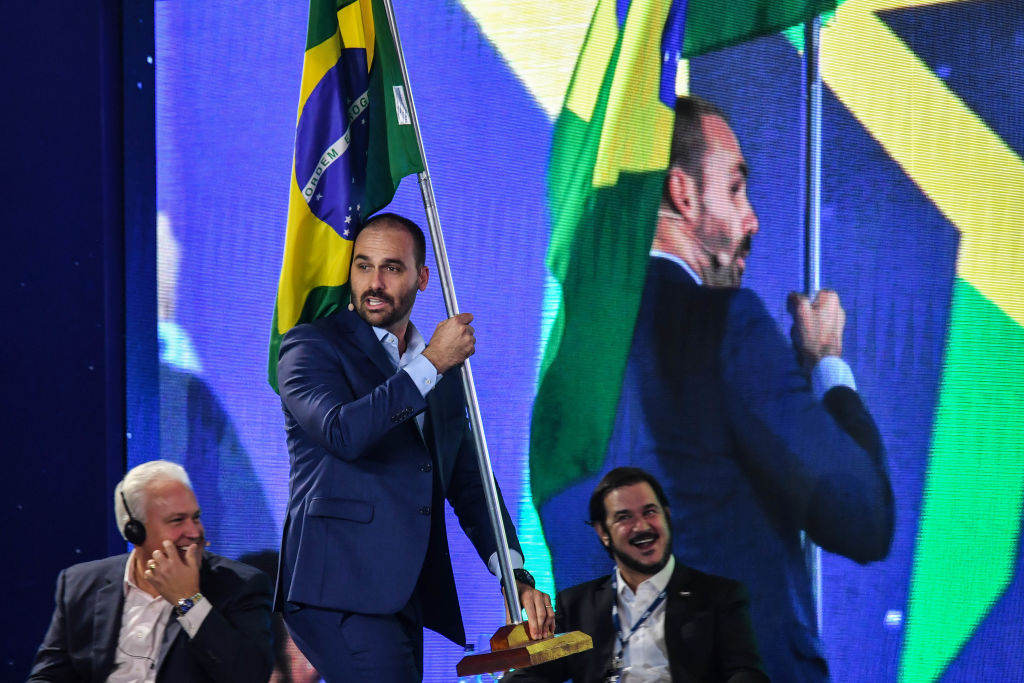 Who's invited?
The invitees at CPAC Mexico range from elected officials and diplomats to potential candidates for office, civil-society activists and intellectuals. From host country Mexico is actor Eduardo Verástegui, a household name for his soap opera performances, who has since pivoted to anti-abortion advocacy and other conservative causes.
Like many attendees, Verástegui signed the Carta de Madrid, a circular issued by Spanish right-wing party Vox warning of the threat of communism and the Foro de São Paulo to the liberty of Latin America.
Chile will be represented by Chiara Barchiesi, a lawmaker affiliated with José Antonio Kast's Republicanos Party. Patricio Navia, a professor at NYU, noted that she represented the right's response to the Chilean left's focus on elevating women to political prominence. "(Barchiesi's emergence) says, well, if you introduce a gender component then you (can also) have a right-wing, conservative woman."
For politicians from some countries, attending such a gathering can be a chance to reinforce their own ideological bona fides and ward off potential rivals. Current conservative Guatemalan president Alejandro Giammattei is set to speak.
"Throughout his four campaigns he was always very pragmatic but certainly a conservative," said Hugo Novales, a Guatemalan political scientist.
Grassroots or astroturf?
Do these CPAC satellite conferences represent the U.S. planting reactionary ideas in its backyard, in an echo of the Cold War?
"I don't see it as CPAC coming to Latin America," said Alonso Gurmendi, a lecturer in international relations at Oxford originally from Peru. "I see it as a regional network of people, usually not politicians, pushing for a specific discourse that is attractive to politicians and politicians try to latch onto them."
Gurmendi pointed to a network of conservative intellectuals, civil society and social movements like Peru's #ConMisHijosNoTeMetas, a social movement against what it terms "gender ideology."
"I would say this is not planted at all," said Tomás Gold, who studies the Latin American right at the University of Notre Dame. "But there is always dialogue. … In these meetings, like the CPAC, some of the work they do is to share those experiences, share their strategies and to learn from one another."
A previous version of this article implied Guatemalan President Alejandro Giammattei could seek reelection next year. He is not eligible for reelection.
Tags:
Jair Bolsonaro
,
Javier Milei
,
Jose Antonio Kast
,
Right-Wing Politics