Reading Time:
5
minutes
Without former President Jair Bolsonaro, São Paulo Governor Tarcísio de Freitas would be a nobody. At least, that was what Freitas said himself, on the conservative news network Jovem Pan in March.
The soft-spoken former Bolsonaro cabinet official has reason to be grateful to the man who made possible his successful run to helm Brazil's most populous and richest state.
But with the former president now officially disqualified from running for office until 2030, Tarcísio—as he is known in the Brazilian press—is being floated as a potential standard-bearer for the political right in the next presidential election, scheduled for 2026. Supporters in the business world see a figure who could replicate aspects of Bolsonaro's conservative politics and popular appeal, but add technical competence.
It's a powerful mantle to inherit. Bolsonaro took 49% of the vote in the 2022 election, barely losing to President Luiz Inácio Lula da Silva. Although Bolsonaro has receded somewhat from politics since his ban over spreading falsehoods about the election, bolsonarismo remains a powerful force thanks in large part to fervent support from Evangelical Christian voters, who are expected to keep growing in number in Brazil over the next decade. Conservative governors run Brazil's three largest states; Tarcísio, 48, is one of them.
With years to go and other powerful figures likely to contest the succession, Tarcísio's prospects are contingent not just on a successful stint as governor—but also his pulling off a difficult balancing act between deference to Bolsonaro and distance from him. Already Tarcísio has had to deal with Bolsonaro's public disapproval over his support of a major tax reform recently passed in Congress, and as governor has found himself dealing with culture-war issues and mounting security challenges.
The making of a technocrat
Originally a carioca—from Rio de Janeiro—Tarcísio joined the Army, won a coveted spot at the elite IME military engineering college and was deployed to Haiti as part of the Brazilian-led U.N. "stabilization mission." His first stint in government was during the administrations of Dilma Rousseff and Michel Temer, where he worked in the infrastructure and public-private partnership division and cultivated a reputation for competence.
At the time, it seemed like Tarcísio "never really had any ideological position," said Guilherme Casarões, a political scientist and professor at the Fundação Getúlio Vargas, who met the then-civil servant during this period. "We never saw him as a far-right ideologue."
After Bolsonaro chose him to head the infrastructure ministry, where he was one of many former, retired and active-duty military officers given major executive-branch roles, Tarcísio won the approval of business circles, who saw him as a steady hand in a cabinet studded with ideological and untrained figures.
"Perhaps the main accomplishment of his administration at the infrastructure ministry was being able to carry out around 80 auctions … highways, airports, things where you can see the results, helped him when he fully [transitioned] to being a candidate," said Mário Braga, lead analyst for Brazil at Control Risks, a consultancy.
As early as 2021, Bolsonaro realized he lacked a strong candidate for governor of São Paulo, and began to groom Tarcísio for the position. In one obvious way, Tarcísio was an unlikely candidate—he wasn't from São Paulo, something that did prove an obstacle on the campaign trail.
But in other ways he was well suited for political office in the state which, being home to Brazil's greatest concentration of industrial and financial activity, has long been well disposed to candidates with a technocratic profile, even when it comes at the cost of personal charisma. Tarcísio might like to show off his flashy behavior when auctioning off government contracts—viral videos show him pounding a gavel with comical, over-the-top aggression—but no stunt can shake the impression he is more comfortable discussing policy at a conference table than firing up a crowd of people.
Now, he is one of the most powerful people in Brazil, governor of a state that accounts for a full third of the country's GDP. It's a platform from which to prepare a presidential bid. But several things stand in Tarcísio's way.
Balancing act
To preserve his appeal to powerful business interests that eventually drew away from Bolsonaro's more antidemocratic tendencies—and moderate voters who did the same—while keeping his right-wing credentials intact, Tarcísio has to play a delicate game.
"He's walked a thin line," said Braga. "He makes some nods to Bolsonaro and his supporters, the far right, [while] also appeasing more centrist, moderate voters."
But this deference also has its limits, as a public clash on July 6 between the two over a tax reform illustrated. At a meeting of Bolsonaro's Liberal Party (PL), Tarcísio—who is a member of a different party, Republicanos—sought to explain why he was supporting the reform, while Bolsonaro interrupted him, disagreeing.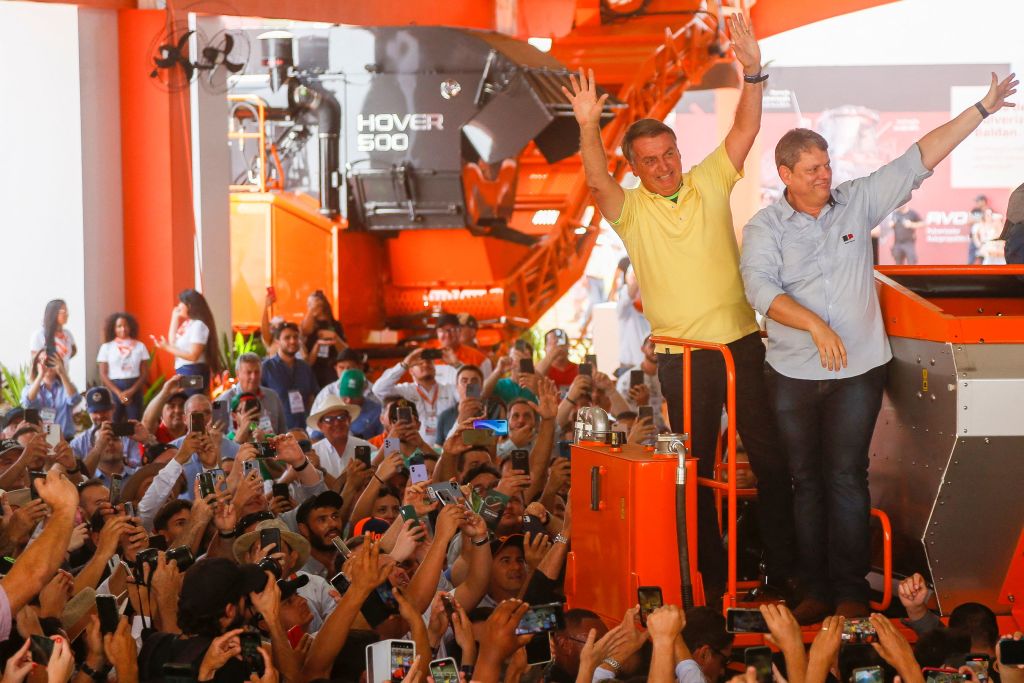 Cristiano Souza, an economist at Gibraltar Consulting, noted that Tarcísio likely hoped that changes to Brazil's tax system, if administered properly, might help São Paulo in its longstanding attempt to stop other states from using tax breaks to attract companies.
Later, the two seemed to have made up. But the episode illustrated the delicacy of Tarcísio's position—and the risks of running afoul of his mentor.
Six months after a destructive attack by Bolsonaro supporters on Brazil's capitol, many on the center and especially the left are not likely to overlook Tarcísio's close and continuing association with a former president who repeatedly tried to undermine Brazilian democracy.
"Although Tarcísio is a technocrat, he has surrounded himself with hard-core bolsonaristas and still pushes for some of their ideological agendas," said Casarões.
First things first
Tarcísio has plenty of time to prepare himself for the national stage—the next elections are still three years away, and he has the advantage of being able to run for reelection for governor if he doesn't like his chances for president. That's something that term-limited potential rival and conservative governor in nearby Minas Gerais, Romeu Zema, lacks. Brazilian press reported Tarcísio had told Bolsonaro he didn't plan to run for president in 2026.
"There's no way for him to run for president in 2026," Júlia Zanatta, a federal legislator with the PL, told AQ. "He has time, he [is young], so he can wait."
And before he makes the jump to the national stage, Tarcísio has to make his governorship a success. Already he has had to make decisions on a number of hot-button political issues. He announced the state would preserve a set of "civic-military schools" created by Bolsonaro at the federal level but shuttered by the Lula government, setting up a potential clash over a touchy issue of military involvement in civic life.
Security is an issue, although a relative increase in some crimes in São Paulo predates Tarcísio's administration. Headlines have been dominated by new levels of disruption and crime attributed to addicts in downtown São Paulo city's so-called "Cracolândia" or "crackland." Rape is at an all-time high in the state, long considered safe in national comparison. Meanwhile, his administration has waffled on some of these issues, abandoning a plan to move São Paulo's "crackland" and going back on a campaign promise—directed at conservatives—to remove body cameras from police.
Supporters admit Tarcísio is untested as an executive politician and lacking in deep familiarity with the state's complexity but laud his progress and predict better results soon. It seems clear that his longer-term prospects depend on his desire and ability to adapt—and on a marathoner's stamina in his performance between conservatism and technocracy.
Tags:
Jair Bolsonaro
,
Right-Wing Politics
,
Sao Paulo
,
Tarcísio de Freitas