Reading Time:
2
minutes
Download the AS/COA Anti-Corruption Working Group's new case studies on Chile, Mexico and Peru.
In recent years, Latin America has seen it all in the fight against corruption: from "untouchable" figures in handcuffs going to jail to critical reforms passed in Congresses, from politicians successfully sabotaging enforcement campaigns to presidents weaponizing anti-corruption against political foes. Amid so many triumphs and blowback to the rule of law, rest some key lessons for the region.
When do countries face a window of opportunity to pass major anti-corruption reforms? Why is real anti-corruption enforcement still so rare? Who can drive – and undermine – real change?
A series of three case studies by AS/COA's Anti-Corruption Working Group provides critical insights into these questions. The case studies analyze three very different episodes in the fight against corruption in Latin America, with mixed results and different lessons.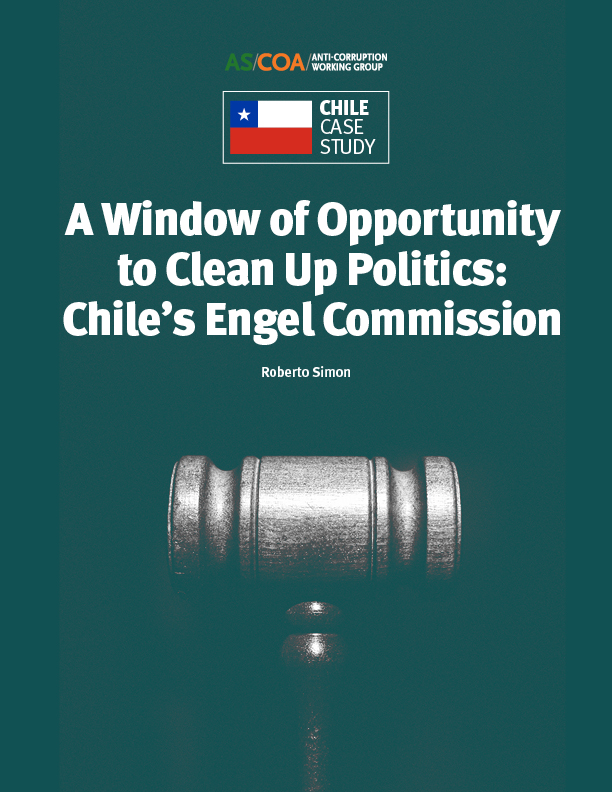 The first one looks at Latin America's most successful anti-corruption reforms cycle in recent years, which happened in Chile following scandals involving campaign financing and President Michelle Bachelet's son. Through an independent commission created by the president, Chilean political, business and civil society leaders were able to work together to improve regulations in a number of critical areas – from relations between money and politics to the independence of electoral courts. However, this bold reform push was insufficient to regain Chileans' trust in their democracy and politicians.
The second case study looks at corruption at the local level in the Peruvian Amazon and its devastating consequences for the environment. An isolated prosecutor in Ucayali state decides to investigate an alleged corruption scheme involving the massive sale of fake land titles to private companies producing palm oil in the forest. While his colleagues in Lima are successfully moving against powerful political figures under the Odebrecht investigation, the Ucayali prosecutor faces all sorts of institutional and political roadblocks.
The last case study is about the civil society-driven anti-corruption push in Mexico during the Enrique Peña Nieto administration. As Mexico faced embarrassing corruption scandals, a network of NGOs managed to shape the discussion towards critical reforms – first, with the #3de3 campaign and ultimately with the creation of the National Anti-corruption System (SNA). However, following initial victories, the Peña Nieto administration was able to undermine the new system, while corruption remained a critical topic for most Mexicans. The widespread frustration was successfully captured by then-presidential candidate Andrés Manuel López Obrador.
All three cases show that corruption scandals can severely undermine trust in democracy and politics. But, under certain circumstances, they may provide an opportunity for progress in the fight against corruption.
What will happen in the anti-corruption front following COVID-19 is still undetermined. But with increased pressure from public opinion, the right leadership and a few additional elements, Latin America could use the pandemic to move towards better governance and less corruption.
Tags:
anti-corruption
,
Chile
,
Mexico
,
Peru