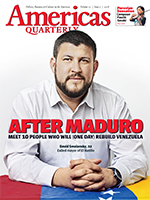 Special Report
Rebuilding Venezuela will require a diverse mix of people with great talent and realistic goals. This issue profiles 10 of them – and takes a hard look at the challenges ahead.
By BRIAN WINTER
Exiled in Washington, the 32-year-old David Smolansky has become an ambassador for Venezuelan democracy – and the type of consensus-builder the country needs.
By STEVEN BODZIN
Empresas Polar CEO Lorenzo Mendoza is the face of a private sector that has had to adapt to survive.
By GUILLERMO ZUBILLAGA
Susana Raffalli made relieving hunger her life's work. She never thought she'd have to do humanitarian relief in her own country.
By CHRISTOPHER LENTON
Once the lifeblood of the economy, Venezuela's oil industry is in a tailspin. Gustavo Baquero has a plan to fix it.
By MANUEL RUEDA
Hundreds of thousands of talented Venezuelans have left the country in search of opportunity. Luring entrepreneurs like Marielena Polanco back will be critical to recovery.
By DANIELLE RENWICK
There are currently more than 200 political prisoners in Venezuela. Alfredo Romero is their advocate.
By BRENDAN O'BOYLE
Gustavo Dudamel is perhaps Venezuela's most famous export. Here's how he and other Venezuelan cultural icons can help their compatriots build bridges.
By RACHELLE KRYGIER and MARIANA ZÚÑIGA
Venezuela's schools are literally falling apart. Teachers like Mónica Krauter are keeping the foundations intact.
By ERIC FARNSWORTH
Why Xi Jinping's China may have more at stake in Venezuela than any other global power.
By BENJAMIN RUSSELL
Asdrúbal Oliveros gives Venezuelans an unvarnished view of the economy – and what it will take to get it back on track.
By SUSAN SEGAL
The roots of Venezuela's crisis run deep – at least to the 1970s. Here's why a renewal of leadership and ideas is so important.
By EMILIE SWEIGART
Venezuela's crisis has prompted one of the largest migration flows in Latin American history. Here's a graphic look at where they've gone.
By EMILIE SWEIGART and JULIA SCLAFANI
A look at 10 leading opposition figures reveals discord and distrust among Maduro's opponents.
Venezuelans cope with hunger, disease and separation from their families.
By BRENDAN O'BOYLE
International ties play a major role in Venezuela's domestic affairs. A look at the foreign powers with the biggest stake in the country's future.
By BENJAMIN RUSSELL
Change may take time, but researchers are already thinking about what Venezuela will need to recover once Maduro is gone. This is one way a transition back to democracy could play out.
Features
By JULIANA BARBASSA
El Alto, Bolivia, was key to Evo Morales' rise, and thrived during his three terms in office. Why is it turning against the president as he campaigns for a fourth?
Sérgio Moro, Claudio X. González and José Ugaz discuss the future of Latin America's historic crackdown on graft in this exclusive interview.
Cultura
By CARLOS AGUILAR
Argentine Director Lucrecia Martel dissects the madness and motivation of Spanish colonial rule.
By SEBASTIÁN ZUBIETA and BENJAMIN RUSSELL
From parks to public restrooms, Peruvian violinist and composer Pauchi Sasaki's music knows no bounds.
By ADRIANA LA ROTTA
Maria McFarland Sánchez-Moreno tells the story of three individuals who heroically investigated Colombia's paramilitary groups.
By ERIC BECKER
Brazilian author Clarice Lispector's second novel, now available in its first English transition, takes the reader on a bewildering journey through one woman's life.
Departments
By MAT YOUKEE
Often disregarded as the scheme of a mad 19th-century adventurer, the Kingdom of Araucanía and Patagonia still exists, and lends credence to Mapuche claims for independence.
By EMILIE SWEIGART
Jennifer Piscopo, an expert on political representation in the Americas, spoke to AQ about women's participation in the region's pivotal year of elections.
By DANIELLE RENWICK and ANA LUELMO
Local booksellers are using momentum from Latin America's biggest book fair to turn Guadalajara into a true literary capital.
By DANIELLE RENWICK
Hueso executive chef Alfonso Cadena talked to AQ about the restaurants moving Guadalajara's food culture forward.
By DANIELLE RENWICK
Fewer than 50 percent of Latin Americans trust the media. But the countries that hold the press in high regard – and those where it's fallen most out of favor – might surprise you.